Operation Christmas Child - 080053
Operation Christmas Child
Mission trip teaches mother and daughter what God is doing through Operation Christmas Child
Janet Olmstead thought she understood Operation Christmas Child. As far as she knew, it was simple: Canadians pack gift-filled shoeboxes, then Samaritan's Purse delivers those boxes to children in need around the world. She didn't realize the program can have profound—and even eternal—impacts.
All that changed when a member of her Calgary church told her about going on a trip to help distribute the boxes. The result was Janet and her 17-year-old daughter Kristy traveling with Samaritan's Purse to El Salvador. There, they helped pass out shoeboxes to hundreds of children in some of the Central American nation's most impoverished communities.
"I wouldn't have gone on this trip by myself," Janet says. "I wanted Kristy to have the experience and my husband said 'you should just go.'"
Janet brought her own box, packed with school supplies, toys, and hygiene items, and gave it to Maria, a young girl Janet first noticed when she entered a church hosting a distribution.
Kristy, who's mostly fluent in Spanish, told Maria the box didn't come from one of the large cartons shipped from Canada; it came directly from Janet.
"I showed her the contents and showed her a fabric zippered pouch I'd sewn," says Janet happily. "She took it and held it up for a photo. Her mom was there and she seemed pleased."
God directed Kristy to give her shoebox to seven-year-old Nayeli. "I sat with three girls at a distribution event and Nayeli hugged me right away," recalls Kristy, who included in the box a photo of herself and a card written in Spanish.
Once Nayeli understood that Kristy had packed the box just for her, "she became attached to me; she just followed me around. It was so cute."
Nayeli was especially pleased to find school supplies—colored pens, pencil crayons, erasers, pencils, a pencil sharpener and a notebook—in her box. In countries like El Salvador, education is free but schools are so cash-strapped that students often must bring their own supplies or they can't attend classes.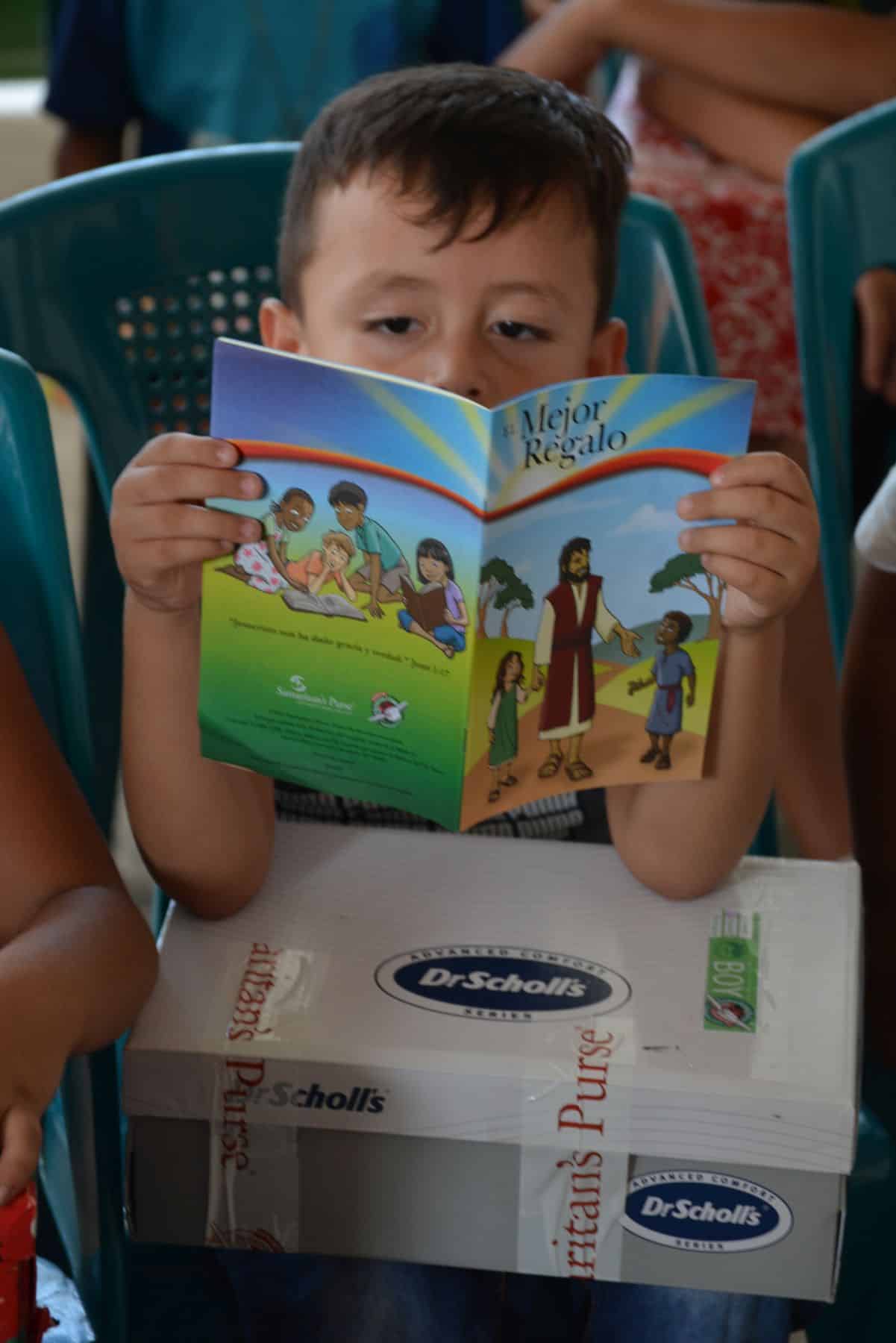 While in El Salvador, Janet and Kristy also participated in a graduation ceremony for children who completed The Greatest Journey, Samaritan's Purse's 12-lesson evangelism and discipleship program. Whenever possible, we invite children who've received shoeboxes to take part in The Greatest Journey.
Last year alone,  we thank God for the two million children who graduated from The Greatest Journey, received a certificate and a New Testament in their own language, and dedicated their lives to Jesus Christ, "the Son of Man [who] has authority on earth to forgive sins" (Mark 2:10, ESV).
"It's a fantastic program," says Janet. "It's good to give children things they need, but it's more important to give them Jesus. The pencils will wear out, but having a relationship with Jesus lasts forever."
Kristy adds: "The things in their boxes help them, but what they learn in the 12 lessons has an eternal value."
Get Involved
You can be part of what God is doing through Samaritan's Purse in countries like El Salvador when you lift up this ministry in prayer and support it by packing shoeboxes in the traditional way, or online at PackaBox.ca.
You can also join us in traveling to struggling nations to distribute shoeboxes. Please visit our mission trips page for more information.
Our website has complete instructions on how to pack shoeboxes. Please include $10 for each gift box to cover international shipping and other costs. You can also bless children in need by packing shoeboxes online.
Operation Christmas Child - 080053
Operation Christmas Child
Please donate $10 for every shoebox you prepare. Your donations will help cover project costs, including shipping (make one combined donation for multiple shoeboxes). Consider making an additional donation to help Samaritan's Purse go beyond the shoebox and expand assistance to children, their families, and their communities. Samaritan's Purse does not provide receipts for the value of gift items included in a shoebox.