Operation Christmas Child - 080053
Operation Christmas Child
El Salvador radio station manager helps children receive hope from Operation Christmas Child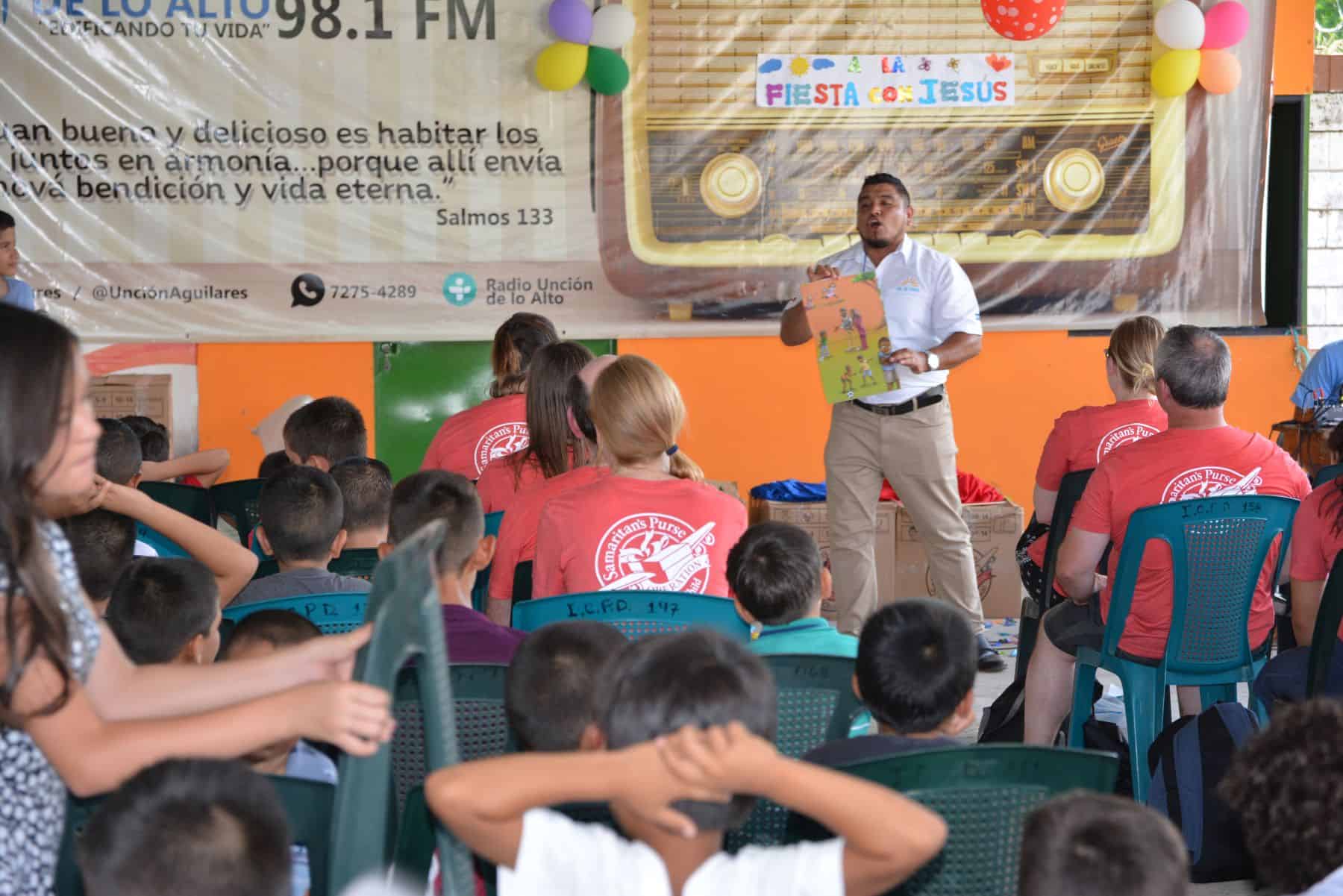 Operation Christmas Child usually works with partner churches to host distributions of gift-filled shoeboxes to children in need. But in El Salvador, we've also partnered with a rural Christian radio station which saw so much value and hope in the ministry that it assembled 60 children to receive shoeboxes from Canadians.
"I met two pastors who were promoting Operation Christmas Child and that's how I heard about children being blessed by this ministry," recalls Iliana Ronac, general manager of Radio Uncion de lo Ato.
While the children played games, listened to a Gospel presentation, and then received their boxes, Iliana was ensuring the boxes were properly distributed, there were enough snacks for all the children and, finally, enough refreshments for some visiting Canadians doing their best to deal with El Salvador's heat and humidity.
"Operation Christmas Child is a wonderful program because it blesses the children—they were very happy," said Iliana afterwards in her tiny, air-conditioned office. "It also gives them the opportunity to hear the Gospel."
Among the children receiving boxes was Iliana's five-year-old nephew Samuel.
"I felt very happy because I saw Samuel happy," she says. "His father is unemployed, so the family buys only the basics. That shoebox gives him things his family couldn't get him."
An essential part of Operation Christmas Child is The Greatest Journey, Samaritan's Purse's 12-lesson evangelism and discipleship program offered to children around the world who have received shoeboxes.
Through The Greatest Journey, millions of children each year have learned about "one God, the Father, from whom are all things and for whom we exist, and one Lord, Jesus Christ" (1 Corinthians 8:6, ESV).
Iliana was so impressed by The Greatest Journey that she says "we might share it on our kids radio program. It's a unique way to make a disciple out of a child."
When asked if she had a message for Canadians who pack shoeboxes, Iliana simply says: "Don't stop. Continue doing this because when you do something for the Lord, He'll be the one to pay you back."
There are still millions of hurting children in the developing world who have never received a gift-filled shoebox from Operation Christmas Child. You can change that by packing shoeboxes in the traditional way (click here for complete packing instructions), or online at PackaBox.ca. Both options enable you to include a personal note and photo, so please start packing!
—
Learn how to pack shoeboxes – click here for complete instructions for packing shoeboxes. If possible, please include $10 for each gift box to cover international shipping and other costs. You can also bless children in need by packing shoeboxes online at PackaBox.ca.
Operation Christmas Child - 080053
Operation Christmas Child
Please donate $10 for every shoebox you prepare. Your donations will help cover project costs, including shipping (make one combined donation for multiple shoeboxes). Consider making an additional donation to help Samaritan's Purse go beyond the shoebox and expand assistance to children, their families, and their communities. Samaritan's Purse does not provide receipts for the value of gift items included in a shoebox.