East Africa Crisis Relief - 080650
International Crisis Response
Government officials grateful for Samaritan's Purse help with South Sudan refugees
Her ragged red flip flops, worn through at the heel, give only a small hint of what Margaret Kuyunge has endured in recent months.
The 27-year-old is one of more than 885,000 people from South Sudan who've become so desperate to escape the horrors of their African nation's civil war that they've arrived in Uganda as refugees.
"Many people – their houses have been burned," Margaret says. "Others have been slaughtered. When the war will end, we don't know."
Margaret also doesn't know whether she'll ever see her husband or four-year-old and seven-year-old children again. She lost track of them during their escape. Only her five-month-old son Eric is with her.
They walked for four days and nights. Her only footware was flip-flops as they made their way through remote bush, unwilling to risk being attacked by military forces while traveling along South Sudan's dusty dirt roads.
When Margaret and Eric finally reach the Ugandan border, staff with the United Nations High Commissioner for Refugees (UNHCR) were waiting to bus them to the Imvepi Refugee Settlement. It's one of several established by the Ugandan government and UNHCR to accommodate nearly 2,000 hungry and thirsty South Sudanese people who continue to arrive in Uganda each day.
The Ugandan government has determined the Imvepi Settlement, which opened Feb. 21, is large enough to accommodate 110,000 refugees – amongst several thousand Ugandans who were already living in the area. Nearly 60,000 refugees have already arrived.
Meanwhile, the Bidibidi Settlement has reached its maximum capacity at 272,000 – making it the world's largest refugee facility – after opening only last August.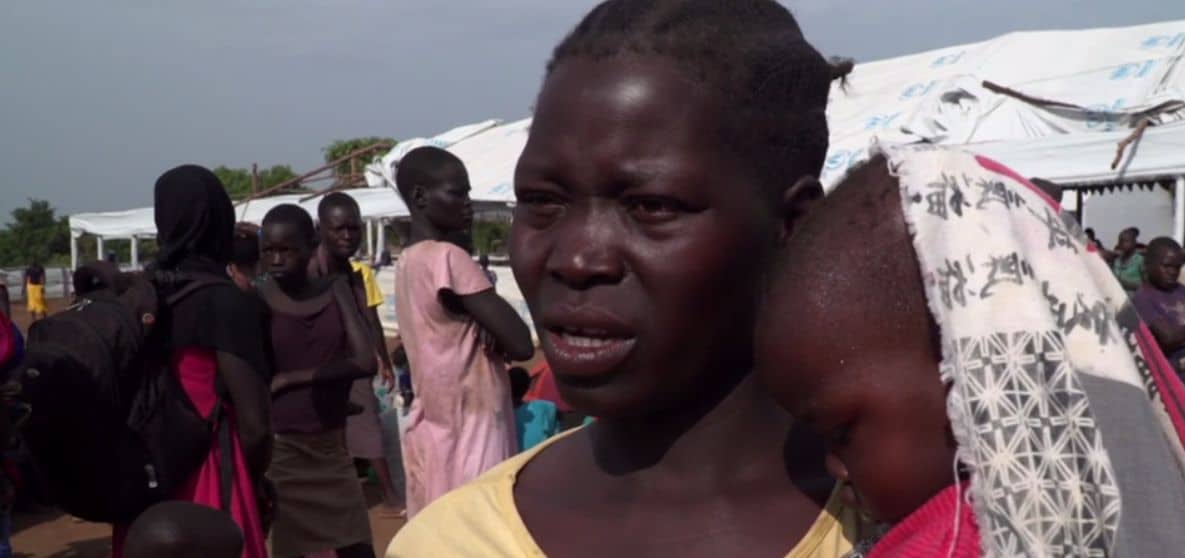 When Margaret and Eric reached the Imvepi Settlement a week ago, they were sent to a reception center for a medical check-up, given food and water, and assigned to a temporary shelter. Soon, they will be given a small parcel of land, and a small hut will be built for them.
They will receive regular World Food Program rations through a system administered at Imvepi by Samaritan's Purse. The water many Imvepi refugees receive is trucked in, but Samaritan's Purse is drilling wells that represent a much cheaper and more dependable source of water.
Dennis Mbaguta, the Ugandan government official in charge of Imvepi Settlement, says Samaritan's Purse is playing a vital role in helping the refugees by drilling wells and latrines, and in providing seeds and farming tools so they can grow food to supplement the rations they receive.
"We really appreciate what you are doing for the people here," Mbaguta told a visiting delegation from Samaritan's Purse Canada. He highlighted the seeds and tools, noting it's urgent for newly arrived refugees to plant crops before the next rainy season begins.
Despite her seemingly sorrowful situation, Margaret can still laugh when a visiting Samaritan's Purse Canada employee asks to take a photograph of her worn-out flip-flop.
The courageous young woman says she is thankful to Samaritan's Purse, UNHCR, and the Ugandan government that she and Eric are alive, and finally safe from the civil war.
"We would like to stay here because we don't know when the war will end," she says.
Please pray for Margaret and little Eric – that they'll enjoy their lives in the Imvepi Settlement, that they'll find her husband and two other children, and that the civil war in South Sudan will end. Please join us in helping meet the needs of so many struggling South Sudanese refugees.
East Africa Crisis Relief - 080650
International Crisis Response
Samaritan's Purse is responding to the crisis in East Africa caused by severe famine, drought, and conflict. We provide food, shelter, safe water, medical care, and other aid. Your gift will help us bring critical resources to the those affected in the name of Jesus Christ.