Samaritan's Purse Water Projects Overview Video
Millions of people die each year from drinking contaminated water that contains potentially deadly bacteria, parasites, and viruses. But you can help turn on the tap to safe water. Your generous donation can help provide solutions for households, schools, and communities by giving them the gift of safe water.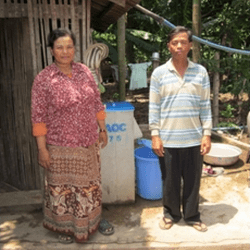 Water Heals a Broken Home
Chen Sakham's family was known as the sick people in their village in Cambodia.
Chen did not understand that the contaminated water his household used was causing regular illness. He took out his frustration-from illness that often impacted his ability to work and the family's income-on his wife, So Harn, and their three sons, provoking arguments that created a family rift.
Chen's son learned that Samaritan's Purse was installing BioSand Filters (BSFs) in their region of Cambodia, so he signed up to help build a filter so his family could have access to safe water for the first time in their lives. After the filter was installed, Chen was a changed man.
"I am happy because [Chen] is getting along with the family and neighbors," said So Harn. "Now he is able to work every day to serve the family."
Chen now shares with other villagers how drinking and washing their hands with safe water from the BSF initiated a healthier, happier life for his family.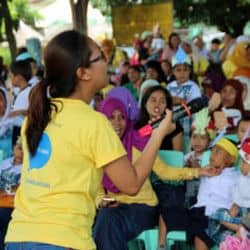 Teachers in the Philippines grateful for clean water
Alma Talipasan is a day care teacher in the Philippines who struggles to make ends meet. Yet she chooses to sacrifice the little she has because it pains her to see the children suffer.
"We earn little. It's not even enough to sustain our daily needs," she said. "But the children need it more than me."
Alma spends her own money to buy bottled water for the children. Her classroom lacks clean drinking water, toilets, and hand-washing stations.
Access to clean water and properly built latrines is a problem in the Philippines, as more than 26 million Filipinos use unhygienic facilities. It's not uncommon for septage to end up in culverts or in the ocean. Poor sanitation and hygiene can lead to waterborne diseases such as cholera and dysentery.
Children are one of the most vulnerable populations to these diseases, and maintaining proper hygiene practices can be challenging in day cares and schools, especially in Cotabato province. Samaritan's Purse is improving the quality of life for Alma and other day care teachers and children in Cotabato, one of the nation's poorest provinces, by providing clean water, latrines, and hygiene education.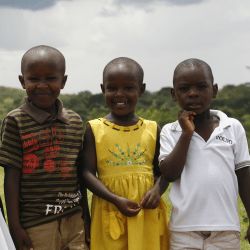 Students learn-and teach-good hygiene
Norbert has been teaching at various schools throughout northern Uganda for the past 30 years.
"Growing up, I always admired the behavior of teachers and the way they were respected," said Norbert, who first encountered Samaritan's Purse while working at Atura Primary School.
Samaritan's Purse worked with Atura Primary School to promote school hygiene and sanitation. The partnership encouraged Norbert, and he has been involved in each step of the school intervention. He, in turn, constantly encourages his students to share the hygiene messages they are learning with their families. Norbert is optimistic about the future of hygiene and sanitation practices at Atura Primary School.