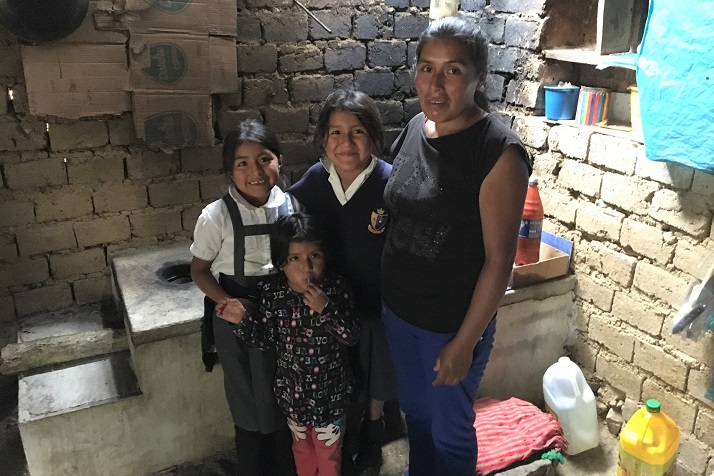 Peru Stoves and Community Development Team September 2020
Location: Canchaque, Peru Dates: September 18, 2020 - September 27, 2020 Donation Amount: $3500/person Volunteers needed: 10
Samaritan's Purse Canada invites you to travel with us to the country of Peru in September, 2020. We're taking a team of volunteers to assist with a health and community development project in a remote community. Samaritan's Purse has been working in Peru for many years through local ministry partner ACED – the Evangelical Christian Association for Development. Together, we've responded to natural disasters, been able to help meet the needs of the most vulnerable, and shared the good news of Jesus Christ. Now we're inviting you to join us! Peru is a beautiful and welcoming country, but many people live in poverty due to political and social instability, and economic inequality amidst other factors.

In rural areas of Peru, as in much of the world, people are exposed daily to harmful smoke from cooking over open fires. Based on 2012 World Health Organization data, more than four million people die each year as a result of respiratory illness; the majority being women and children. Environmental degradation is also a problem in these areas, as considerable wood is needed to maintain traditional cooking practices.
Project:
The "clean cook stoves" project incorporates health training and environmental awareness lectures, and provides vulnerable families with a new stove constructed of local materials that contains the fire and uses a chimney to reduce indoor smoke. Nurseries are also established in the local communities, in order to combat deforestation and provide a source of income for families.

Team members will work on the construction and installation of "clean cook stoves", run a kid's program, assist with planting and tending to crops, and participate in evangelistic outreach alongside the local church.
Schedule Overview:
The team will travel from Canada to Lima, Peru where they will have the opportunity to explore this large Latin American city, and attend a local church service. They will travel together from Lima to Piura, and drive towards the edge of the Andes Mountains where they will stay for one week. Canchaque town will be the base for all activities, as volunteers travel with project staff into remote villages to share the Gospel of Jesus Christ and contribute to making a tangible difference.
Accommodations:
Accommodations will be clean and basic in a local guesthouse or modest hotel, and local travel will be by van or pick-up truck and on foot.
Location:
Canchaque, Peru
Dates:
September 18, 2020 - September 27, 2020
Donation amount:
$3500/person
The per person donation amount for this trip is $3500 (CAD), and includes return international airfare from Calgary, in-country flights, ground transportation, food, accommodations, medical insurance, and project costs. It does not include meals during transit (at airports), passport renewal, vaccinations, or travel to Calgary. It may be possible to arrange flights from other cities in Canada (with increased donation).

Samaritan's Purse Canada (SPC) invites team members to join in its charitable activities. SPC may only be able to undertake this mission trip if sufficient funds are raised. The cost of the trip to SPC is $3500 and trip participants are asked to donate this full amount to SPC in order to cover the costs. Tax receipts will be issued for all gifts.
Next steps
If you are interested in joining us on the Peru Stoves and Community Development Team, please complete an application online. Upon acceptance, you will be asked to submit a $300 initial donation. If you have any questions, please do not hesitate to call or email us.