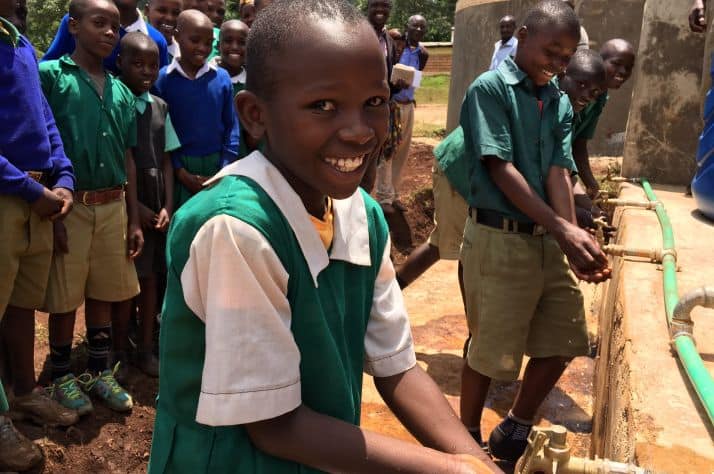 Kenya Water Team September 2020
Location: Bomet, Kenya Dates: September 16, 2020 - September 26, 2020 Donation Amount: $4000/person Volunteers needed: 10
You're invited to join Samaritan's Purse Canada on a journey to Kenya in September 2020 to help provide clean water for people living in need and assist with health education and small construction projects.
Project:
We're looking for a team of 10 volunteers to serve with us in a beautiful country that faces many challenges. Kenya ranks low on the United Nations Human Development Index, and has been plagued by weak governance and corruption. Inadequate infrastructure contributes to high levels of poverty including poor access to safe drinking water; diarrheal disease is the third leading cause of death amongst children.

Partner with us and the Tenwek Mission Hospital in the Bomet region of Kenya to assist with the construction and installation of BioSand water filters and latrines, and to conduct health and hygiene training in local villages. Through this project, people will become more resilient to health challenges (which could be a barrier to stepping out of poverty) and have the opportunity to hear the Good News of Jesus Christ.
Schedule Overview:
The team will travel together from Canada to Nairobi, Kenya, and then travel by bus to the Bomet region. Shared accommodation will be in a local guesthouse, and work will be conducted in nearby communities. There will also be an opportunity to learn more about the country by participating in a cultural excursion.
Location:
Bomet, Kenya
Dates:
September 16, 2020 - September 26, 2020
Donation amount:
$4000/person
This includes return international airfare from Toronto, accommodations, food, transportation, project costs, and administration. It does not include vaccinations, passport renewal, baggage fees, or meals while in transit.

Samaritan's Purse Canada (SPC) invites team members to join in its charitable activities. SPC may only be able to undertake this mission trip if sufficient funds are raised. The cost of the trip to SPC is $4000 and trip participants are asked to donate this full amount in order to cover the costs. Tax receipts will be issued for all eligible gifts.

Note: *Dates are subject to change by a day or two based on flight schedules*
Volunteers:
Participants 16 years of age and older are welcome to apply, with parental consent required for those under 18. An interest in community development or health promotion is considered an asset. Volunteers must be flexible, willing to learn, assist where needed, and in good health. No previous construction or medical experience is required.
Next steps
If you are interested in joining us on the Kenya Water and Health Promotion Team, please complete an online application. Upon acceptance, you can submit a $400 initial donation. If you have any questions, please do not hesitate to call or email us.