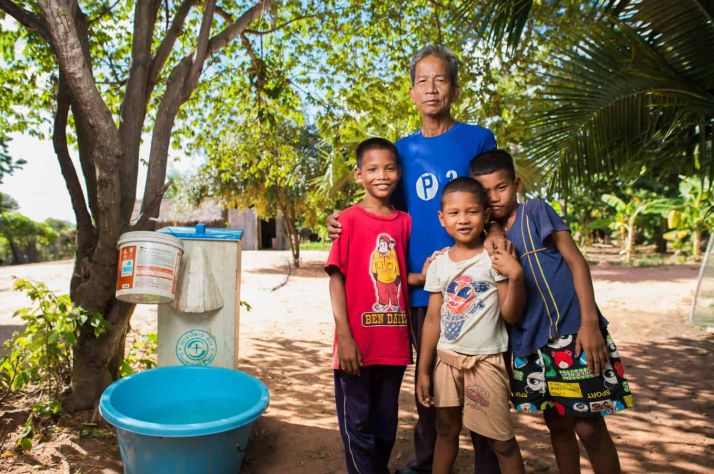 Cambodia Water Team May 2020
Location: Oddar Meanchey province, Cambodia Dates: May 14, 2020 - May 28, 2020 Donation Amount: $3800/person Volunteers needed: 10 - 15 volunteers
Join Samaritan's Purse in bringing clean water to Cambodia!
Project:
Despite the vibrant landscapes and winding rivers that stretch across Cambodia, many Cambodians struggle daily to find safe water. Often the same water sources that are used for irrigation, drinking, and cooking, are also used by people and animals to bathe in. Faced with no alternative, people drink this highly contaminated water, which can result in severe diarrheal diseases and even death. In a country that is 96% Buddhist, and where one-in-five people live below the poverty line, Samaritan's Purse has provided clean water to nearly a million people so far.

We are sending volunteers to help construct and install Samaritan Filters for rural schools, and BioSand filters for households in communities across Northern Cambodia. The team will also have an opportunity to help with an after-school program and to visit other projects of Samaritan's Purse, particularly those related to safe migration and human trafficking awareness.

The Samaritan Filter for schools is based on the proven technology we employ in our BioSand Water Filters. It uses large tanks and a unique combination of 'slow sand' and 'biological' filtration to quickly transform contaminated water into clean water. Here's how the school filter works:

• A school collects contaminated water in a reservoir tank, which slowly releases the water into an adjacent filtration tank.
• Fine sand and a biological layer of water in the filtration tank trap and consume disease-causing parasites, micro-organisms, and viruses.
• More filtration occurs as the water continues to travel downward through increasingly coarse layers of sand and gravel where organisms die off without light and oxygen.
• The gravitational force of the unfiltered water above pushes the filtered water through a pipe and into a large storage tank for drinking and washing.
• For years to come, students can literally turn on the tap to safe water – as in Isaiah 44:3, when God promises: "I will pour out water on him who is thirsty" (NKJV).
Schedule Overview:
The team will spend the majority of the trip in Oddar Meanchey province, working on the Samaritan Filter project and related activities. The trip will include a cultural excursion to Siem Reap to visit the temples of Angkor Wat, and learn about Cambodia's history. Team members will also have the opportunity to learn about human trafficking, illegal migration, and other social issues that Samaritan's Purse and its partners are working to overcome in the region.
Accommodations:
Accommodations will be clean, safe, and basic. In Siem Reap the team will stay at a guesthouse or hotel. When working in rural communities on water filter construction, the team will set up a base camp with Samaritan's Purse mosquito tents.
Location:
Oddar Meanchey province, Cambodia
Dates:
May 14, 2020 - May 28, 2020
Donation amount:
$3800/person
This includes return international airfare from Vancouver (as indicated in your initial online application) to Siem Reap, accommodations, food, transportation, project costs and administration. It does not include vaccinations, passport renewal, baggage fees, or meals while in transit. Flights from other cities in Canada can also be arranged for you to join the team departing from Vancouver (with increased donation).

Samaritan's Purse Canada (SPC) invites team members to join in its charitable activities. SPC may only be able to undertake this mission trip if sufficient funds are raised. The cost of the trip to SPC is $3,800 and trip participants are asked to donate this full amount in order to cover the costs. Tax receipts will be issued for all gifts.
Next steps
If you are interested in joining us on the Samaritan's Purse Cambodia Water Team May 2020, please complete an online application. Upon acceptance, you will be asked to submit a $400 initial donation.