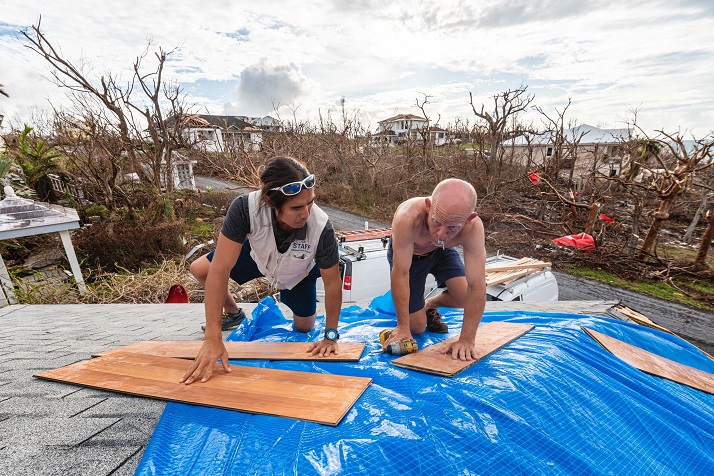 Bahamas Hurricane Dorian Relief Team February 2020
Location: Elbow Cay, Bahamas Dates: February 25, 2020 - March 3, 2020 Donation Amount: $2000/person Volunteers needed: 8
Join Samaritan's Purse in bringing relief to the Bahamas!

As Samaritan's Purse responds to the destruction left by Hurricane Dorian, we are inviting Canadian volunteers to help devastated homeowners in Jesus' name.
Project:
Hurricane Dorian hit the Bahamas on September 1st, 2019 causing severe damage. The Category 5 storm packed sustained winds of 185 mph with gusts up to 225 mph. Thousands of homes across several islands were severely damaged or destroyed, and 70,000 people were reported homeless. We are inviting skilled Canadian volunteers to join us in responding on the island of Elbow Cay. Volunteers will help to repair damaged homes through assistance with framing, roofing, and finishing carpentry. Applicants will be sent a skills questionnaire to ensure the right skillsets to fill the team.
Location:
Elbow Cay, Bahamas
Dates:
February 25, 2020 - March 3, 2020
Donation amount:
$2000/person
The per person donation amount for this trip is $2000 (CAD), and includes return international airfare from Toronto or Calgary, in-country transportation, food, accommodations, medical insurance, and project costs. It does not include meals during transit (at airports), passport renewal, vaccinations, or travel to the departure city.

Samaritan's Purse Canada (SPC) invites team members to join in its charitable activities. SPC may only be able to undertake this mission trip if sufficient funds are raised. The cost of the trip to SPC is $2000 and trip participants are asked to donate this full amount to SPC in order to cover the costs. Tax receipts will be issued for all gifts.
Volunteers:
Team members should be skilled in construction and have strong general construction knowledge. Team members must be willing to follow all safety guidelines and instructions provided by Samaritan's Purse staff. Volunteers need to be up-to-date on routine immunizations including hepatitis A, hepatitis B, tetanus, rabies, and typhoid. A Tetanus shot is required. Volunteers need to be in good physical shape and capable of participating in up to six days of back-to-back manual labor. Work conditions may involve extreme heat, humidity, dust, and debris. Volunteers should be comfortable with minimal conveniences, a diet with limited options, sleeping on cots, cold water bathing, and electricity interruptions. Living and working conditions may include mosquitoes and sand flies, along with dust and close proximity to wild and domestic animals that may exacerbate symptoms for people with allergies or certain medical conditions. Volunteers must be at least 18 years of age.
Next steps
If you are interested in joining the Samaritan's Purse Bahamas Hurricane Response Team February 2020, please complete an online application. Upon acceptance, you will be asked to submit a $200 initial donation. If you have any questions, please do not hesitate to call or email us.