Special Report 2022
We give God the glory as we celebrate a historic Operation Christmas Child milestone: 200 million shoebox gifts packed since 1993. I am thankful to God for all the boys and girls around the world who have had an opportunity to hear the Good News that "whoever calls on the name of the LORD shall be saved" (Romans 10:13).
Every shoebox prayerfully packed in Jesus' Name is special. We have seen time and time again how God places just the right gift into the hands of a specific child. This gift is a tangible expression of God's love for a child in desperate need.
—Franklin Graham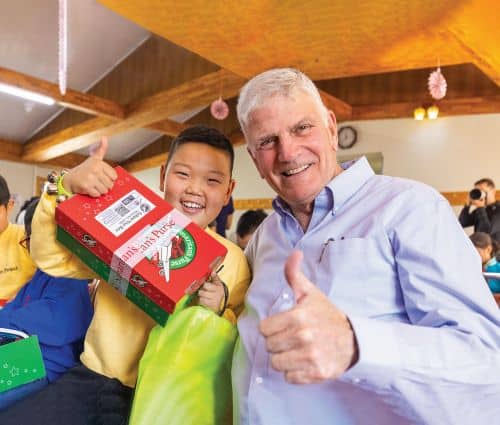 Declare His glory among the nations…
Psalm 96:3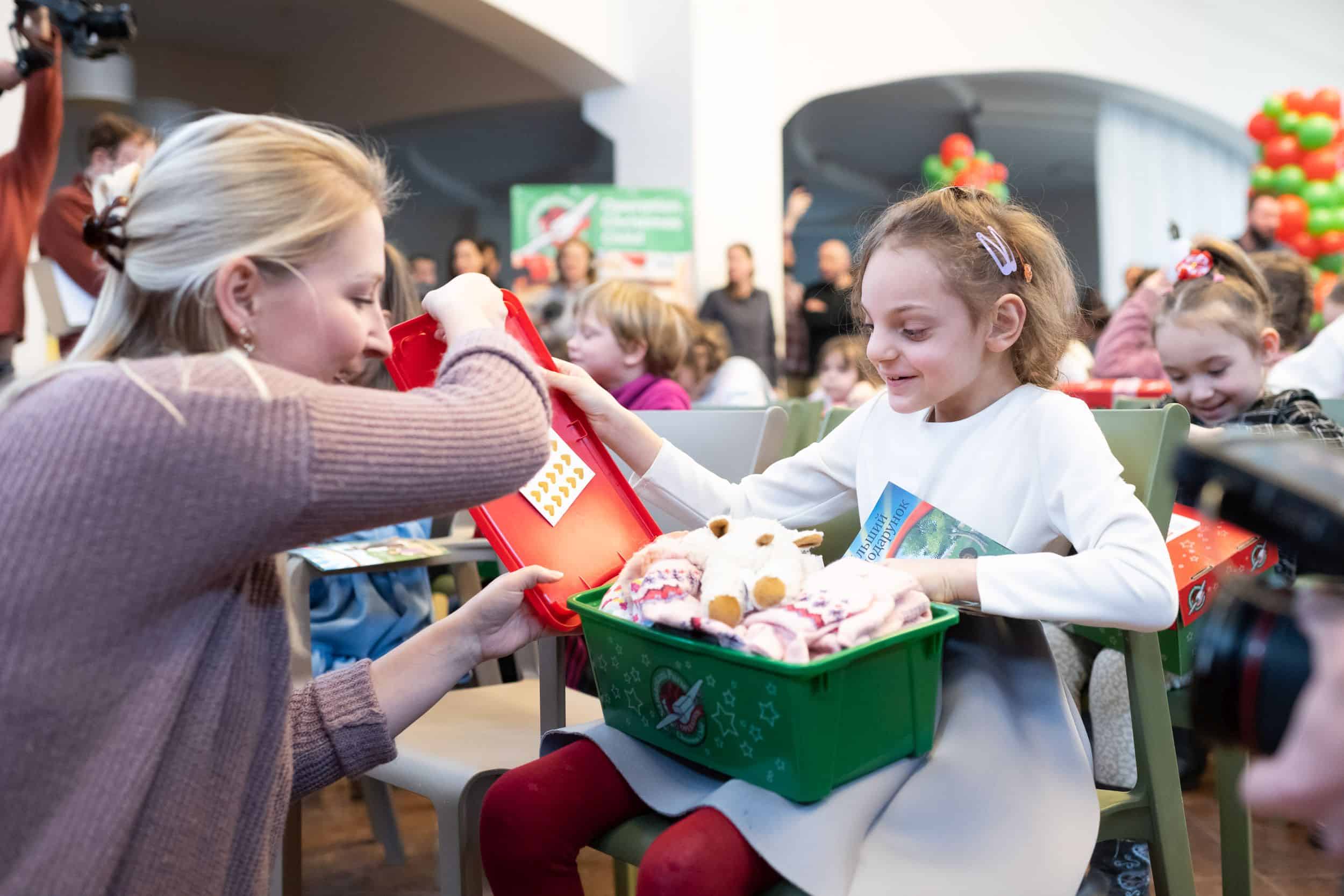 Celebrating 200 Million Blessings
By God's grace, Operation Christmas Child reaches a special milestone.
We thank God for 200 million shoebox gifts packed and for all the boys and girls around the world who have had an opportunity to hear the Good News that "God so loved the world that He gave His only begotten Son, that whoever believes in Him should not perish but have everlasting life" (John 3:16).
Gift-filled shoeboxes have been delivered to children in 175 countries and territories since the project started. This would never have been possible without faithful shoebox packers lovingly and prayerfully preparing boxes in Jesus' Name.
These simple gifts continue to open doors for our local church partners in remote and impoverished communities to share the Gospel with children—many who have never heard about God's love for them.
READ MORE: For the first time in many years, Ukrainian Elizabeth Groff returned to her home country, joining Samaritan's Purse President Franklin Graham on Jan. 25 to celebrate and deliver the 200 millionth Operation Christmas Child shoebox gift to the war-torn country.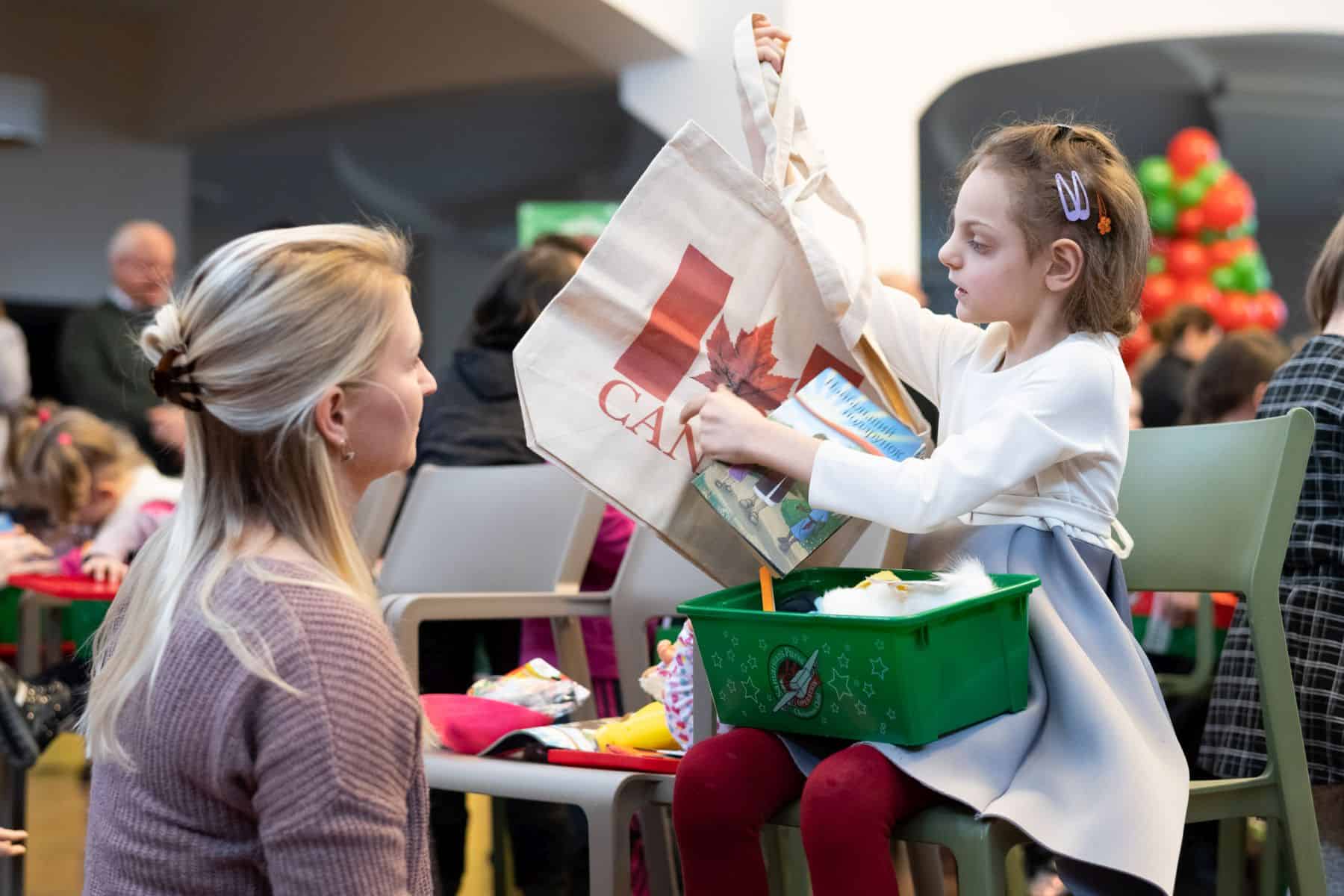 Now all glory to God, who is able, through His mighty power at work within us, to accomplish infinitely more than we might ask or think.

Ephesians 3:20 NLT
God is using Operation Christmas Child and The Greatest Journey to bring the Gospel to an unreached people group in southern Africa.
The Himba are nomadic livestock farmers who live in small mud huts without electricity or running water. They don't have a written language, so the Himba are oral storytellers who often fill their days with singing and chanting.
They worship and pray to their ancestors and trust in local witch doctors for healing. Reaching the nearest town from a Himba village may require several hours of walking. Himba families are often plagued by poverty to the point that it's not uncommon for children to eat only one meal a day.
The Himba have been a largely forgotten people for many years. That is, until God burdened the heart of a pastor to take the Gospel of Jesus Christ where it had never been—to the Himba in Namibia.
An Answer to Prayer
Pastor Rizera Hipakua has done some hard things. He endured ridicule from his family after becoming a Christian. He obeyed God's call to devote his life to the pastorate, even though it meant financial uncertainty.
But taking the Gospel to people who had never heard the Name of Jesus would be his hardest challenge yet. Would the Himba allow him into their villages? How would he explain the Gospel to people who worshipped the spirits of their ancestors?
Pastor Rizera and his church members were in the middle of a week of prayer and fasting, asking God how to begin outreach among the Himba, when an individual came to the church to share about a Samaritan's Purse project called Operation Christmas Child.
"It became the answer from God. Operation Christmas Child opened a door and helped us to become friends with the Himba," Pastor Rizera said.
The first Himba village that Pastor Rizera visited with Operation Christmas Child was in Ombaka. He invited church members and local believers to help him with the outreach event. They distributed shoebox gifts, presented the Gospel, and invited the children to participate in The Greatest Journey, the Samaritan's Purse follow-up discipleship program for shoebox recipients.
A number of children and adults in Ombaka came to saving faith in Jesus Christ as a result of this initial shoebox outreach event and The Greatest Journey. "God breathed new life into them. They are a new creation," Pastor Rizera said.
Starting Churches
The Ombaka community was so eager to continue learning about God that they started gathering regularly under a large tree in the village for worship and prayer.
After bringing the Gospel to Ombaka, Pastor Rizera and his team went to Otutati village, where the people eagerly received the Good News through Operation Christmas Child and The Greatest Journey. They, too, started meeting regularly for worship and prayer.
Samaritan's Purse has helped to construct buildings in both Ombaka and Otutati villages so that the believers can gather even during extreme weather conditions.
"A borehole of Living Water—this is the church," Pastor Rizera said. "They will never find it anywhere else. People were in darkness—now they are living in the Light of Christ."
Lives Transformed
Kappa is a young mother who came to the Otutati church during a difficult time. Her family had paid the local witch doctor a large sum of money, but she still struggled to walk. There was no answer for the mysterious illness that had plagued her for months.
"The church encouraged me to pray," Kappa said. "I started to become stronger and stronger."
Kappa began regularly attending church and, after hearing the Gospel and learning about God's love for her, gave her life to Jesus Christ. One of her daughters also came to faith in Jesus after attending the church.
Another villager, Kuyeua, also gave his life to Christ after going to church. He had been desperate to stop drinking alcohol but couldn't find a way out. "My life was changed by hearing the words they were preaching," he said.
Kuyeua shared the Gospel with his wife, and she became a Christian, too. Kuyeua went from knowing nothing about God to serving as church pastor in Ombaka. "I was in prison—but now I'm not," he said. "I feel like I'm actually having a life now."
Pastor Rizera and the team continue hosting outreach events and teaching The Greatest Journey in Himba villages, and believers in some of these villages are now gathering regularly for prayer, worship, and teaching from God's Word.
More people have joined Pastor Rizera in his efforts to reach the Himba, as he now leads a regional Operation Christmas Child team.
"We pray that the church will grow strong and take the Gospel out," Pastor Rizera said. "Let God give them courage and eyes to see others who need to hear the Gospel."
AN ENDS OF THE EARTH STORY: Bringing the Gospel to the Himba
Now all glory to God, who is able, through His mighty power at work within us, to accomplish infinitely more than we might ask or think.

Ephesians 3:20 NLT
Good News and Great Joy for Mongolia's Children
Samaritan's Purse President Franklin Graham distributed shoebox gifts to a unique group of boys and girls.
Franklin Graham did the 1-2-3 countdown before the children opened their Operation Christmas Child shoebox gifts. He told the boys and girls: "Do you know God loves you? You're very special to Him. We're giving you a gift in God's Name. This comes from Him."
As the children listen to the Gospel presentation, you wouldn't know just by looking at them that for almost a third of them, their lives hung in the balance not long before. Faces that had once been blue from lack of oxygen now lit up with joy when they opened their shoebox gift full of toys, school supplies, and personal care items.
Ariunbayar, 10, also received a shoebox gift. He said his favorite items were a golf ball, tennis ball, and Legos. "This is the gift Jesus sent me from Heaven."
Operation Christmas Child is opening doors for the Gospel in a country where Christians are scarce and Buddhism and cults are common. We pray that God continues using shoebox gifts and The Greatest Journey to bring salvation to children, families, and communities throughout Mongolia.
This year, more than 50,000 children in Mongolia will hear the Good News of Christ through more than 400 outreach events. Since 1996, about 950,000 of the nation's children have received shoebox gifts and heard the message of eternal hope.
READ MORE: Operation Christmas Child Shoebox Outreach in Mongolia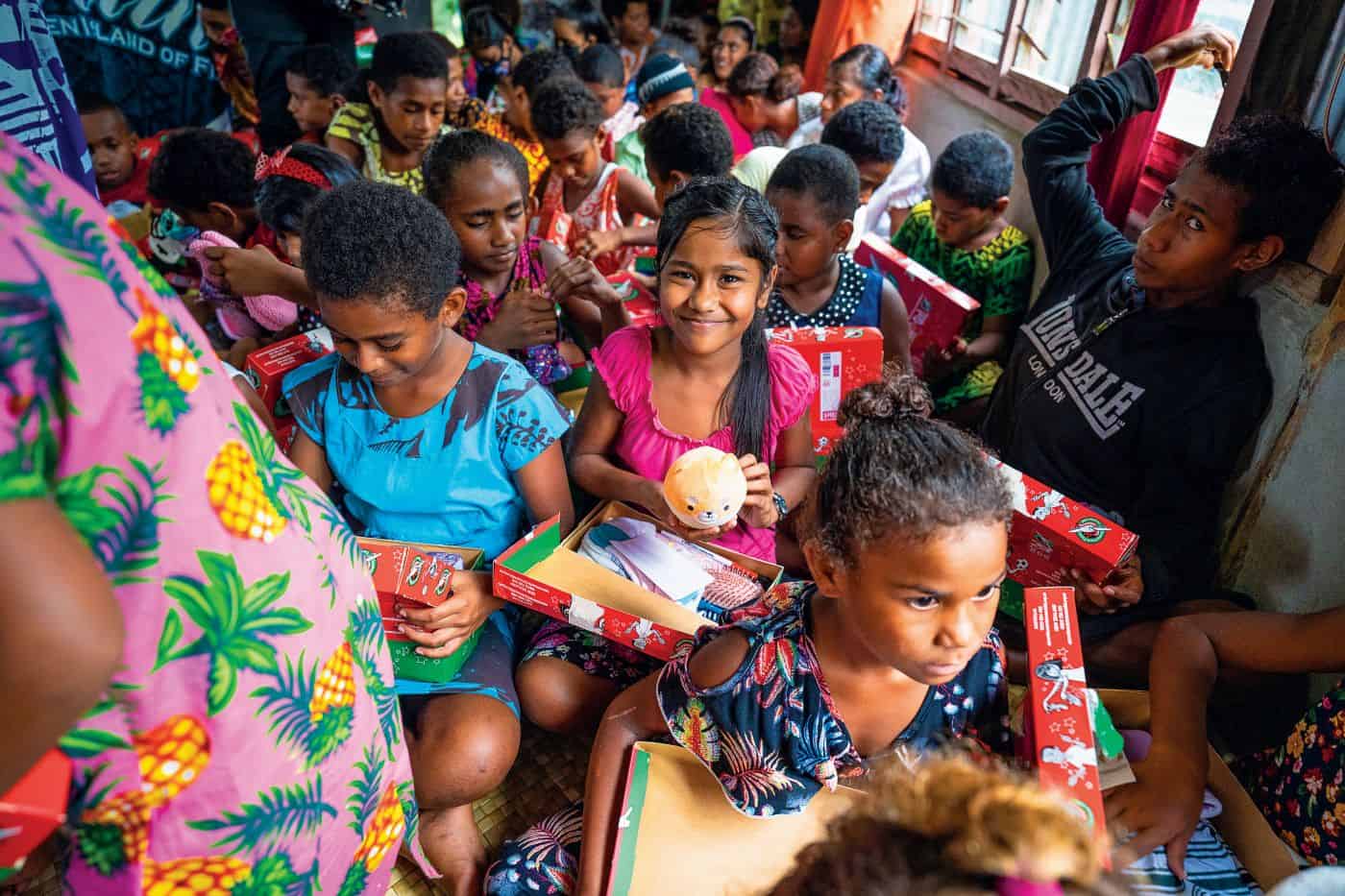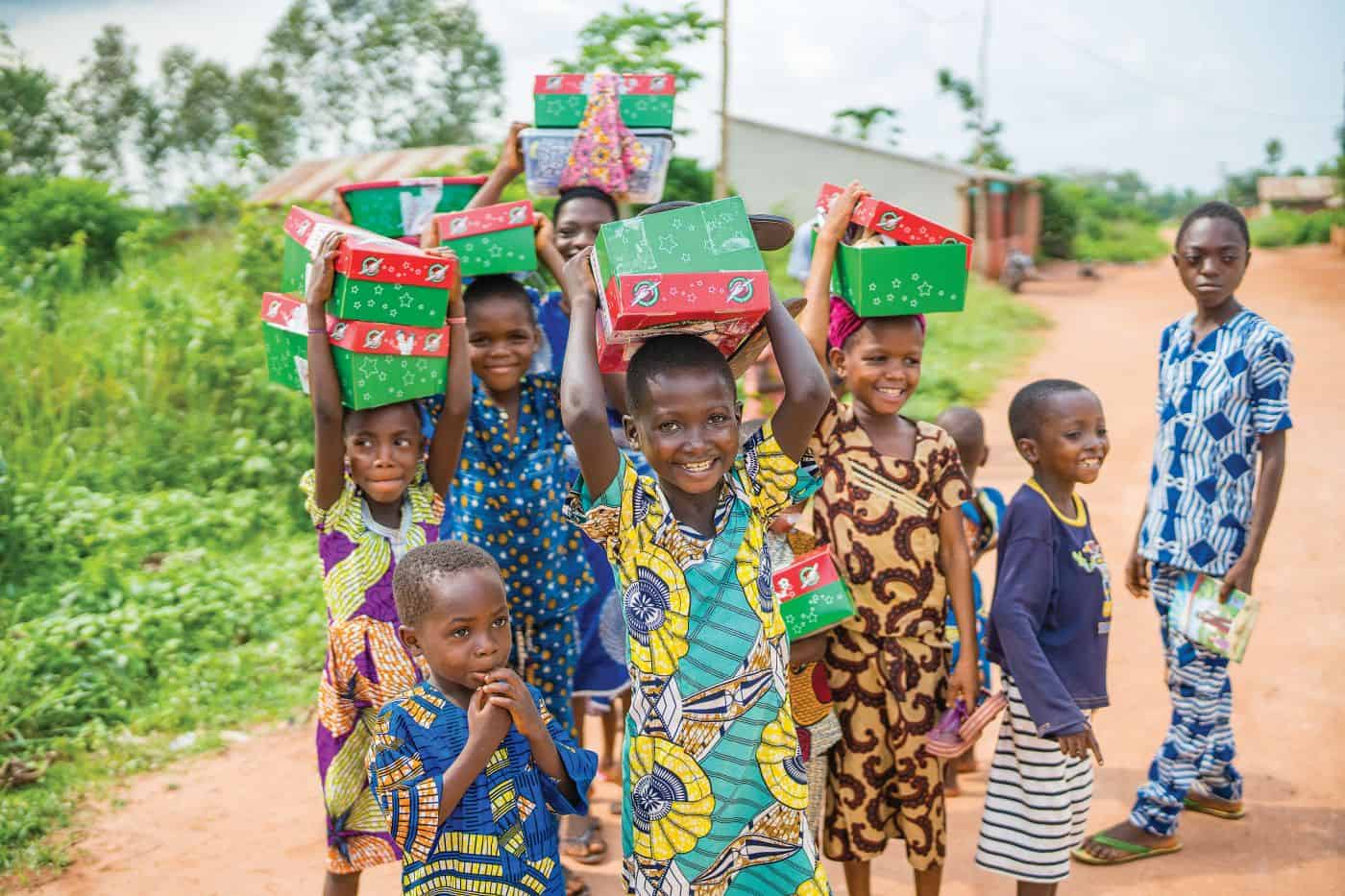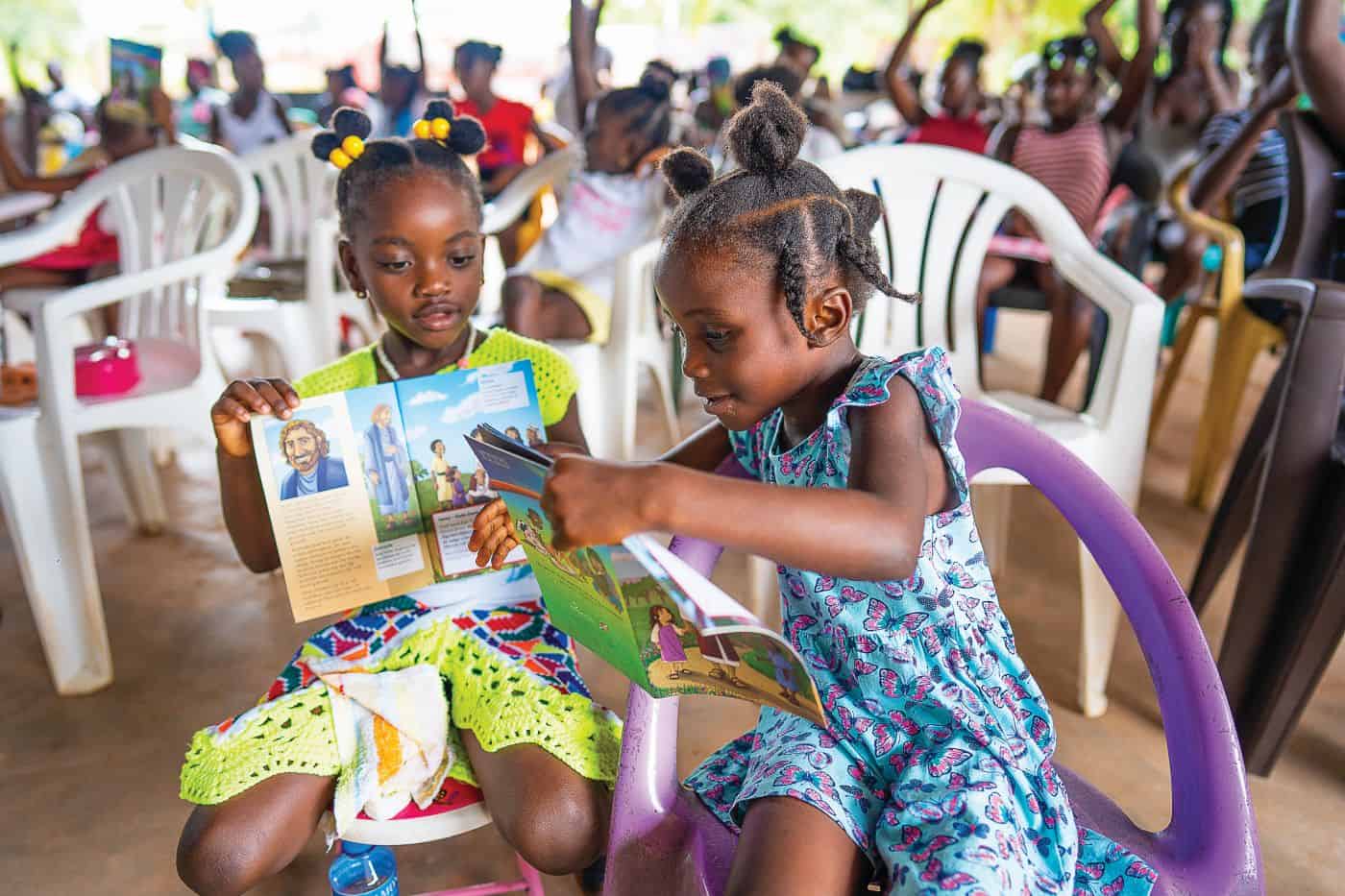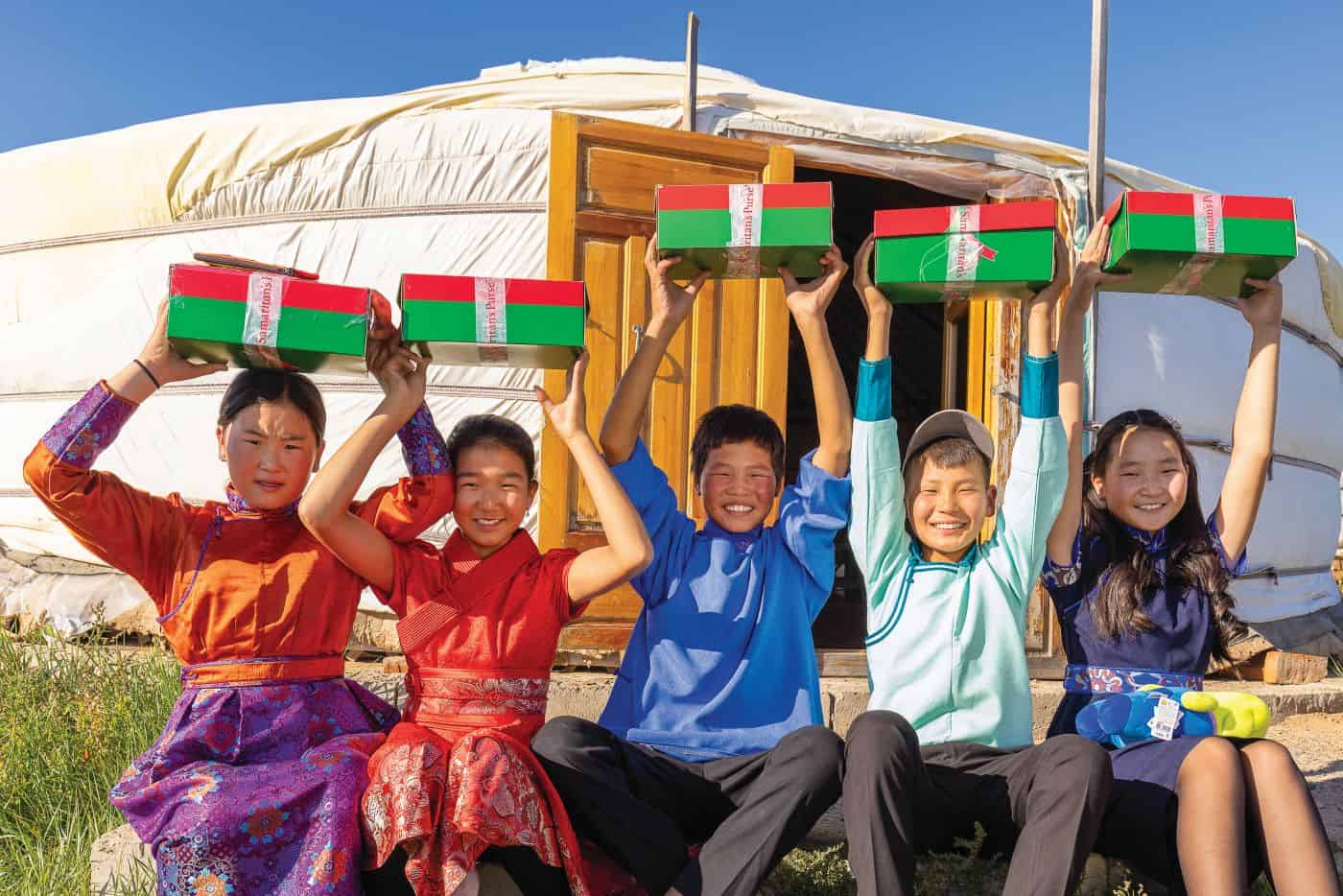 Bringing the Gospel to the Pacific Islands
Children on isolated island nations are hearing the Good News of Jesus Christ for the first time.
A shoebox gift is more than the special toys and items packed inside—it's a tangible expression of God's love. This year, we continued our mission of delivering gift-filled shoeboxes to boys and girls on remote Pacific islands.
Through this initiative, our teams are using shoebox gifts and The Greatest Journey as tools to "proclaim the Gospel to the whole creation" (Mark 16:15, ESV). To date, children on over 960 inhabited Pacific islands have received shoeboxes and have had an opportunity to respond to the Gospel of Christ.
Kwajalein Atoll is a part of the Marshall Islands, a nation located between Hawaii and Indonesia. It's home to about 11,000 people scattered across 100 small islands. Situated on a more than 1,000-square-mile coral reef and featuring one of the world's largest lagoons, Kwajalein Atoll is an isolated place at the ends of the earth that even boats find tricky to access.
"We had a very rough sail, and when we got inside the lagoon it was not great weather or anchorage, but we felt safe," said Katie, an Operation Christmas Child partner and missionary to the Marshall Islands. She sailed to Kwajalein with her husband, Scott, the ketch captain.
When they reached the island of Mejatto, another smaller boat shuttled them ashore with cartons of shoeboxes. They held an outreach event in which they shared the Gospel and distributed 96 shoebox gifts that were packed with care by people from around the world. Moved by the stories from Scripture and the love demonstrated by the team, a number of children prayed to receive Jesus Christ as their personal Lord and Savior.
The next day, Katie and the team visited neighboring Ebadon, known as the forgotten island. The boat shuttle owner had warned them that they only had five hours to get in and out during high tide. Otherwise, the water level gets too low for even the shuttle to travel because the reef is so large.
Undeterred by time constraints, the team loaded the shoebox gifts onto the shuttle and set off to serve the island with a population of just 74. They were warmly welcomed and escorted to the school where the outreach event was held. Again, the team shared God's love, distributed fun-filled shoebox gifts, and invited the boys and girls to participate in The Greatest Journey.
You shall be witnesses to Me in Jerusalem…

Acts 1:8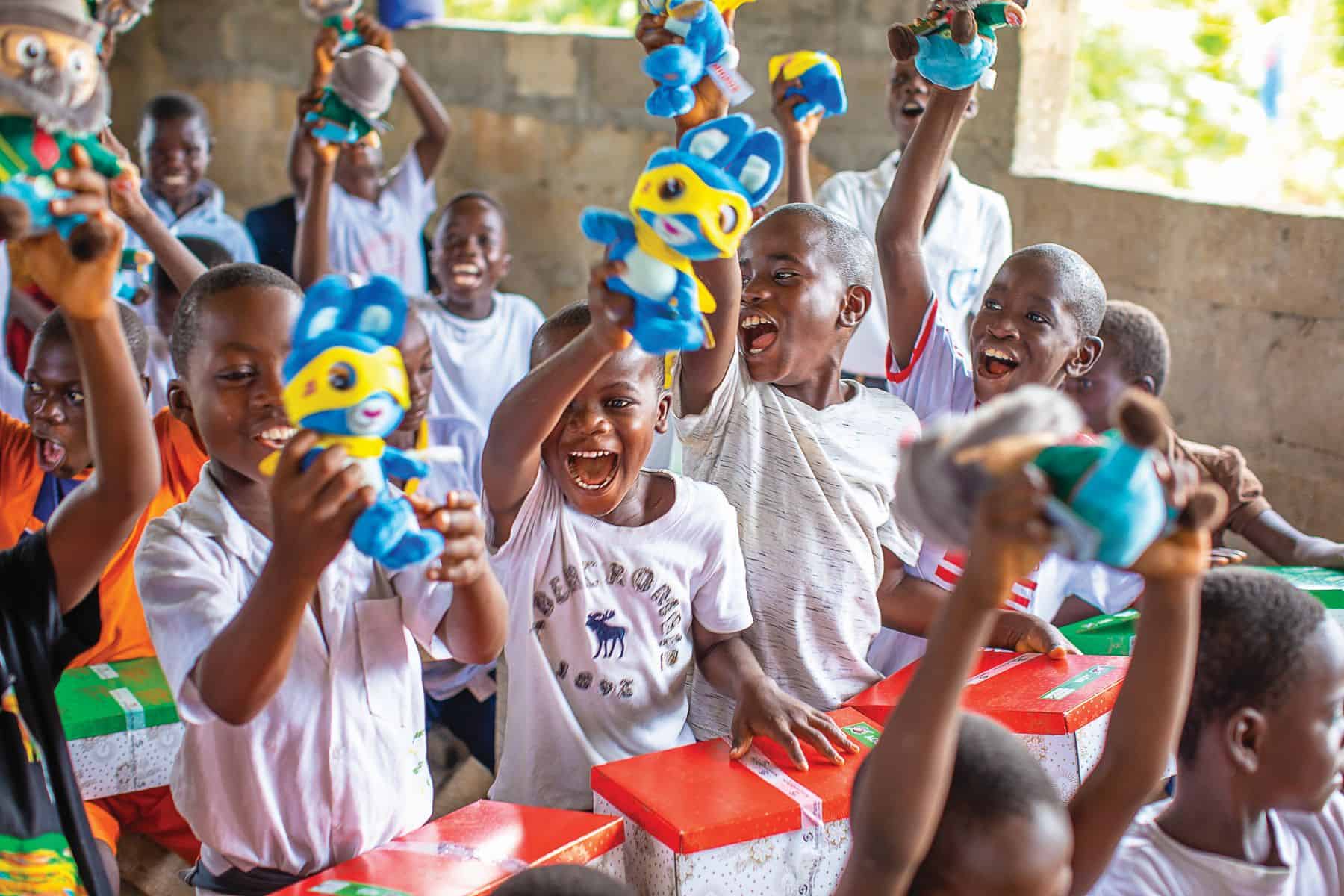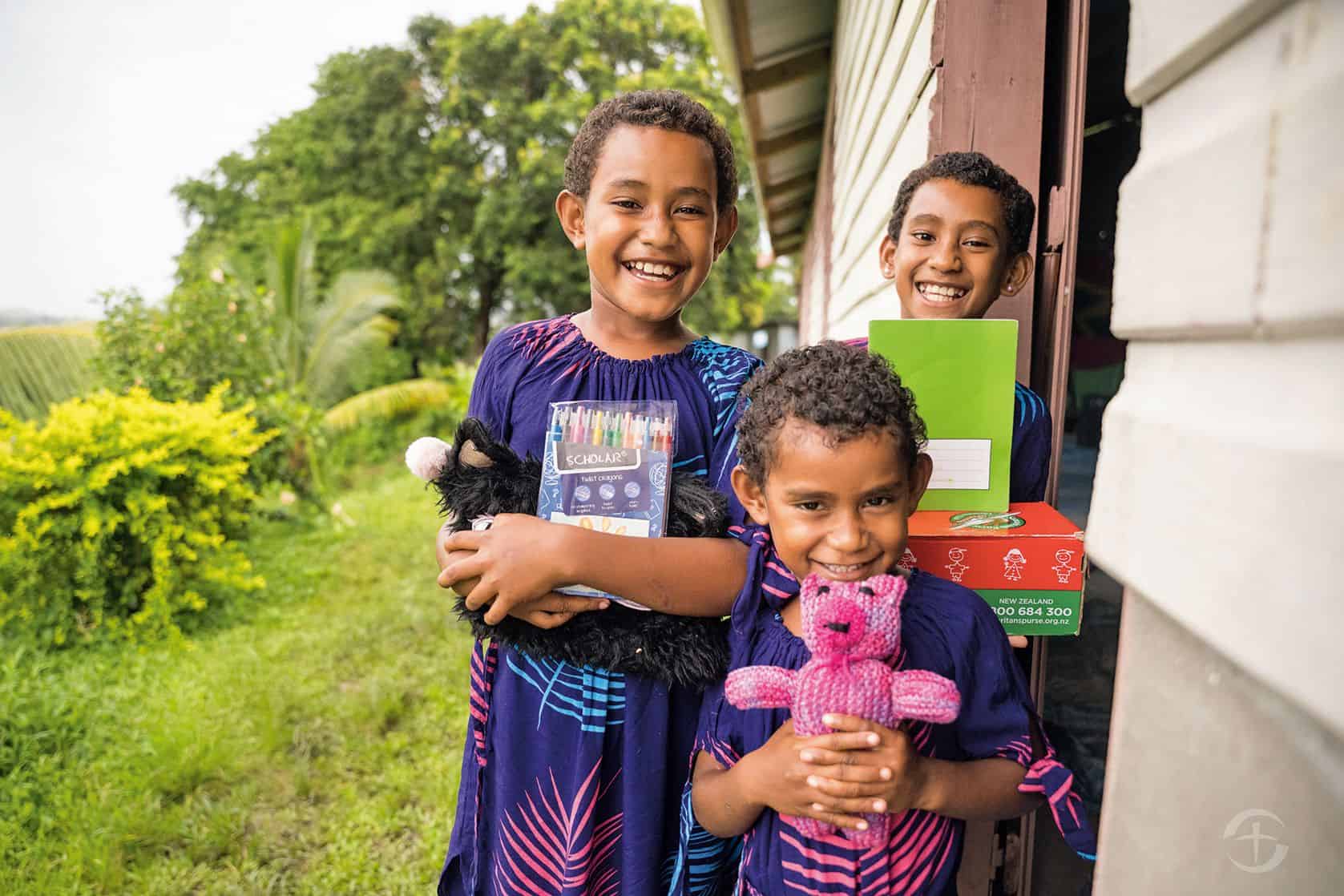 Children come to faith in Jesus through shoebox gifts
The classroom was quiet as boys and girls opened their Operation Christmas Child shoeboxes. There were no squeals of excitement or chattering, no shouting for friends to come and look at the fun gifts inside their shoebox.
Yet, their smiles were so big and bright that verbal expressions weren't needed to reveal the joy overflowing from their hearts.
"It moved my soul seeing them happy. It's like I got a gift for myself," said Klaudia, who teaches the group of deaf children in Opuwo, Namibia.
Klaudia was excited for her students to participate in Operation Christmas Child because she wanted them to learn about the Gospel and to know that they are precious in God's sight. "They felt loved today," she said.
Klaudia's class is the only option for deaf children in Opuwo to receive an education unless they travel nearly 10 hours to the capital—which isn't an option for these impoverished families. Some students come to her as teenagers having spent their lives feeling alone because they were unable to communicate with family and friends.
Kavari is just one of many students who received a gift-filled shoebox. He was thrilled to see all the gifts packed inside his Operation Christmas Child shoebox, especially the soccer ball. Yet, it wasn't a toy that excited him the most—it was The Greatest Gift storybook. In addition to hearing the Gospel before they receive their shoebox gift, boys and girls also receive this booklet that shares 11 Scripture stories and invites children to follow Christ.
Just one day after the outreach event, Kavari was already eagerly sharing the stories in his book. "I'm so happy to get the booklet," he said. "I learned about creation, how we should love one another, and how the kids in the Bible were excited to see God."
The stories in the booklet had quickly become more than stories to Kavari—he knew they were God's truth. "I decided to follow Jesus," he said.
Kavari said he is excited about going to church and sharing his faith with others. "I want others to accept Jesus into their life."
Let the little children come to Me, and do not forbid them…

Matthew 19:14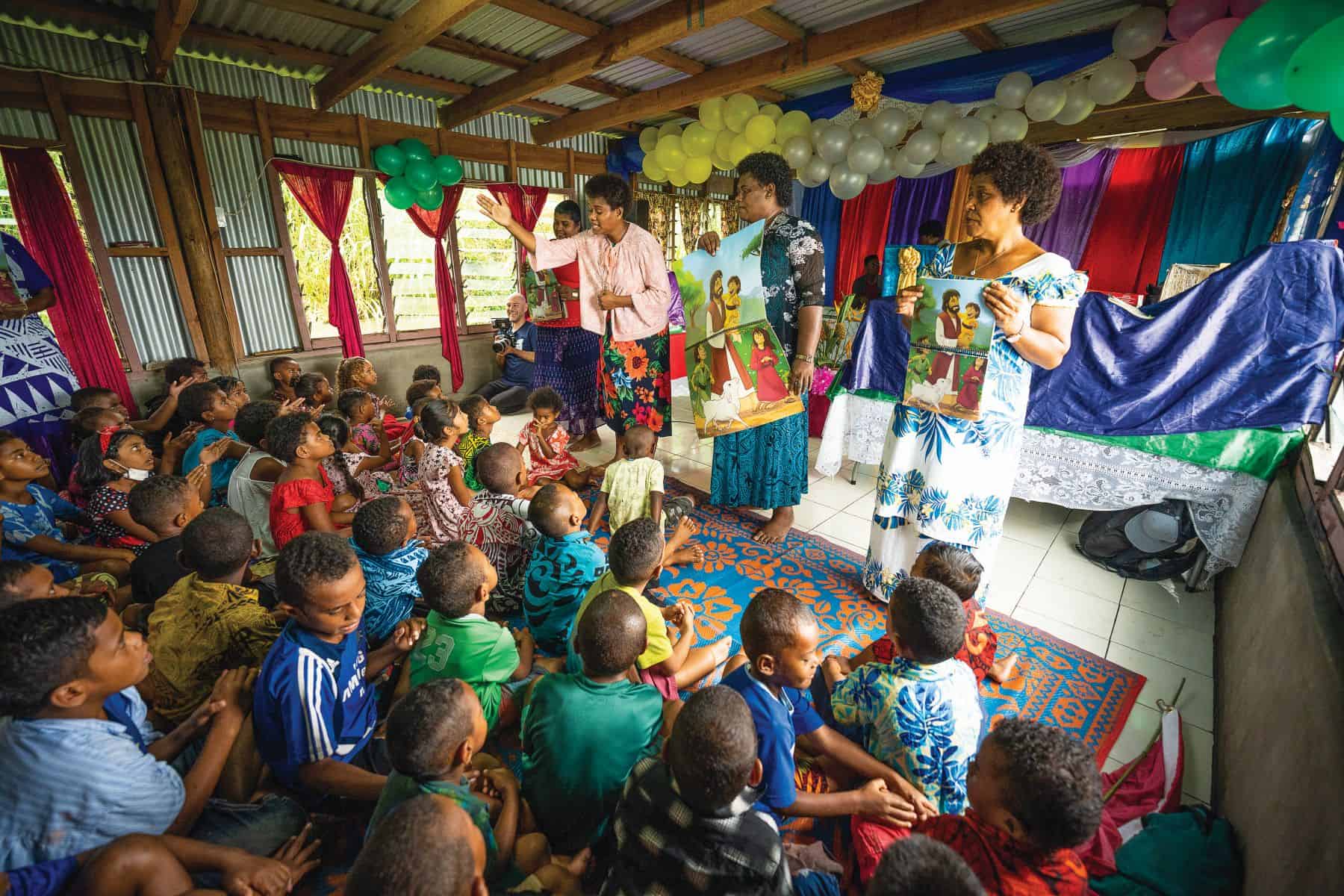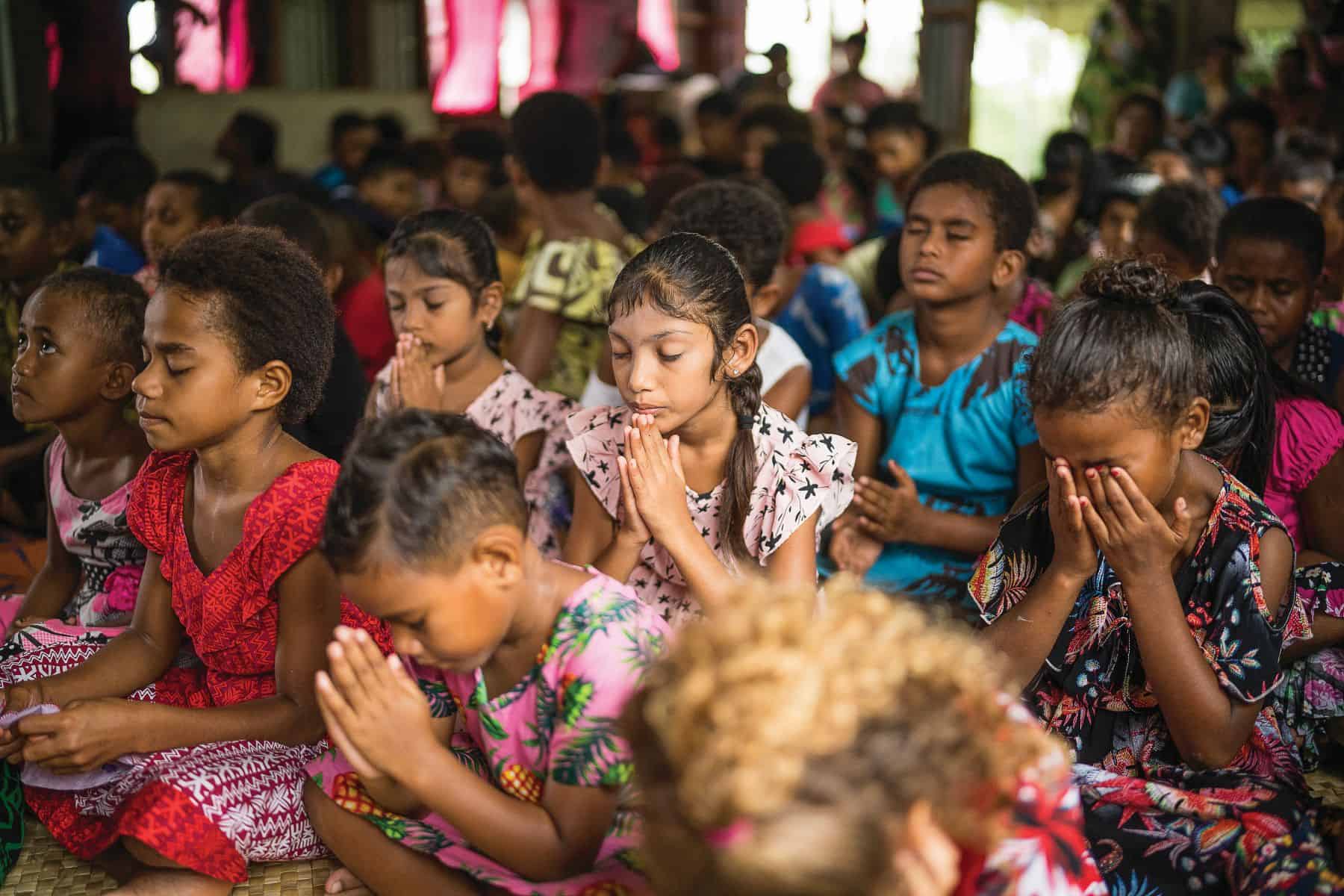 Discipling the Next Generation
Boys and girls are being transformed by the Gospel through The Greatest Journey discipleship program
Millions of children are beginning a new life in Jesus Christ as they join The Greatest Journey and learn what it means to follow their Lord and Savior. Through this 12-lesson follow-up discipleship program for shoebox recipients, more than 2.4 million boys and girls made decisions for Christ in 2022.
These classes are taught by hundreds of thousands of local believers who have been trained by Samaritan's Purse and volunteer their time to bring the hope of the Gospel to children in need.
After completing The Greatest Journey, children attend a graduation celebration and receive a certificate. Most importantly, they are given a Bible, and it is often the first copy of God's Word the child has owned.
Trusting God
About an hour west of Abidjan, the largest city in Cote d'Ivoire, is the small fishing community of Dabou. Roads become nearly impassable during rainy season, leaving the town largely unreachable.
Fishermen from the nearby country of Benin sell their catch in Dabou. Along with their goods, however, they also bring voodoo worship practices, which has created a strong resistance to the Gospel in Dabou.
Samuel had always maintained and cared for his family's voodoo sanctuary. But he questioned everything he had been raised to believe after he attended an Operation Christmas Child outreach event hosted by a small church outside of Dabou. Samuel joined 50 other children at the event, and many of them also enrolled in The Greatest Journey.
After learning about God during the discipleship lessons, Samuel told his parents that he no longer wanted to continue voodoo worship. Although his parents insisted that he would die if he stopped practicing voodoo, Samuel prayed to Jesus for strength and protection.
The following night, four voodoo sanctuaries in the community burned to the ground due to an electrical short circuit.
The faithfulness of the small church outside of Dabou led Samuel's community to witness God's mighty power. Now about 25 adults and children in Samuel's village are meeting regularly and worshipping God.
…'Go out into the highways and hedges, and compel them to come in, that My house may be filled.'

Luke 14:23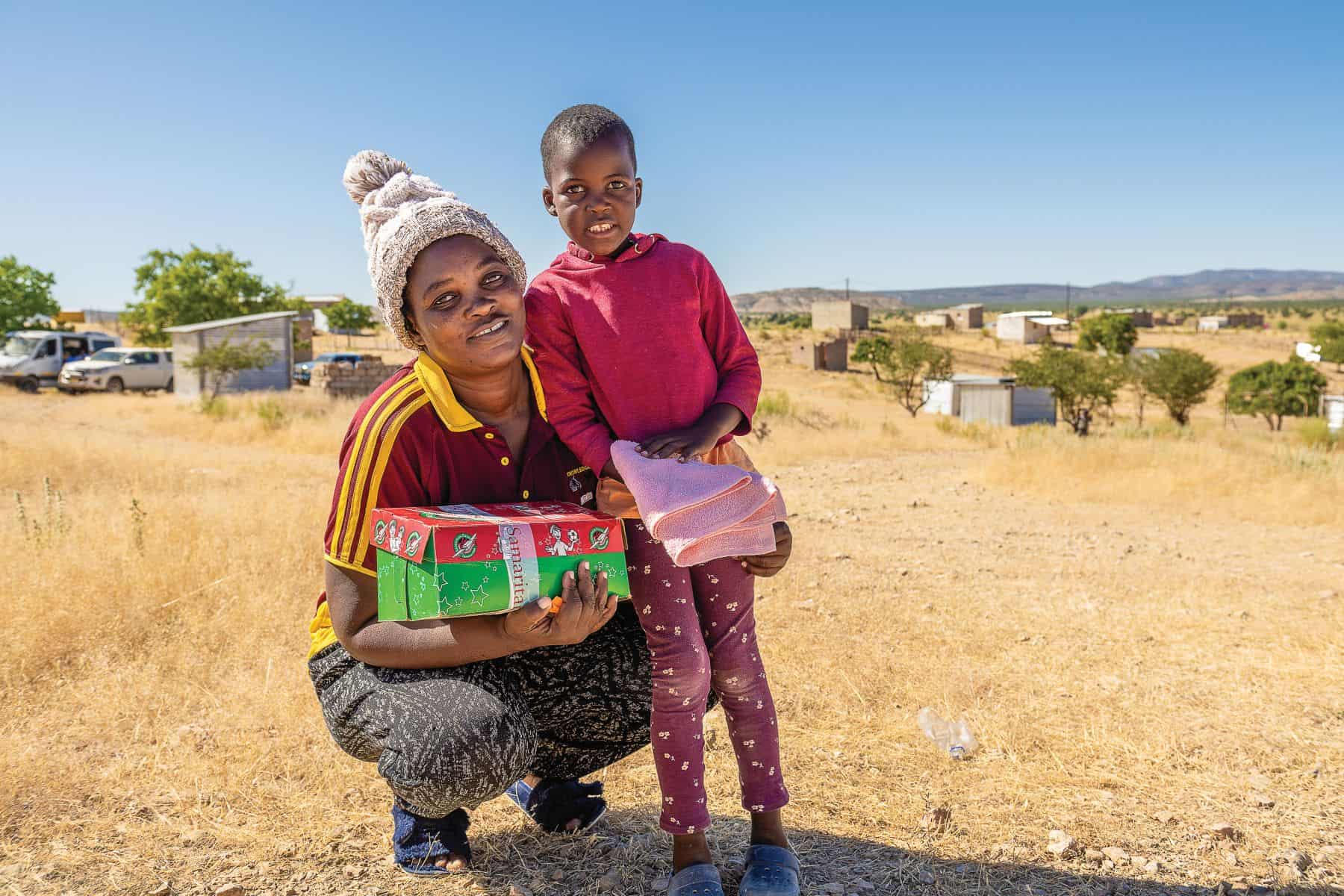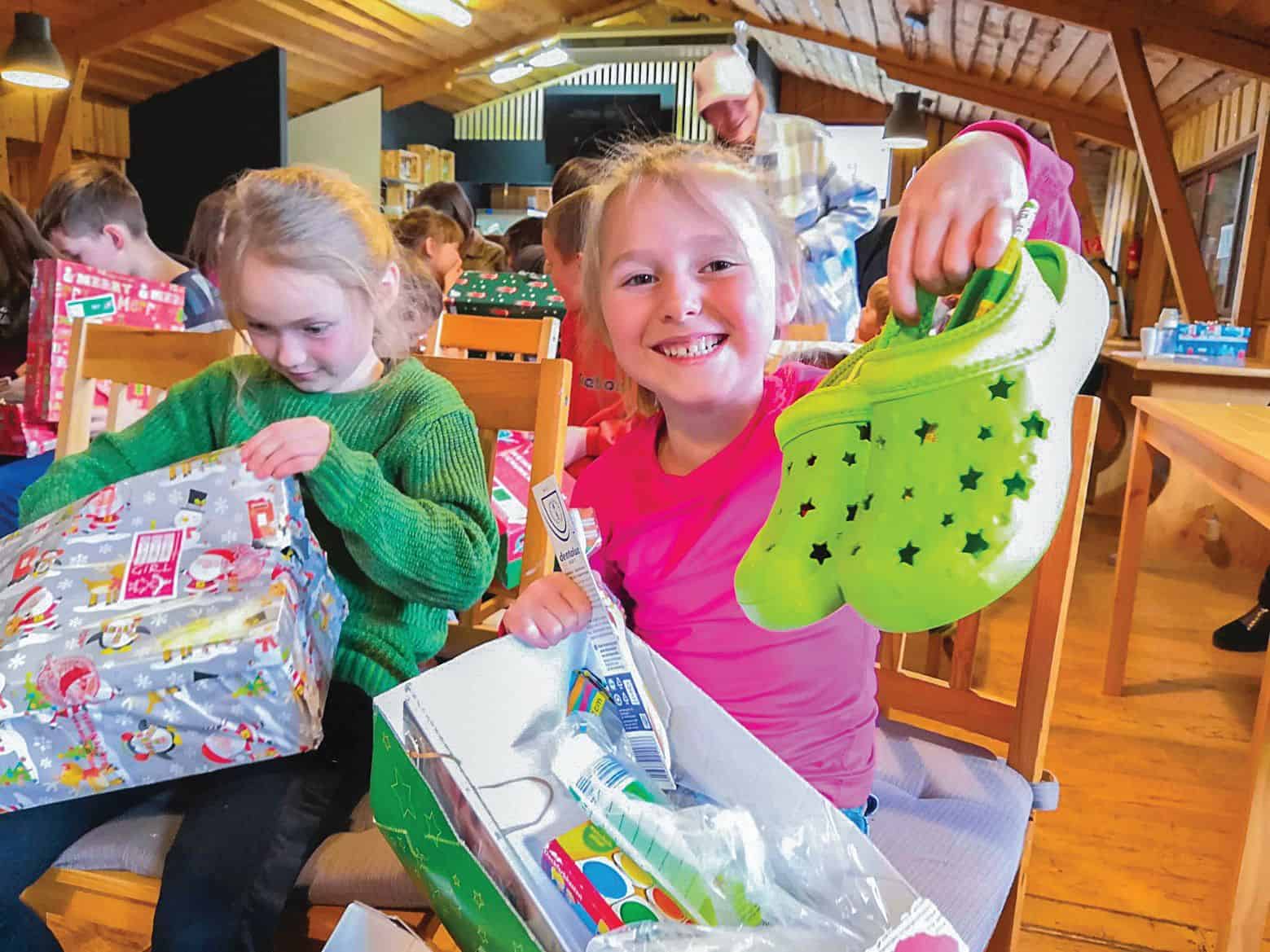 Handcrafted Peg Dolls Reach Hearts for Christ
An Ontario artist is passionate about packing shoeboxes with handmade 'Heart Pegs.'
Niki sits down at one of her favorite places on earth: her craft table.
It's time to unwind from a long day.
She pulls out plastic containers of paint—colors reminiscent of strawberries, denim, and seashells. Wild rose pink and butterfly orange. Ladybug red and astronaut white. Policeman blue and pineapple yellow.
Next, wooden peg dolls are set down with care. These blank little canvases—at the touch of Niki's artistic hand—will soon be transformed into imaginative characters full of personality.
There's the brave-faced fireman. The sweet mother holding her darling infant. Adventurous mermaids, and the ready-come-what-may safari explorer. There's a parka-donned family from the Arctic, a royal family complete with crowns, and even a team of doctors.
But these miniature dolls aren't just for perks. In fact, they serve a larger-than-life purpose: to delight the hearts of children in need through Operation Christmas Child, and to give them the opportunity to know Jesus Christ.
Niki tucks each doll alongside other gifts in prayerfully packed shoeboxes. Then they are shipped to destinations like Guinea-Bissau and Sierra Leone, Nicaragua and Costa Rica.
"I'm passionate about Operation Christmas Child because my family and I believe in the ministry's mission to spread the Gospel of Jesus Christ to the ends of the earth," says Niki.
"As a receiver of the love of Christ myself, I understand how impactful it can be," she adds. "It is our prayer that each child, together with their loved ones, would get the chance to know and experience hope in Christ—His peace, His love."
Niki uses a marker to draw a red heart on the underside of every doll. "It symbolizes that the dolls are made and sent with love," she explains, "and most importantly, that Jesus loves these kids so very much!" It's also the dolls' namesake; Niki fondly calls her craft 'Heart Pegs.'
This is Niki's sixth year packing shoeboxes. Alongside her family and friends, she packed a spectacular 344 last season. But she didn't begin painting peg dolls until 2021, when the COVID-19 pandemic forced her to think creatively about how she could reach others with God's love.
"We couldn't do 'normal' things," she recalls. "I wanted to serve the Lord, but didn't know how to, while being at home. So Heart Pegs were born!"
Niki's partner in craft is her nephew Carlson. She estimates that they have made about 500 so far. "And just like the shoeboxes, no two are ever completely alike," she says.
"I think one set that's in my top favorites this year is the 'You Are Loved, Chosen, and Valued' set. It's a good reminder that in Christ, we are all that and more."
Niki shares her creations on YouTube, posting everything from Heart Peg tutorials to themed shoebox ideas. Her gentle voice guides viewers from planning, to painting, to packing.
"We hope to inspire crafters out there!" she shares. "If anyone wants to get involved and paint Heart Pegs for OCC with us, we've uploaded some simple DIY videos that we hope can help people get started."
Niki says 1 Corinthians 16:14 inspires her work: "Let all that you do be done with love."
"And what is love?" she goes on to ask. "In 1 John 4:16 it says, 'God is love.' So in everything we do, God has to be in it—from what we put in the box, to sending the box for shipping—we have to pray for God's guidance all the way!"
God alone knows the full impact of Niki's Heart Peg passion. He sees each child who has held a special doll in the palm of his or her hand, found Niki's hand-drawn heart, and felt loved. Chosen. Valued.
LEARN MORE: Download craft patterns to and make beautiful items for your shoebox gifts
Train up a child in the way he should go, and when he is old he will not depart from it.

Proverbs 22:6
"God Was Calling Me to Do Something More for Him"

Operation Christmas Child supporter helps others pack shoebox gifts for children.
It all started in 2012, when Kim Smith went on an Operation Christmas Child shoebox distribution trip to Nicaragua.
Kim brought along a shoebox she'd packed for a girl between the ages of 5 and 9. The big problem was figuring out who to give it to.
Since 1993, almost 200 million children in more than 170 countries and territories have received an Operation Christmas Child shoebox. The project delivers not only the joy of what, for many kids, is their first gift ever, but also gives them a tangible expression of God's love.
"We're standing in front of this church with about 100 kids and I was told to pick a child to receive my shoebox. I thought, 'I can't do that; my heart goes out to all of these children,' she said, struggling to hold back tears at the vivid memory.
After praying about it, the Orleans, ON resident, then 46, scanned the crowd and saw a little girl smiling at her. She noticed and kept scanning, but had the feeling someone was staring at her. So she looked again at the young girl—seven-year-old Katy—and once again made eye contact.
Believing this was God's direction, Kim sat down with Katy and gave her the box. As the youngster looked through the contents—Kim still remembers exactly what she put in the box—Katy had a 'wow!' reaction to the Barbie doll, coloring book and crayons, T-shirt, skipping rope, toothbrush, soap, face cloth, notebook, pens, pencils and a sharpener, ruler and eraser.
Using the few Spanish phrases she'd learned before the trip, Kim asked Katy her name, then told her God loves her and she was special.
"Katy's eyes just brightened up when she heard I said that," Kim recalled happily.
As she met so many children in need and saw how Canadian-packed shoeboxes brought joy to them and their families, Kim sensed something changing in her.
"I came back and I felt God was calling me to do something more for Him," she said, becoming emotional again at the power of the memory.
Kim describes herself as "a quiet, behind-the-scenes person," but when she heard of a friend who was helping people pack boxes for children in need, she felt called to do the same.
She convinced Gillian Hill, a friend and fellow fan of what God is doing through Operation Christmas Child, to join her. Together, they have worked through their church—Redeemer Alliance—to help people pack more than 700 gift-filled shoeboxes for children in need.
You might be wondering how Kim fits this year-round initiative into her life and full-time job at an insurance brokerage. "From now to November, my job and Operation Christmas Child kind-of get put together," she said. "My boss is also my brother-in-law; he attends church and knows about the great work done by this ministry."
In the end, bringing hope and joy to children in need "is a worthwhile cause that's needed. It makes you feel good doing something for someone else. And the children learn they are loved by Jesus and by people who don't know them."
LEARN MORE: Become a Year-Round Volunteer
As each one has received a gift, minister it to one another, as good stewards of the manifold grace of God.

1 Peter 4:10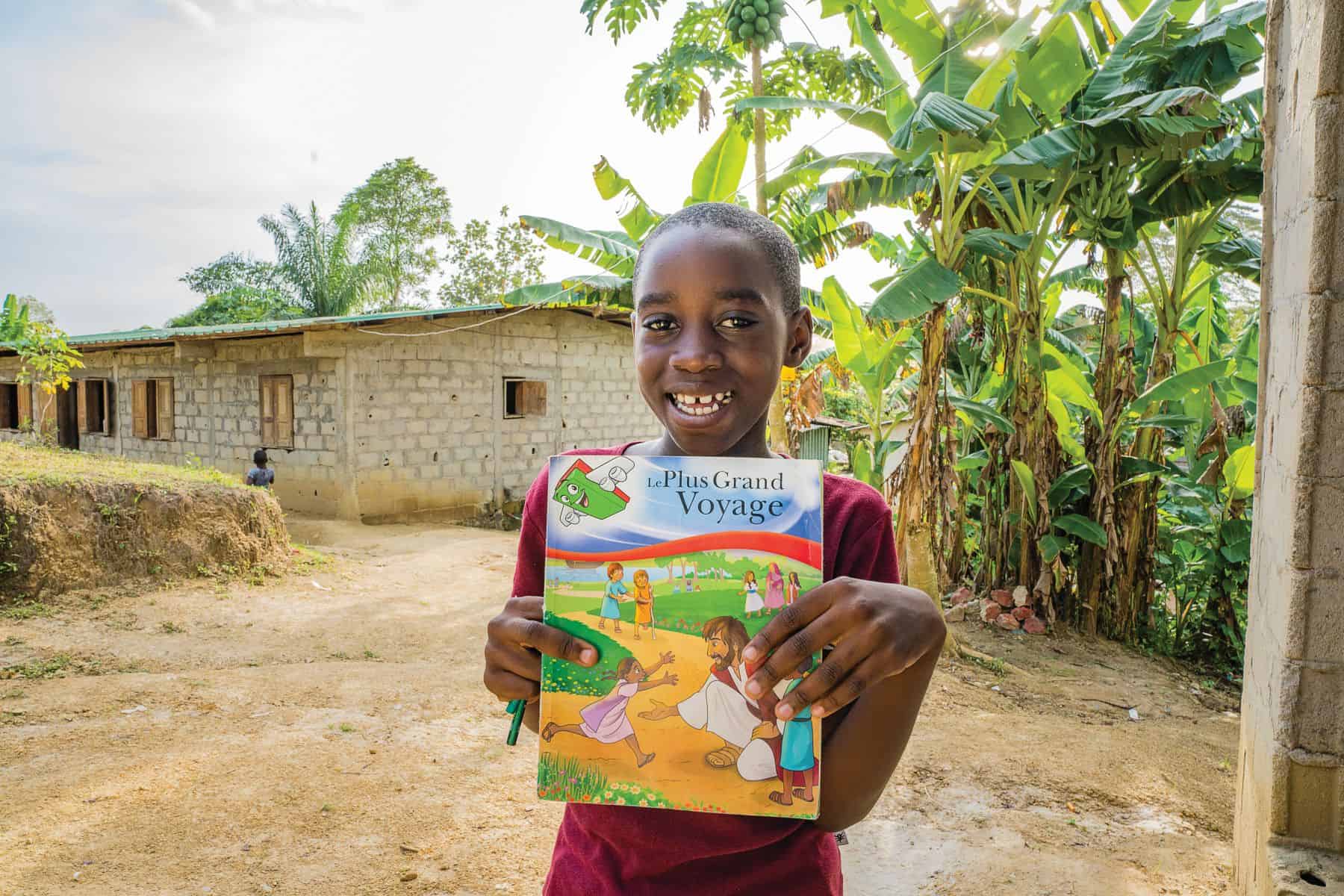 We praise God that in 2022 over 2.4 million made decisions for Christ through The Greatest Journey! In addition, over 10.6 million gifts were packed, collected, and processed to bless even more boys and girls in 2023. Together in Canada, we packed 415,072 shoeboxes!
Time and again, we saw God work wonders to open doors for ministry and open hearts to receive His love. As one Regional Team Leader said: "With Operation Christmas Child, God upsets social habits, overturns traditions and customs, and acquires a people for Himself. Through this ministry, the impossible becomes possible by virtue of God." Amen!
…with God all things are possible.

Matthew 19:26