Life-Saving Food Around the World
Helping hungry families with nourishment and hope in Christ
Harvest of Hope in India
A FAMILY'S DESPERATION TURNED TO HOPE THROUGH LIFE-SUSTAINING CROPS
At first, Assainar's neighbors laughed at him. In their eyes, the new farmer was doing everything wrong.
Most people in his region of India used expensive chemicals and fertilizers for crops, but Assainar used none. When most people burned away unwanted vegetation, Assainar refrained. Instead, the father of three prepared his small plot of land using the simple, natural techniques he learned at a Samaritan's Purse farmer field school—made possible by partners like you.
When Assainar's crops began to produce a few months later, the neighbors stopped laughing. Tomatoes, corn, eggplant, okra, radishes, spinach, and beans sprang up around his home.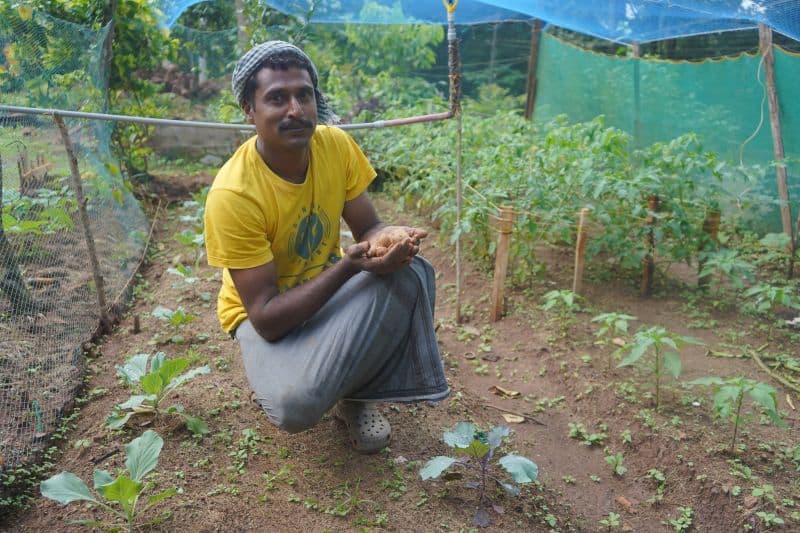 Assainar among his garden in India, grown with the support of partners like you.
Life has changed drastically for Assainar and his family. It wasn't long ago that they were struggling to survive.
Like millions of fathers, Assainar left his home to find employment in another country. He worked as a driver in Saudi Arabia and sent money to his family each month. Then, COVID-19 hit, and Assainar lost his job. He returned to India but couldn't find anything to support his family. Even reaching out to his relatives didn't help.
As food prices skyrocketed over the last year, the pressure intensified. "It was becoming so difficult to feed my family," he said.
That's when the Natural Way of Farming project gave Assainar another way to support his family. Though he had never farmed a day, our Christian partner offered to teach him natural, inexpensive techniques to grow nutritious food. Through our partner, Assainar also received tools, seeds, and even chickens.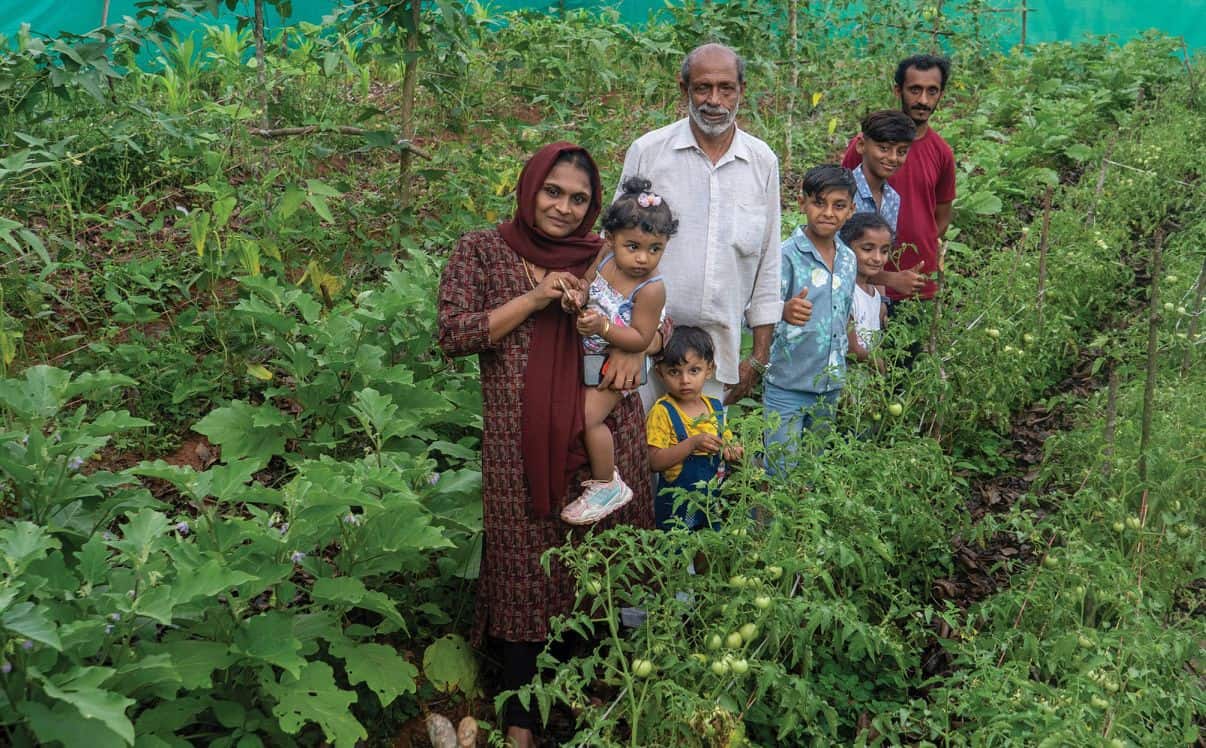 In India—home to one-fourth of the world's undernourished people—Samaritan's Purse is training over 1,700 men and women on improved agricultural practices to help lift them out of poverty, increase food security, and bring hope to tribes in the rural Wayanad district.
"I have so much joy to show my garden," he said. "My wealthy neighbors keep asking me how I grow so much. Since the vegetables are chemical-free, they also ask me to sell the products to them, but I don't do that because I need to feed my family first. I am planning to scale up my work so that I can sell to them."
"Now, I am confident that I can survive and earn enough to feed my family," he said. This help has allowed our partner to start praying with Assainar and point Him to the One who nourishes the soul. "And Jesus said to them, 'I am the bread of life. He who comes to Me shall never hunger'" (John 6:35).
Delivering Emergency Food in Jesus' Name
WHERE HUNGER IS SUDDEN AND SEVERE, FOOD FROM CANADA SAVES LIVES
More than 230,000 Sudanese have entered Chad in recent months, fleeing the fighting that broke out in their country in April. As many as 1,000 more people continue to filter in every day. These families live in makeshift camps with little resources, water, or food.
Because of friends like you, a sea container holding 22 tons of emergency food from Canada is on its way to help save lives and relieve suffering in Jesus' Name. Two more airlifted shipments carrying 36 tons of food aid will soon follow.
Each container holds the equivalent of 1 million servings of highly nutritious vegetable mix grown by Canadian farmers. This is enough to sustain 25,000 people for one month when paired with other locally purchased food staples such as rice, oil, and canned goods.
In July, the Samaritan's Purse DC-8 also delivered 900 rolls of shelter plastic, more than 5,000 solar lamps, tents, medical supplies, medications, and other emergency food.
Your prayers and support are vital in making these life-saving deliveries. Other emergency food is also arriving in countries that include Madagascar, Pakistan, and Sri Lanka, where thousands of mothers and children face severe malnutrition amid an economic crisis and natural disasters.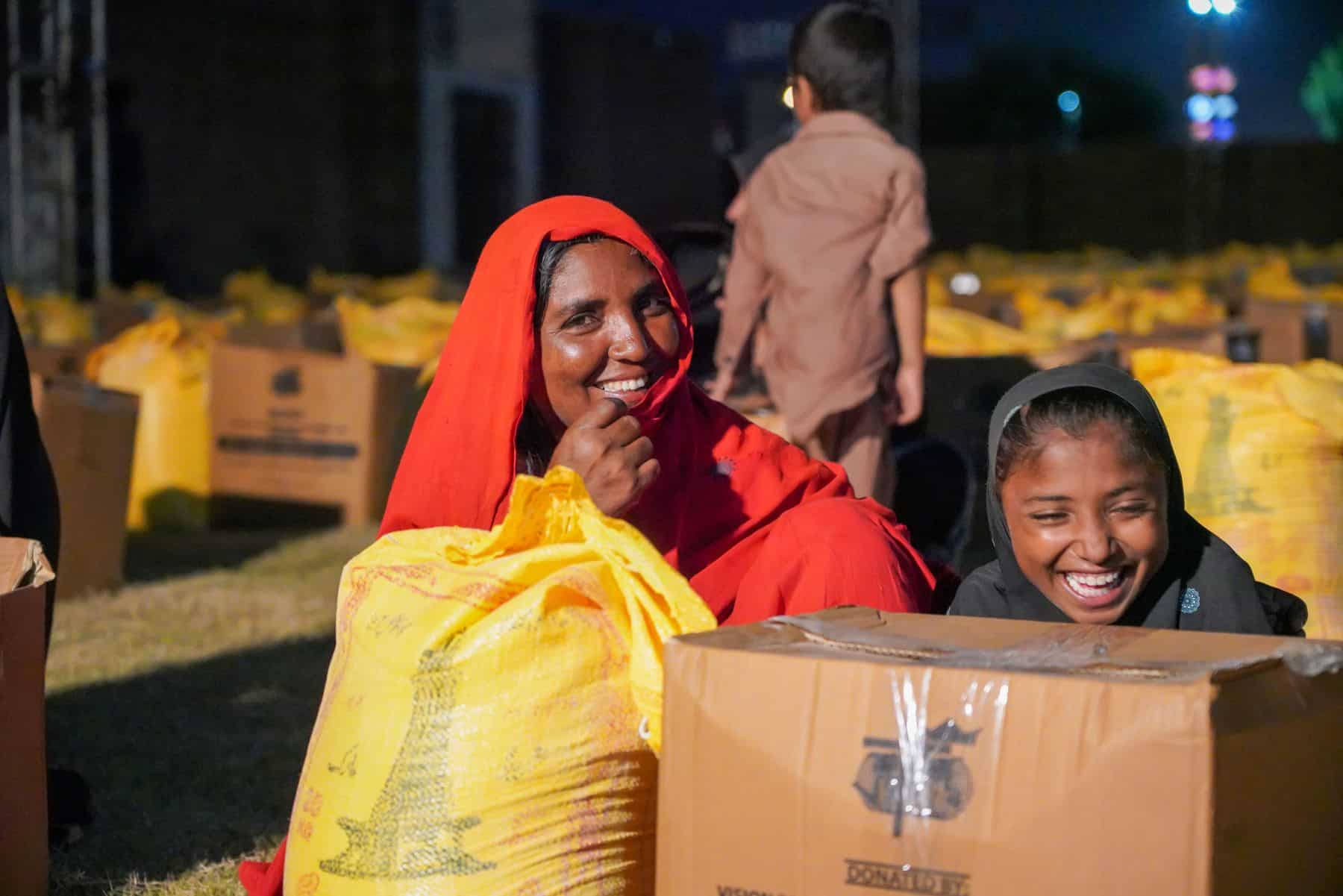 Your prayers and support are helping to bring life-saving food to Pakistan.
"These families need to know they are not forgotten," said Jason Martens, food program manager for Samaritan's Purse Canada. "Each delivery not only nourishes those who are desperately hungry but also opens doors for long-term agriculture projects and, most importantly, to share the hope of the Gospel alongside local churches."