Medical Care Projects - 080551
Health & Medical Ministries
Nutrition team helps malnourished Filipino mothers and children
Cybil Castil works as a registered nurse with the Samaritan's Purse nutrition team in the Philippines.
Poverty is rampant in Santa Fe. For most people, the situation worsened after Typhoon Haiyan destroyed much of the area. One woman who lives here, Remelyn, is a mother of three children and the wife of a farmer. When the typhoon struck, her family became destitute.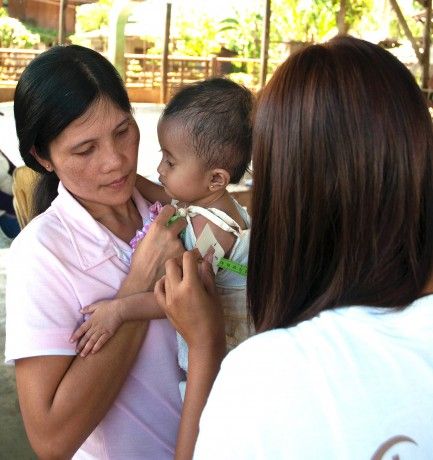 One afternoon, a Samaritan's Purse nutrition team visited the town where Remelyn lives. Our team looks for and assesses the nutritional status of children 6 months to 5 years old, pregnant women, and lactating women. We use a new procedure that can identify nutrition level by measuring the circumference of the mid upper arm.
Remelyn is one of the mothers who participated in the screening process. She had all her children measured. Unfortunately, two of them did not pass. Remelyn admitted that she already knew that her children were malnourished because local health workers had assessed them. Even so, she hadn't done anything to solve this problem. Our team encouraged her and taught her what to do. Right after the health education, Remelyn's daughters received rations of food supplements to aid them in their growth.
Weeks later, we did another follow-up screening for the beneficiaries. Remelyn brought her two daughters to have them checked. Their measurements had improved a lot. Remelyn told us that she was feeding her children a whole packet of food supplements every day. When they grew tired of eating the same thing, she mixed the supplements with their normal food.
She admitted that she made mistakes in providing appropriate nutritional foods for her children. Seeing their health improvements is one of her best achievements. She's determined to feed all her children with the right food as much as possible to keep them well nourished. Her smile is now filled with happiness and hope.
Medical Care Projects - 080551
Health & Medical Ministries
Your donation to Medical Care Projects helps Samaritan's Purse Canada meet the needs of some of the most vulnerable people around the world providing funds for life-saving medical equipment and surgical assistance, disease prevention initiatives and community health programs and training opportunities. We also offer spiritual support and eternal hope by meeting these critical needs while sharing the love of Christ.