Children's Projects - 012050
Children's Ministries
Child changed by English class
My name is Lusius, I am 11 years old, and people call me Dodi. I live on Tello Island in Indonesia with my family. My father is a fisherman and my mother works in the home.
Previously, I was known as a bad boy in my school. I would scream and annoy my friends and I felt bored in my class. My teacher used to punish me and sometimes asked my parents to come to school to discuss my behavior. After returning home, my father would beat me.
"You are a bad boy," he would tell me. I was really upset with my punishment and what he said.
Then, a year ago, I saw some students gathering at my school and wondered what they were doing. I saw that they were learning English, and having fun, too! They were singing, playing, and laughing. I was interested with this class and was surprised when the teacher greeted me.
"Can I help you?" he asked.
"I am interested in this class and want to know more," I replied. The teacher explained how they learn English together, and my parents let me join.
I really like the classes and am happy. I don't feel bored while I am learning, because I can play and sing together with other children. We are also given a rule that nobody is allowed to disturb or annoy other students—anyone who breaks the rule has to apologize and misses two days of class as a consequence.
The teachers have taught us about good values like respecting other people (particularly our parents), and honesty. They also ask us to pray before and after the lesson. They are never rude and teach us to treat others with compassion.
I have been motivated and encouraged to change my attitude. Over time, I have learned not to annoy or disturb other students, and how to be nice!
Praise the Lord, I used to be ranked nineteenth at my school, but in the second semester I was awarded second. My parents are proud of me.
Along with teaching me English, the program has helped me change my behavior and life. Saohagolo! (Thank you in Dodi's language).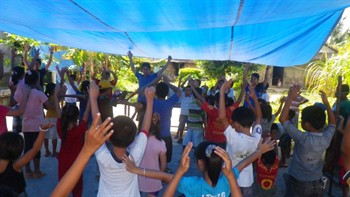 Children's Projects - 012050
Children's Ministries
Samaritan's Purse is caring for children who are struggling to survive in the face of poverty, hunger, violence, sickness, and abuse. Globally, our projects are providing children with shelter, food, medical care, education, and most importantly, sharing the hope found in Jesus.