Water Projects - 080190
Water Projects
Water filter builders heal bodies and bring the Gospel to Ometepe Islanders
By Carla Bregani, senior communications advisor
April, 2013—Idyllic, picturesque, stunning…    Ometepe Island in Lake Nicaragua  is exactly how you'd imagine a beautiful island made of two volcanoes in the middle of a Central American lake to be.
On assignment on Ometepe Island to gather stories about Samaritan's Purse Water Projects—particularly BioSand Water Filter (BSF) projects—I left the rest of the team building filters at the  yard of a partner church to stroll 100 meters down a gravel path to the water.
Locals carried on with their daily tasks as I stood by the side of the gently lapping waves. To my left, children played in the water near large rocks as mothers pulled dirty clothes from buckets and scrubbed them to a sudsy clean.
Just to my right, a young boy gutted and cleaned a pile of fish he'd just caught, and dogs jumped in and out of the waves. A few meters away from the boy, a horse stood in the water seeking refuge from the bugs  and heat.
Tearing myself away from the scene, I returned to the water filter builders— team members and local recipient families who were shoveling and sifting gravel. I sat with our translator and frantically scribbled notes as he helped me ask the local pastor, recipient families and local staff members what the BioSand Water Filters would mean to their community.
Toward the end of the interviews, I noticed out of the corner of my eye a girl about seven years old who walked up and down the gravel path to the water several times. As she disappeared around the corner for the last time, I recognized what she was carrying: a jerry can.
My heart sank. While I asked questions about how BioSand Water Filters have changed lives and impacted the community, just steps away from me a little girl was collecting water from the lake—from the very same spot where I'd seen locals using chemicals to wash their clothes, a boy gut and clean a fish and dogs and a horse lounge and defecate.
The community members knew  the lake water was unsafe and made them sick, but they were forced to drink lake water for a few months each year when other sources dried up. I can't even imagine the sense of sadness, frustration, or perhaps even futility that the child's mother must have felt as she sent her child to gather jerry cans full of water that she knew would make her family ill.
While I was unable to do anything more than pray that day, I find peace in the fact that Samaritan's Purse Canada has installed more than 350 BioSand Water Filters on Ometepe Island and has extended the project to include up to 70 more. To compliment health and hygiene training, more than 200 latrines have also been built.
And the greatest news of all? Through the Christian Living classes that are offered in communities where BSFs are installed, more than 500 people have had an opportunity to hear about Christ, the source of our Living Water.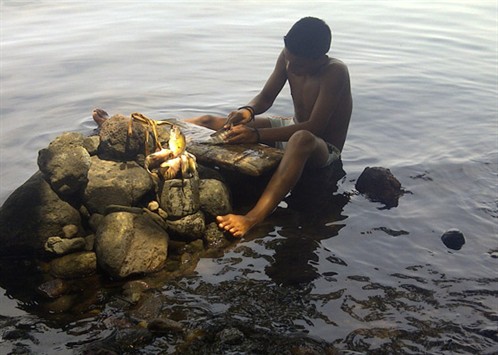 Water Projects - 080190
Water Projects
Save the life of a child or adult in a developing country by providing safe water along with health and hygiene education that will help protect them from deadly, but preventable, diseases. Simple and effective water filters, community wells and water storage solutions, and sanitation facilities can all drastically improve lives and open doors to share the eternal hope of Jesus Christ.