Operation Christmas Child - 080053
Operation Christmas Child
To serve and protect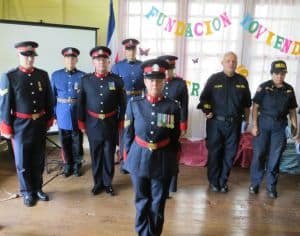 A team of seven police officers-five from Calgary and two from Edmonton-is partnering with Samaritan's Purse Canada to work collaboratively with Costa Rican law enforcement officials to help strengthen community relations in their country.
The police officers are considering this a "working holiday." They have raised all the funds necessary to cover the costs of the trip, and will be taking vacation time from their jobs to participate. Their many activities include distributing Operation Christmas Child shoeboxes to children.
It was at one such distribution that the officers felt compelled to commemorate the fallen RCMP. As 82 students, their parents, and teachers looked on respectfully, Constable Carla sang the Canadian national anthem and the uniformed policemen and women had a moment of silence.
A symbolic gift-filled shoebox was given to a girl named Carima (pictured left), the daughter of a Costa Rican police officer, to honor the fact that the slain RCMP officers were also fathers.
Jairo Rojas of Samaritan's Purse Canada is leading the team and was present for the ceremony. "I cannot find words to describe how special, powerful, and emotional this distribution was," he said.
Please join us in praying for the team, the people that they meet in Costa Rica, and the great work that they are doing.
Operation Christmas Child - 080053
Operation Christmas Child
Please donate $10 for every shoebox you prepare. Your donations will help cover project costs, including shipping (make one combined donation for multiple shoeboxes). Consider making an additional donation to help Samaritan's Purse go beyond the shoebox and expand assistance to children, their families, and their communities. Samaritan's Purse does not provide receipts for the value of gift items included in a shoebox.