Operation Christmas Child - 080053
Operation Christmas Child
Gergana and a Juggling Set
#shoeboxgiftstories is an ongoing series in which shoebox recipients share about the eternal impact of a simple gift.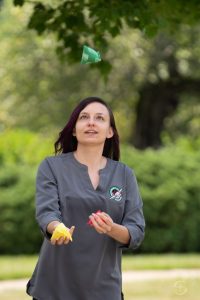 The set of colorful bean bags that I keep on display in my living room brings me joy every time I see it, reminding me of the shoebox gift I received in Bulgaria when I was a child.
The juggling set draws my friends' attention, and I show them what's in the game box and tell them why it's so important to me.
A GIFT TO CALL MY OWN
The gift reminds me of my grandmother, who told me and my twin sister, Nadia, about Jesus and brought us to church with her to learn about Him. When we were 8, the church held an Operation Christmas Child outreach event. Fascinated by the stacks of shoebox gifts, my eyes went right to a white shoebox with a green lid. I hoped for that one. When it was my turn to get a shoebox gift, that's the one I received.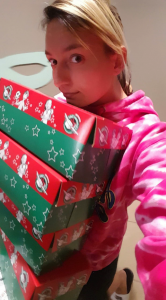 It contained what I had been praying about for a while—an array of school supplies to call my own. My sister and I each received pencil pouches and decorative stickers, things we had seen our classmates with but that our family couldn't afford to buy for us. We rarely had new school supplies and frequently had to share what we had. We cherished the pencil pouches because they made it easier to transport school supplies without losing the smaller items. We used the stickers to decorate the pouches, delighted to be able to personalize them.
In addition to receiving some hygiene items, what really caught my attention was the individualized gifts in my shoebox gift—a reindeer stuffed toy, animal-shaped stencils, children's binoculars, and a juggling set. Each item filled me with excitement and wonder. I had never received such a gift before—and all of the contents of the shoebox were mine!
Every item in my box was meant for me, and it was exactly what I needed. I loved that God put it on someone's heart to pack a shoebox full of items that would impact my life even today.
FUN + FUNCTIONAL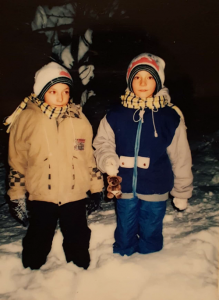 One of the joys I experienced was showing my sister and cousins the gifts' uniqueness, taking out each item for them to see. While Nadia showed them the items in her shoebox, including a jewelry box that she still has today, I tried my hand at juggling the colorful bean bags to the children's delight. Though I didn't speak English at the time, the picture-based instructions on the box made it clear that the bean bags were meant to be tossed and caught in the air one by one. I loved the juggling set because it was a gift just for fun.
Today, I like to pack a mix of functional and fun items in the shoebox gifts I pack. For the past several years prior to the COVID-19 pandemic, my sister and I hosted shoebox packing parties for family and friends. This past year, we made shoebox packing a family affair when our mom joined us and some cousins in assembling the gifts. My sister and I enjoy including pencil pouches full of school supplies and decorative stickers like we received, as well as fun, individualized items according to age group, such as stuffed animals, clothing, and costume jewelry.
Giving became a big part of my life partly because of the joy the Christmas box brought to me as a child. The shoebox gift I received as a child was like a seed. It wasn't just a Christmas present. It made me feel special and loved by God.
He showed me that He cared so much He made sure He answered every need, not just the big ones. That is why I love packing shoeboxes and praying over each and every one of them, hoping they will do the same for other children. Every box counts and so does every prayer.
Operation Christmas Child - 080053
Operation Christmas Child
Please donate $10 for every shoebox you prepare. Your donations will help cover project costs, including shipping (make one combined donation for multiple shoeboxes). Consider making an additional donation to help Samaritan's Purse go beyond the shoebox and expand assistance to children, their families, and their communities. Samaritan's Purse does not provide receipts for the value of gift items included in a shoebox.