World Medical Mission - 012004
World Medical Mission
Samaritan's Purse Helps Angolans Struggling with Chronic, Painful Ailments
Canadians with bad hips or knees usually get treatment in a year or two. But in places like Angola, people are often forced to live for decades with painful, debilitating physical conditions.
That shocking reality moved orthopedic surgeon Kelly Johnston to accept an invitation to bring a team, and specialized supplies, to the struggling African nation and bring relief in Jesus' Name.
"The biggest thing that stands out in my mind is seeing what God's doing on a bigger scale," said the 45-year-old Calgary resident. "It was pretty awesome. Yes, we were being the hands and feet of Christ, but what it was doing in our own lives was pretty awesome."
It was Kelly's second medical trip to Angola. His first, in 2004, came on the invitation of Steve Foster, son of famed, Canadian-trained, African missionary surgeon Robert Foster.
Stayed in touch
Steve, a Canadian-trained Angolan surgeon, and Kelly stayed in touch, and when Steve encountered patients with serious chronic knee and hip problems, he asked Kelly to come to Angola for 10 days to help.
Kelly agreed and put together the team and collected the equipment—including implants and instruments—needed to carry out the surgeries. Medical supply firms Zimmer-Biomet and Arbutus Medical were very helpful, as were donations, and fundraising by the Okotoks Oilers peewee hockey club (Kelly's son was on the team).
Learn about World Medical Mission
Replacing 14 hips/knees was the goal
When Kelly and the team arrived at the Samaritan's Purse-supported hospital in Angola, their goal was to carry out 14 hip and knee replacements in 10 days, "so we had to have a lot of equipment," Kelly said. "We had to make some guesses."
Looking back, Kelly noted that getting everything to Angola in time, through the efforts of World Medical Mission, "was pretty nip-and-tuck. It really forced us to rely on the Lord. We didn't want to show up in Angola and have equipment stuck in customs."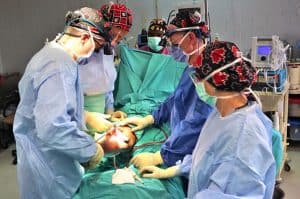 The five-member team ended up doing 13 surgeries because they were seconded to work on an accident victim. "It was by far the most challenging thing we did there because it was a complex operation with limited equipment," Kelly said.
As they did the work, Kelly knew that two team members, who were not Christians, were seeing the love of Christ in action for possibly the first time.
"Steve and the group at the hospital were loving on people who didn't have much. God knitted everything together to make a successful trip. It was meeting the needs not only of the patients, but also the people who went."
"God was working in their lives"
When they returned to Calgary, "I asked one of [the non-Christian team members] about the trip, and he said it was the best thing he'd ever done in his entire life. So I know God was working in their lives. All of them said they'd do it again, so they were blown away by the generosity and focus of the people working at the hospital."
What would Kelly say to anyone considering a World Medical Mission trip?
"I would say do it! Let God stretch you in a new arena. Although, as surgeons, we know we will bring desperately needed care to underprivileged peoples, don't underestimate what God will do in your own life.
"This ministry helps you re-focus on the important things in life and puts your own life routines in perspective. You also realize what a privilege it is to care for hurting people."
Making a Way to Serve
What about the challenge of leaving your family and job behind?
"This is always the challenge for physicians who take regular call as part of their hospital responsibilities," Kelly answered. "In addition to navigating our clinic and operating room schedules, we have to trade our call commitments with our colleagues to free up the time to be away on mission.
"It's the same process we go through when we take a holiday with the family. The tricky part is making up the missed call either before or after the trip, which is tough on a family when you are away from them for the Mission and then away again making up your missed call. It's important to make sure everyone in your family and 'work family' are on the same page."
World Medical Mission - 012004
World Medical Mission
A medical ministry of Samaritan's Purse, World Medical Mission places volunteer medical personnel in short-term service in mission hospitals and clinics in the developing world, providing critically-needed resources as a witness of God's love. Your gift will help us fulfill this mission.