World Medical Mission - 012004
World Medical Mission
Alberta nurse puts all trust in the Lord while serving with Samaritan's Purse during COVID-19 pandemic
Courage comes in many forms. Responding to what God is calling us to do is one way that we can bring His strength to the forefront.
Although 2020 has been a challenging year for everyone, it has not limited Trysta Pleasants—a nurse from Red Deer, Alberta—from responding with courage and the Lord's love, as she served on the frontlines of the COVID-19 pandemic in Cremona, Italy. Although she had the difficult decision of leaving her family and home, Trysta made the valiant choice to step into unknown territory to help those in desperate need.
At a young age, Trysta knew that she had a passion for the medical field, and was intrigued by the science behind it. Trysta became a full-time nurse after graduating from the University of Alberta in 2013. To begin her career, she went into a labor and delivery position. She later went on to work in acute care, emergency, and other contract work.
In 2018, Trysta also undertook tropical nursing, where she learned how to apply her skills and knowledge in tropical areas that may have underdeveloped health services.
Led to serve overseas
In such unprecedented times, Trysta needed every bit of skill she had when God called her to Italy in April of 2020 during the COVID-19 outbreak. Italy was one of the first countries to experience this serious health threat and see the extreme impact that the disease would truly have worldwide. There were so many unknowns that the country was forced to make sense of as they responded.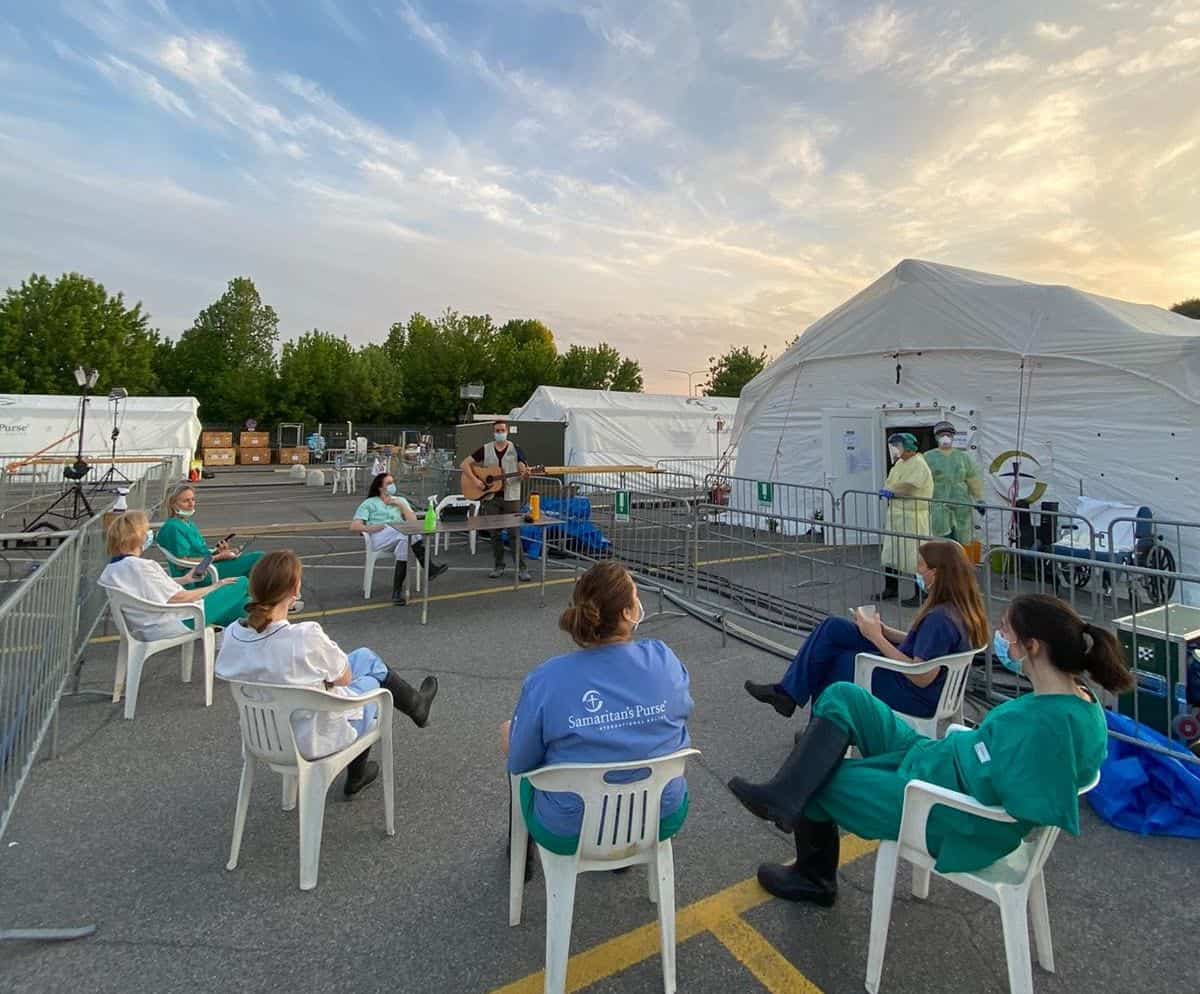 In some areas, the healthcare system was quickly overwhelmed. This included Cremona, Italy, where, at the invitation of the Italian government, Samaritan's Purse sent a 60-bed respiratory care unit that was set up in the parking lot of the Cremona hospital. Up to that point, the hospital was experiencing a 100 percent death rate from COVID-19 in its Intensive Care Unit.
Trysta, served in the respiratory care unit and experienced the outbreak in Italy. "People were just very sick and dying, ultimately, but we had to go there and just do everything we have trained to do, everything we are taught to do professionally."
Gathering in Jesus' Name
During Trysta's experience, she encountered many people and situations that remain heavy on her heart. She clearly remembers the older ladies who lost their spouses to the devastating disease. What stood out to her most was that, although these women were dealing with unbelievable grief, they would all gather and cry and pray together. They would venture through loss together and support each other. Trysta knew that the Lord was using her, along with the other nurses and staff to demonstrate His love in a way like no other, "We were just able to be there and pray for them through it."
"Globally we are a family"
Trysta's interest in other cultures and a desire to work alongside a variety of medical systems and professionals prompted her to serve overseas with Samaritan's Purse. She believes, "If someone is hurting and is in need of help, what is stopping me from using the skills and knowledge that I have gained? When somebody is in that desperate need, if I have something that I can provide and support them, then why be limited to my own country barriers?"
Trysta believes that the vision of Samaritan's Purse made all the difference in Italy, "Being able to go with a faith-based organization and know that God has complete control over this and we are just His hands and feet carrying out what He needs us to do, where He needs us to be. It was really neat to see that".
Trusting the Lord in uncertain circumstances
Among many other lessons, Trysta believes that God put this willingness to help others abroad in desperate circumstances on her heart. She continually learned to "trust in knowing that God has a plan and that God knows where he needs you."
Through her experience with Samaritan's Purse, the Lord demonstrated that what she was able to provide as a medical professional was sufficient, and He was leading her along a sure path.
"And the Lord will guide you continually and satisfy your desire in scorched places and make your bones strong; and you shall be like a watered garden, like a spring of water, whose waters do not fail" Isaiah 58:11 (ESV).
In the fall of 2020, Trysta will pursue further education at a Master's level as a nurse practitioner. She hopes to continue to serve the Lord as she grows in her skills and knowledge. May we all find ways—in this time—to put our trust in the Lord and serve with whole hearts in what He has called us to do.
World Medical Mission - 012004
World Medical Mission
A medical ministry of Samaritan's Purse, World Medical Mission places volunteer medical personnel in short-term service in mission hospitals and clinics in the developing world, providing critically-needed resources as a witness of God's love. Your gift will help us fulfill this mission.