Emergency Medical Response - 080676
International Crisis Response
Nurses treasure time with Samaritan's Purse, helping Italian COVID-19 patients
Isabella* is a petite grandmother who had to fight for her life at the Samaritan's Purse emergency field hospital in northern Italy.
Although the elderly woman was only one of many COVID-19 patients who received treatment at the hospital, Isabella's story still sticks in the mind of Canadian nurse Mary Wakutz, more than a month after Mary returned from her overseas deployment.
"Her husband died from the coronavirus while she was with us and her family didn't tell her right away because they couldn't do it face-to-face," said Mary, 29. "After they did tell her, we prayed with her every night and let her cry or laugh or talk about him. I think about her a lot because we were able to provide a level of comfort for her."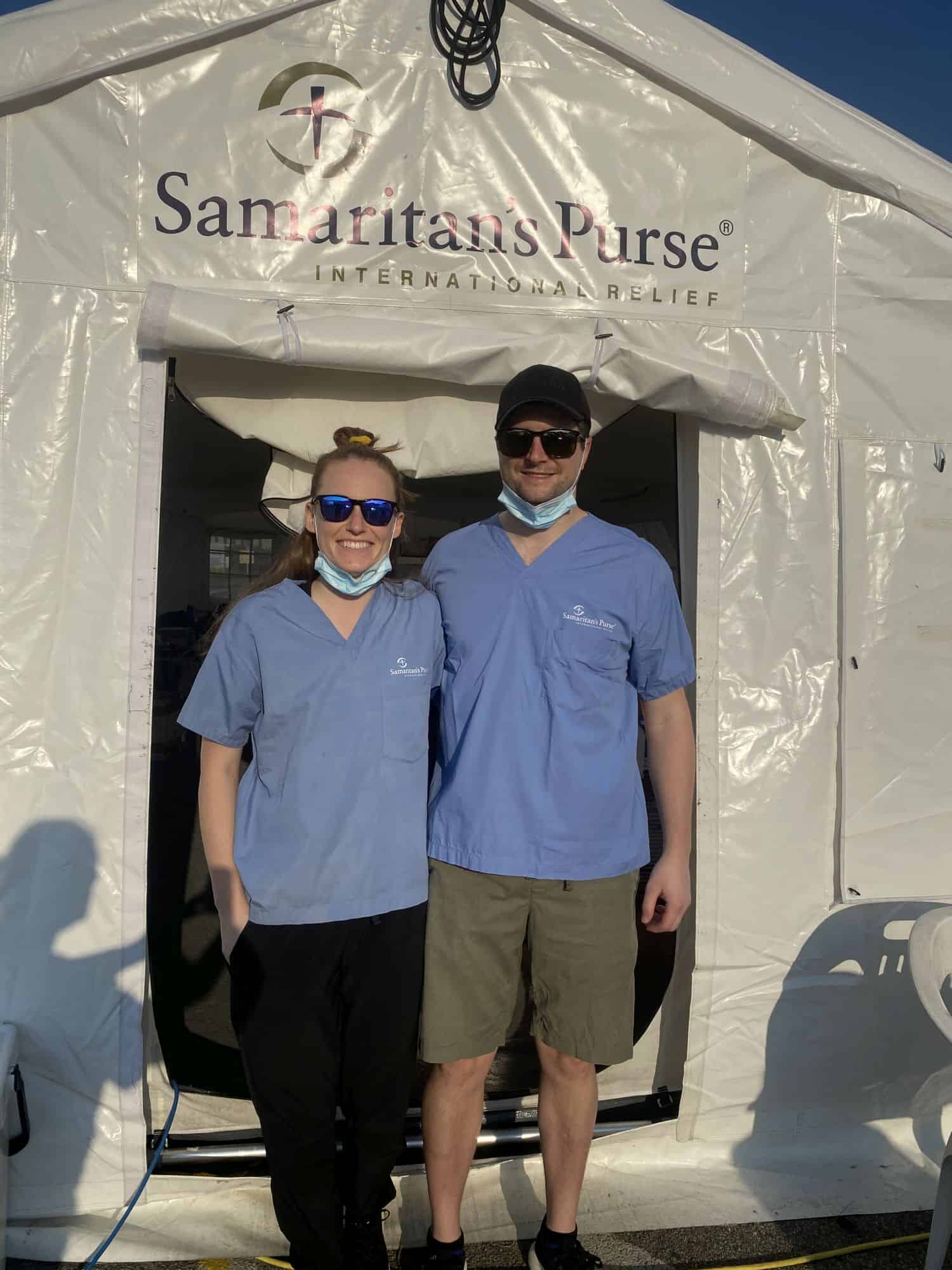 Mary and her husband Matt are nurses at hospitals in the greater Vancouver region. They are also members of the international Samaritan's Purse Disaster Assistance Relief Team (DART).
Overwhelmed with patients
They spent almost a month, from mid-April to mid-May, caring for COVID-19 patients at the hospital in Cremona. Flown in by Samaritan's Purse at the request of the local government, the 68-bed facility treated pandemic sufferers for two months while the region's hospitals, in the middle of one of the worst coronavirus outbreaks in the world, were overwhelmed with patients.
Mary and Matt worked overnight shifts in the women's and men's wards, respectively. It was their first DART deployment.
"It was pretty eye-opening to see what Samaritan's Purse is capable of in terms of setting up a hospital in a parking lot," Matt, 30, said. The hospital, he added, operated like a "well-oiled machine," and that made it easier to adapt to their duties and to the medical environment.
Like all DART members, Mary and Matt started with a week of training in Calgary at the Samaritan's Purse Canadian office. They learned:
how Samaritan's Purse responds to disasters
how to prioritize patients in a disaster situation
how to prepare for dangerous situations, including simulations
how to personally and spiritually prepare for deployments
"The training was tiring and intense, but very useful," said Mary.
Flexibility in their jobs
The couple had already joined a Samaritan's Purse DART Facebook group, so when the northern Italy emergency field hospital deployment was announced, they knew immediately.
Like many medical professionals, Mary and Matt have flexible work schedules that enabled them to email Samaritan's Purse and indicate they could go to Cremona. A mutually convenient time frame was worked out and soon they were in the beleaguered city, serving as short-term Samaritan's Purse employees to save lives in Jesus' Name.
Their deployment happened after the pandemic peaked in northern Italy so that took some of the pressure off. Nevertheless, they were fully briefed on safety measures and outfitted with all the necessary personal protection equipment (PPE).
"We always had what we needed," said Mary. "We never ran out of any PPE and medically, we always had what we needed—beds, linens, ventilators."
'We were able to pray with them'
Properly attired, Mary and Matt could concentrate on caring for their patients physically, emotionally, and spiritually. He can recall four patients who left a mark on him.
"We'd spend time with each one making sure they're settled in or pray with them. A few of them didn't want to keep going, but we were able to speak with them through a translator and lift them up in prayer."
This had an impact on the translators, too. Some were not active Christ-followers, and some had no faith at all. But after their time at the emergency field hospital, some of them dedicated their lives to Christ, "who in every respect has been tempted as we are, yet [is] without sin" (Hebrews 4:15, ESV).
"We just acted in the way we talked about as Christians," said Mary. "It was encouraging for this one translator (I interacted with), actually showing the love we talked about having."
Temperatures taken daily
The Wakutzes and all other DART members wore masks at all times except during meals, their temperatures were taken twice daily to ensure they weren't developing fevers (one of the main COVID-19 indicators), and hospital leaders frequently reminded staff to be alert for anyone not practicing safe behavior.
"We both really appreciated how we saw Samaritan's Purse work and it was so obvious how it stands for what it believes in," Mary said. "So it's really encouraging to work in that environment where Jesus is truly at the center. I felt like I could really be myself there."
For Matt, the northern Italy deployment "confirmed the faith I have and the reliance I have on God. Mary and I were in the right place. This is where God wanted us."
Please visit SamaritansPurse.ca/DART for more information about the Disaster Assistance Response Team, and please share the link with any Christian medical professional who might be interested in serving in the ministry or supporting it through donations or prayer.
*Name changed to protect privacy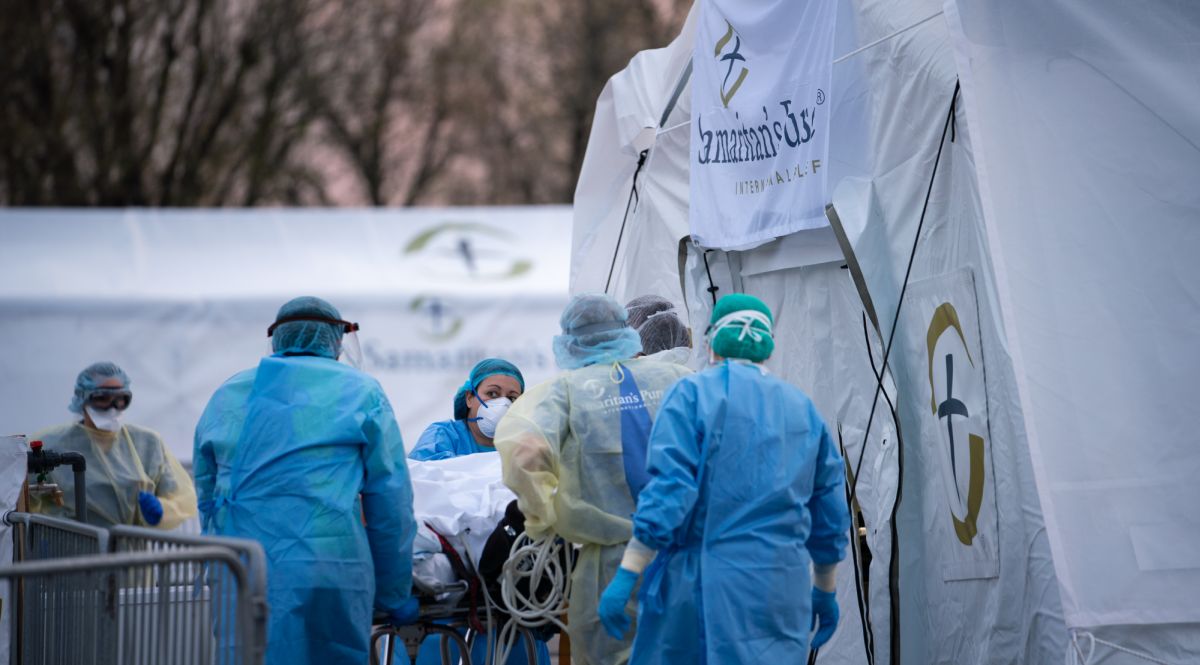 Emergency Medical Response - 080676
International Crisis Response
Whether airlifting our Emergency Field Hospital to Italy in the wake of disease outbreak, or responding to earthquakes and armed conflict, Samaritan's Purse stands ready to respond in the face of a myriad of medical crises. Your gift will help bring expert treatment, other basic needs and the hope of the Gospel to the sick and suffering.