Middle East Crisis - 080627
International Crisis Response
Samaritan's Purse responds to crisis in Iraq
August, 2014—Iraqi families fleeing the advance of ISIS militants have been stranded for months in Kurdish-controlled areas of the north. Many escaped with little but the clothes on their backs and have been squatting in abandoned or unfinished buildings. They now find themselves ill-prepared to face the coming winter months, when low temperatures could plummet down to the freezing point.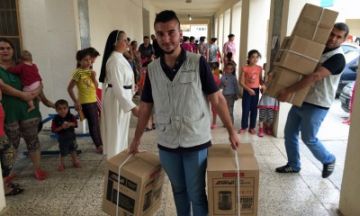 Samaritan's Purse addressed some of their needs recently by providing more than 2,500 kerosene heaters and over 12,000 blankets to displaced men, women, and children seeking refuge in the cities of Erbil and Dohuk. These items will benefit more than 5,000 families, and further relief is coming.
On Monday, October 13, Samaritan's Purse will be airlifting nearly 90 tons of relief supplies to Iraqi families displaced by ISIS. Nearly 200,000 pieces of children's clothing will be sent, along with 15,000 warm jackets, and tens of thousands of blankets and socks. More than 2,400 winter-rated sleeping bags will also be headed overseas and 400 rolls of plastic (800,000 square feet), which can be used to insulate the tents and unfinished buildings where families are living.
We have been aiding displaced families in northern Iraq since June, particularly with food supplies. In early August, after ISIS tightened its grip on villages surrounding Mosul (the Nineveh plain), we immediately increased the size of the response to help meet urgent needs among the flood of people who entered the Kurdish semiautonomous region. One of our first actions was to set up 200 tents as temporary shelter in Erbil for some of those fleeing the Christian town of Qaraqosh.
Since then, Samaritan's Purse and local partners have provided a variety of relief to those displaced by the horrific violence. Our work continues to grow, and beneficiaries include those from Christian, Muslim, Yazidi, and other backgrounds.
Almost 2,800 baskets of food have been distributed. Each basket is intended to supply the basic needs of a family of five for one week. Seven hundred loaves of bread and 140 1-kilogram packages of fresh chicken have also been given to grateful beneficiaries.
Nearly 5,000 pillows and 7,500 mattresses have been provided to displaced families. More than 1,000 sets of baby/children's clothing have been given out along with 175 cradle beds, which offer infants protection from biting ants on the ground. In addition, 500 cases of diapers, 1,110 items of adult clothing, and more than 4,500 pairs of shoes have been distributed.
FLEEING FOR THEIR LIVES: Read more stories from persecuted Christians fleeing Qaraqosh.
Also, we have distributed more than 3,000 shoebox gifts through Operation Christmas Child to displaced children in Erbil.
Many Christian families have been glad to receive Bibles from Samaritan's Purse, and local church partners are reporting historic opportunities for witness.
Our recent work builds upon longstanding efforts to help those in need in northern Iraq, a region where we have been actively offering relief since 2007. For instance, as refugees from the  civil conflict in Syria flooded into the area late last year, Samaritan's Purse provided them with food, medicine, clothing, bedding, and kerosene heaters, among other items. Alongside this work, about 65,000 Operation Christmas Child shoebox gifts were airlifted to Erbil in January.
Please pray for strength and wisdom for our staff and partners as they continue to help in Jesus' name. Pray for calm and order as some ad hoc settlements in Erbil are being transitioned to United Nations camps outside the city. Pray for all of the estimated 800,000 Iraqis forced to leave their homes since June and for many to be saved.
Middle East Crisis - 080627
International Crisis Response
Help families in the Middle East who have been displaced as a result of violent conflict and religious persecution receive the physical and spiritual aid they so desperately need to cope with the resulting poverty and trauma.