Canadian Relief Projects - 080504
Canadian Disaster Relief
Hurricane Dorian: Atlantic Canada Response
"Some of our people are really suffering because there is a lot of devastation" – Rowan Caseley, mayor of Kensington, PEI
Homeowners in need of assistance can call 1-844-547-2663.
One of our specially equipped Disaster Relief Units has arrived in Prince Edward Island to support our staff and volunteers as they help storm-shocked homeowners clean up after Hurricane Dorian's powerful winds and rain.
The Disaster Relief Unit is a tractor-trailer outfitted with disaster recovery equipment including generators, chainsaws, hand tools, and safety gear. It will be the training and coordination center for our volunteers.
After Hurricane Dorian left a disastrous trail through the Bahamas, it made its way north to Atlantic Canada. In PEI, its strong winds tore off roofs, broke windows, flattened fences, and
toppled massive, century-old trees that sometimes fell on homes, cars, and other property.
Dorian's victims in PEI are trying to cope with the damage to their homes while still being traumatized by the sound and power of Dorian's ferocious winds.
Some of PEI's hardest-hit communities include Summerside, Kensington, and Cavendish in the island's central region. That is where we will focus much of our clean-up efforts. Our volunteer teams will be tarping roofs, cutting tree limbs, stacking timber, removing debris, and providing other practical aid.
"We invited Samaritan's purse into the area to assist our people, and we're thankful they are here," said Rowan Caseley, Kensington's mayor. "Some of our people are really suffering because there is a lot of devastation. Anything people can do to help us through their Samaritan's Purse donations and volunteering will be greatly appreciated."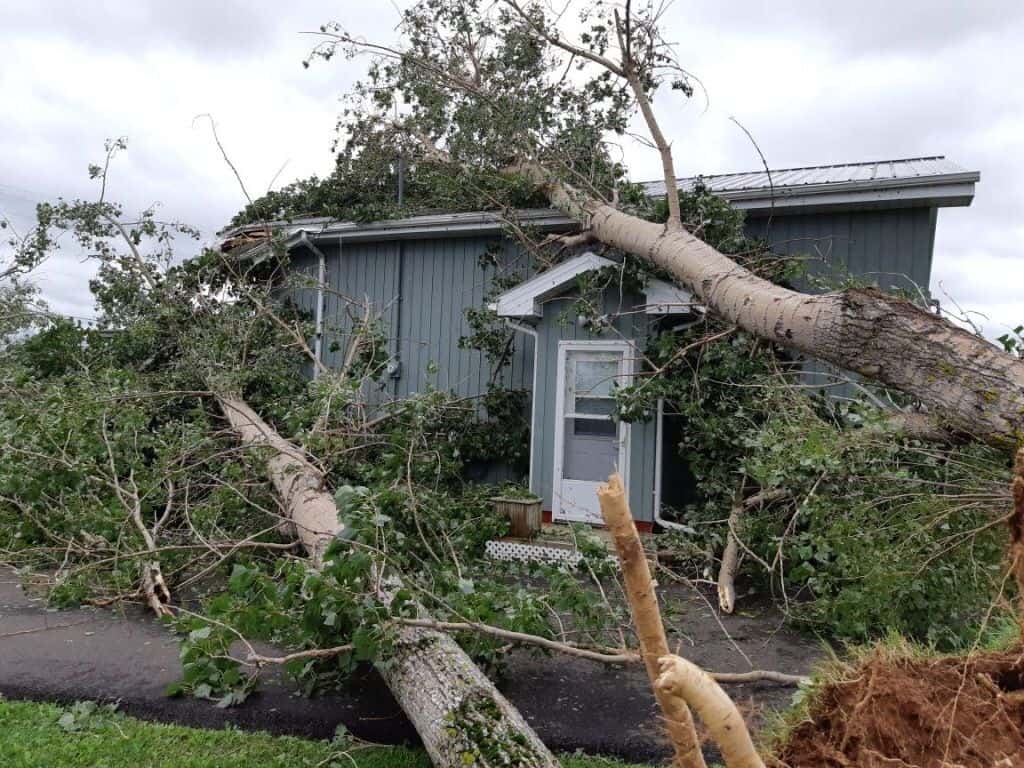 Our sister organization, the Billy Graham Evangelistic Association of Canada, has sent specially trained Rapid Response Team chaplains to PEI to provide emotional and spiritual support to Dorian victims and first-responders.
"Many people here are facing a lot of turmoil," Caseley said. "The chaplains can play an important role in helping them."
The Disaster Relief Unit will be located at Summerside Community Church – 150 Industrial Cres., Summerside, PEI.
"Communities in PEI have been hit very hard by Hurricane Dorian, and we will be there to help them," said Brent Davis, Samaritan's Purse's Canadian ministries project director. "We're partnering with churches, municipal officials, and other non-government partners to provide a coordinated response."
Homeowners needing help can contact our Disaster Relief Unit at 1-844-547-2663.
We are also continuing to assess Hurricane Dorian damage in other areas of Atlantic Canada to determine how we can help there.
Please pray for the thousands of people in The Bahamas who have already lost so much from Hurricane Dorian. Pray also for our staff and volunteer teams there, as they work around the clock to bring relief and to share the hope of the Gospel.
Canadian Relief Projects - 080504
Canadian Disaster Relief
Help Samaritan's Purse respond quickly to victims of disasters within Canada, providing not only physical assistance as people clean up and rebuild after floods, fires, and other disasters, but also emotional and spiritual support in the aftermath of tragedy.