Relief for Refugees and Displaced People - 080671
International Crisis Response
Franklin Graham travels to Colombia to support work with Venezuelan migrants
As Samaritan's Purse President Franklin Graham walked the Simón Bolívar International Bridge in Cúcuta, Colombia on Monday, he was moved by the plight of the many men, women, and children who flowed past him in a hurried stream.
"These are Venezuelans that are leaving their country. They come by the tens of thousands every day," he said. "Their money has no value. They're coming here with whatever they can carry. It's really sad. It breaks your heart."
There are young men, pregnant teenage girls, people in wheelchairs, and families with young children in strollers. Some come carrying only a backpack; others push carts stacked with large suitcases. Thirty to fifty thousand cross the bridge every day.
Many of the bridge-crossers are only coming to Colombia for a few hours to buy urgently needed food and medicine, or maybe to sell candy on the street. Others, desperate for money, sell their hair, a wedding ring, or some other precious thing. They stay for the day in Cucuta, buy what they need or earn what they can, then return to the border town of Ureña, Venezuela at night.
However, a majority of these people will not be returning any time soon to their homeland. They're done with Venezuela—its economic crisis, collapsing healthcare system, and lack of jobs. Hyperinflation means that basic staples—like a bag of rice or a bottle of pain reliever—may cost as much as a month's salary.
Families are hungry, surviving on things like corncakes, yucca, and sardines, and the hunger drives them to leave. The journey to Colombia can be difficult and dangerous, so some parents leave their children with family members, hoping to support them from afar. Others take their chances, bringing the little ones along.
"The saddest thing is to hear from your kids, 'Papa I'm hungry,' and you have nothing to give them," said 27-year-old Jorge. He left his wife and two kids behind in Venezuela, hoping to find work and send back money for his family.
As migrants cross the bridge, there is desperation and anger. But, there is also a sense of hope on many faces. They've finally escaped the collapse of a nation and what lies ahead cannot be any worse.
"They're coming to Colombia looking for hope," Franklin Graham said. "It is a bridge of hope."
Good Samaritans on the Migrant Trail
More than 2.3 million Venezuelans have left their country since 2014, making this the largest migration crisis in recent Latin American history. As migrants cross into Colombia's Santander region, many of them will pass one of the three Samaritan's Purse relief stations.
In the border town of Cúcuta, there is the Center of Hope—a partnership between Samaritan's Purse and a local evangelical church. At this relief station, men, women, and children find medical care, legal advice, spiritual encouragement, and a safe place to rest. University students volunteer to serve the children, giving them a fun place to color and learn.
More than 2,000 people visited the center in September alone, and several hundred made decisions for Christ. The staff and chaplains at Center of Hope are eager to share the Gospel and provide a loving place for people to find relief.
"I'm very impressed by what the church is doing for those who have so little," Graham said. He toured Center of Hope on Monday, meeting the coordinator, Jairo Antonio Garzón López, and staff physician Maria De Los Angeles Sarmiento.
Dr. Sarmiento was caring for a family of four at the time—Daniel, 24, and Michelle, 18, and their two children. The young family lives just over the border in Venezuela, and Daniel works in Cúcuta. Both Michelle and her 11-month-old daughter were struggling with chest congestion, and their two-year-old son has had sporadic convulsions since he was an infant.
They came to see the doctor because they have so little money and so few medical options available to them. Dr. Sarmiento provided medicines for them, and took the time to pray with the family.
Being able to provide physical and spiritual care is exactly why Dr. Sarmiento works at the center. "I can put together helping people and bringing the Word to them," she said.
Graham also visited our second relief station—a migrant shelter in La Don Juana, which is about 18 miles from Cúcuta. Here, Samaritan's Purse is meeting the needs of the weary walkers, known as "caminantes," who climb hours each day toward a high-altitude pass on their way to Bogotá, or perhaps as far as Ecuador or Peru. They are often trying to reunite with relatives—husbands, wives, parents, siblings—who left Venezuela earlier.
All day long, caminantes come through the shelter, where they enjoy a hot meal thanks to the shelter coordinator, Viviana Paez. As many as 400 meals are served daily, and around 150 people sleep at the shelter each night. The migrants also receive backpacks filled with hygiene items, gloves, a hat, a poncho, and a water bottle. More than 700 backpacks were given out in the first three days of distributions last week.
Viviana and her father, Pastor Jesús, have been providing meals and shelter for the migrants since July. Each day, they would pass dozens migrants along the road near their home, and they felt called by God to help. "At night we saw people sleeping in the road," said Pastor Jesus. "We saw the kids and families in the rain. So, I said 'let's do something about this.'"
They started serving food at a restaurant and set up a tarp for to provide shelter. Later, they moved the aid station to an old train building, and Samaritan's Purse began supporting the work in September. "We are being Good Samaritans to help people along the road," Pastor Jesus said.
That is the same Biblical parallel Franklin Graham witnessed when he visited the shelter. "This is the modern-day version of the Good Samaritan and this is the innkeeper right here," he said of Pastor Jesús and Viviana. "We have great Colombian partners."
The third Samaritan's Purse relief station is located about 19 miles from Cúcuta in Puerto Santander. There, Venezuelans go back and forth freely along the small Union Bridge. Samaritan's Purse recently set up a mobile medical clinic in Puerto Santader, serving nearly 300 patients in the first 4 days. We provide patients with medications like antibiotics, pain relievers, anti-parasitics, skin creams, inhalers, vitamins and folic acid for pregnant women.
"When many may feel the world has given up on them, we have a chance to talk with them, show concern for them, and share Jesus with them," said Melanie Wubs, the medical coordinator. "We've had people travel 4 hours away by bus because they heard a rumor that there might be a clinic. That's how great the need for medical care is."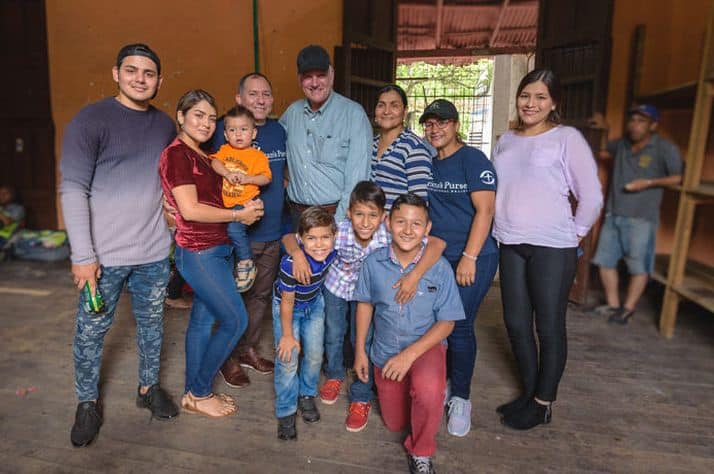 Graham assured both our local partners and the migrant families we're helping that Samaritan's Purse will continue our work in Colombia and build upon these initial projects.
"I believe this is where we need to be working: where people have nothing left, where people have lost everything, where people have no hope," he said. "We want to share not only [relief] with them—we want to share our faith and trust in Jesus Christ. God has not forgotten them."
Please pray for Venezuela, for the thousands leaving, and our church partners and staff ministering to them in Colombia.
Relief for Refugees and Displaced People - 080671
International Crisis Response
Around the world, millions of people are forced from their homes, communities, or countries due to conflict, persecution, natural disaster, disease, or poverty. Your gift enables Samaritan's Purse to respond to those affected by this increasing international crisis with assistance such as food, water, shelter, hygiene kits, cooking supplies, medical care, and more. We invite you to partner with us as we continue to respond to urgent needs in Jesus' Name.