Canadian Relief Projects - 080504
Canadian Disaster Relief
New Brunswick Flood
UPDATE (June 27, 2018): 452 volunteers have served with Samaritans Purse to help 140 flooded homeowners. Residents have already expressed their relief and thanks. In addition, Billy Graham Rapid Response Team chaplains also ministered to the homeowners and volunteers.
—
Thousands of people have been evacuated, and their homes damaged, by devastating flooding in New Brunswick, which some emergency personnel say could end up as the worst in the province's history.
Using donations from people like you, Samaritan's Purse Canada has deployed staff, volunteers and one of its specially-equipped Disaster Relief Unit (DRU) tractor trailers to flooded areas to assist homeowners in need.
Our sister organization, the Billy Graham Evangelistic Association of Canada (BGEAC), has sent crisis-trained Rapid Response Team chaplains and its mobile ministry center truck to the province to offer encouragement, prayer, and hope to residents and volunteers.
We have now deployed volunteer teams to assist homeowners after conducting assessments and speaking with authorities, churches and impacted community members for almost a week. There are significant needs as homeowners are facing devastating losses," says Samaritan's Purse Canada Response Director Brent Davis.
"It's a privilege to bring practical help and hope to families in situations like this, and we are thankful for the volunteers and donors who enable us to respond."
The Maugerville Baptist Church, pictured below, has been severely flooded as have many of the homes in the community.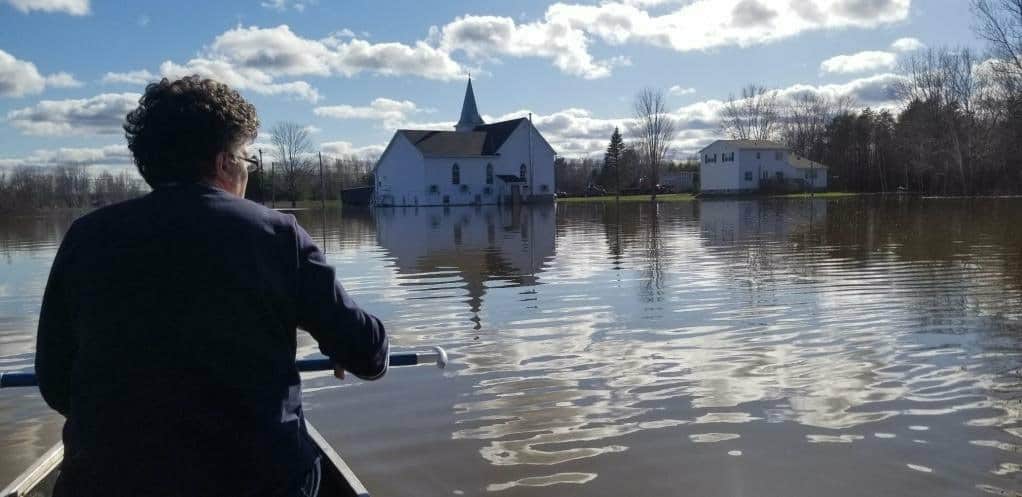 "I can name 20 homes from our growing congregation of 50 homes that have been impacted by the flood," says lead pastor of the church, Neville Gosman. "Furthermore, there are dozens of neighbors—friends of our congregation, with significant flood damage up and down highway 105 including a trailer park and three congested subdivisions."
He says the area Maugerville Baptist Church serves includes about 600 homes and two-thirds of them have experienced flooding, Pastor Gosman says.
"However, we are reminded of a promise in Isaiah 43:2a (NIV), 'When you pass through the waters, I will be with you; and when you pass through the rivers, they will not sweep over you.' With these verses in mind, we are a congregation filled with hope."
He says one of the things Maugerville Baptist Church members are praying for is, "that this disaster will result in churches being seen in the community as a servant to the people."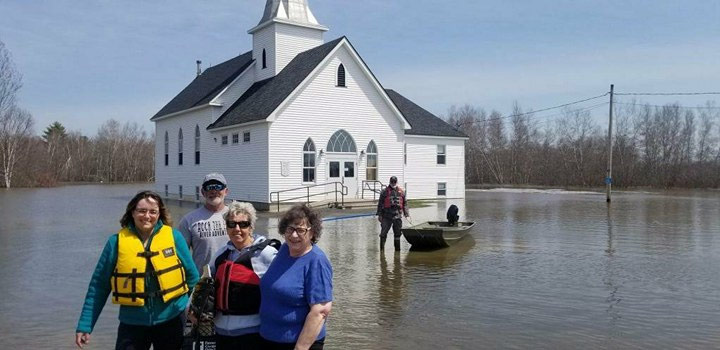 That's the heart of Samaritan's Purse as well, which is why we partner with local churches to mobilize volunteers and serve communities experiencing disaster.
We provide emergency aid and help with clean-up in the wake of severe wildfires, floods, hurricanes, tornados, and more. We most often deploy in partnership with BGEAC's Rapid Response Team chaplains.
Samaritan's Purse volunteers clean the mud from homes and remove water-damaged belongings and other debris, including soggy drywall to avoid mold and its risk to people's health. Our work includes spraying an anti-mold solution on the walls, and presenting each homeowner—if he or she is willing to receive it—with a Bible signed by the clean-up volunteers.
Please join with us in praying for flooded families in New Brunswick, and please reach out to Canadians experiencing natural and man-made disasters by donating to Samaritan's Purse.
Canadian Relief Projects - 080504
Canadian Disaster Relief
Help Samaritan's Purse respond quickly to victims of disasters within Canada, providing not only physical assistance as people clean up and rebuild after floods, fires, and other disasters, but also emotional and spiritual support in the aftermath of tragedy.