Canadian Relief Projects - 080504
Canadian Disaster Relief
Samaritan's Purse helping flood victims in Beiseker, Alberta
Jen and Rob, parents to three young children with autism, are reeling after their uninsured home flooded in Beiseker recently.
"All my most precious memories are in a fire pit in the backyard, because none of it can be saved," says Jen, who has been working steadily alongside Samaritan's Purse Canada Canadian Disaster Relief team members for several days to remove belongings and "mud-out" the house.
"It has just been devastating, and my children have been displaced from their home because we had to send them to stay with family in B.C.," Jen adds. "For children with autism, change or anything out of the ordinary is just completely unmanageable, so we needed to get them somewhere safe and secure. This is the longest I've been away from my children ever, so it has just been really, really difficult."
Dozens of homes have been damaged in Beiseker, 75 kilometers northeast of Calgary, due to rapidly melting snow in the area. And while most homes were insured, Samaritan's Purse Canada is assisting about half-dozen families whose homes were not—mainly because the families are struggling financially and couldn't afford insurance.
"This is really tragic—really difficult," says clean-up volunteer Tracey Gillies. "But it is an honor to help this family and hopefully allow them to save their home."
Jen says that without quick intervention, she fears her home would've been completely lost.
"Now I have the hope that I can bring my kids home to a house that will eventually be a healthy home," says Jen. "When the Samaritan's Purse Canada team was removing the drywall and doing other work, they actually found evidence of previous flood damage, so now we'll be able to address that and make sure there are no more health hazards in our home."
Samaritan's Purse is working in Beiseker to clean the mud from homes and to remove water-damaged belongings and other debris, including soggy drywall to avoid mold and its risk to people's health. Our work includes spraying an anti-mold solution on the lower part of the walls, and presenting each homeowner—if he or she is willing to receive it—with a Bible signed by the clean-up volunteers.
"Now I have the hope that I can bring my kids home to a house that will eventually be a healthy home." -Jen
"I don't know what we would have done without help," says Jen. "My husband has a back injury and is not allowed to do any manual labor right now that could further injure his back, so we are so grateful."
Please pray for those affected by the flooding and ask God to use our staff and volunteers to bring comfort and meet the physical needs of homeowners in Jesus' Name.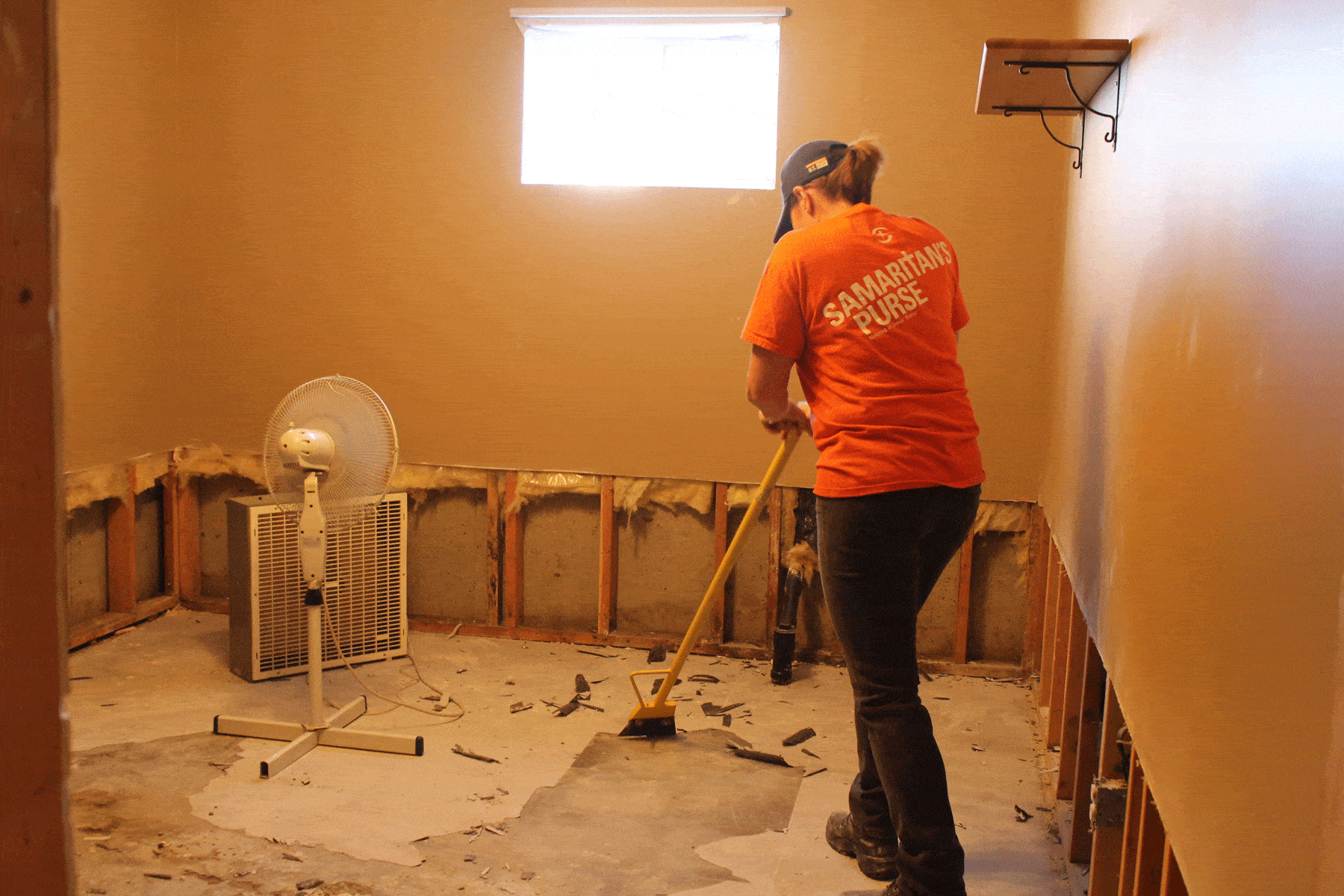 Canadian Relief Projects - 080504
Canadian Disaster Relief
Help Samaritan's Purse respond quickly to victims of disasters within Canada, providing not only physical assistance as people clean up and rebuild after floods, fires, and other disasters, but also emotional and spiritual support in the aftermath of tragedy.