Crisis Relief - 080422
International Crisis Response
Refugees' risky voyage to a 'second life'
A small, nine-meter boat approached slowly from the Turkish coast. As it moved closer to Lesbos Island, it seemed to speed up a bit. Orange blobs turned into human forms. Babies could be heard wailing. Mothers too. Suddenly, men were also yelling for help.
Thirty, 40, or sometimes as many as 70 people are crammed on each boat. The Turkish smugglers who put them there collect at least $1,000 from each person and shove them into the sea. Many times, no one on the boat knows how to drive it. That's why this particular one ended up beached 100 yards from shore.
Samaritan's Purse staff members and volunteers reacted quickly, some swimming out and others taking an abandoned dinghy to rescue people. Aboard the boat were 17-year-old Esraa and her pregnant friend, Safa. They said they left Syria because they had no money and no house left after the devastation of the war. Esraa was traveling to Germany to meet up with her father. Safa and her husband were looking for anywhere safe to settle with their new family.
Another man aboard the boat, Mohammed, said that he left Syria 11 days ago because he had lost his home, job, and money. He felt like he had lost his history and was ready to start a "second life in another country."
"In our world, there is no respect for human being," he said. "I just want to live in peace."
Your donations are making a difference
Besides helping migrants to Europe, your donations are helping Syrians and Iraqis who have fled ISIS and Syria's civil war to the relative safety of Kurdistan, in northern Iraq. Thanks to you, Samaritan's Purse is providing shelter materials, food, vocational supplies, household supplies, and more to thousands of families who arrived in Kurdistan with nothing. But many more people need your help.
Back on the Greek coast, Esraa, Safa, Mohammed, and the rest of the group approached the top of the hill where Samaritan's Purse was distributing bananas, crackers, and water, took a few items, and continued the 60-kilometer walk across Lesbos. Once they reached the other side of the island, they'd register and take a ferry to Athens.
As they walked away, a second boat appeared, this time on the steep cliff side of the point. People climbed, carrying their babies, small children, and bags. As they neared the top, they said, "Please," extending their children to the Samaritan's Purse staff above them. They popped up right where the distribution was happening and gladly took food and water.
Hagi and Shamilla were a couple who said that they hadn't eaten in two days. They shared food with their four young children and three teenage nephews as the oldest nephew, Farhad, told me their story.
"At the border of Iran, shot fire, and all of them injured," he said.
The two oldest children, who are legally blind, lost their glasses during the attack. Farhad said it's difficult to travel with so many children, especially two who can't see, but they had no choice. A cousin's father was killed, and he said it was only a matter of time until the Taliban or ISIS came for everyone else too. They are hoping to settle in Germany.
"In our world, there is no respect for human being," he said. "I just want to live in peace."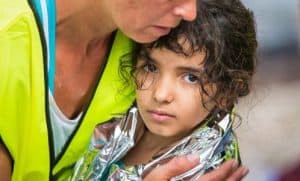 Samaritan's Purse has set up a distribution point on one of the most remote points of the island where boats are landing. In several locations, buses are carrying people across the island. But at this abandoned lighthouse, people are arriving with no aid and a far walk ahead of them.
We will continue to provide food, water, and clothing to refugees who arrive at this area. Please pray that they will safely make it to Greece, that they will be able to walk across the island, and that they will find peace and security in a new life through Jesus Christ.
Crisis Relief - 080422
International Crisis Response
In the midst of political crisis around the world, Samaritan's Purse stands ready to meet the needs of citizens and our partners on the ground. Your gift allows us to supply basic necessities and offer emotional and spiritual support.