On World Food Day, you can join us and help bring hope to those who are suffering
On World Food Day, we want to show appreciation for the people who help Samaritan's Purse Canada bring healthy food to children all over the world by contributing to our many nutrition programs in countries such as South Sudan, Bolivia, Indonesia, Cambodia and Nepal.
As a thank you, please enjoy this recipe for Nepalese Chicken Thukpa, and if you'd like to help us educate thousands more mothers and caregivers on ways to provide healthy, local affordable food to their families, please make a donation today and accept our thanks.
Luke 6: 38 "Give, and it will be given to you. Good measure, pressed down, shaken together, running over, will be put into your lap. For with the measure you use it will be measured back to you."
Chicken Thukpa (Nepalese Noodle Soup)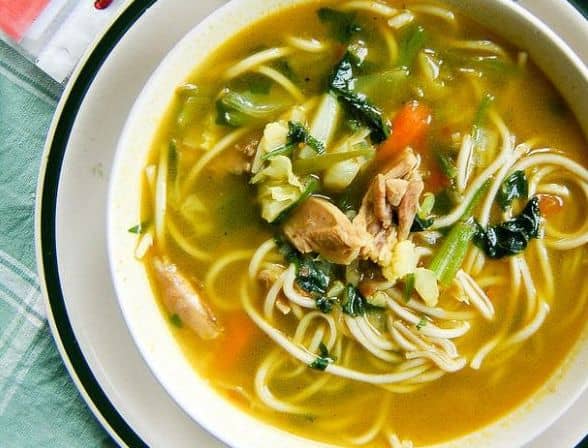 Thukpa is a noodle soup that is healthy, wholesome and hearty. "Thuk" means "heart" and it is one of those meals that warms one heart and soul.
Serves: 6
Prep time: 30 minutes
Cooking time: 20 minutes
Ingredients
1/2 cup carrots julienned
½ red pepper, medium, julienned
½ cup celery, julienned
2 cups baby spinach, fresh
3 cups diced, cooked chicken breast
6 cups chicken broth
1 package rice noodles
1 clove garlic
1 tbsp hot chili pepper
1 tbsp minced ginger
½ cup cherry tomatoes
¼ cup shallots
2 tbsp cilantro
1 tsp cumin
1 tsp black pepper
½ tsp turmeric
2 tbsp lime juice
1 tsp olive oil
½ tsp sale
¼ cup fresh cilantro
¼ cup cilantro, fresh, minced
Cut carrots, peppers and celery into thin strips. Set aside baby spinach.
Cut chicken into bite size pieces and set aside.
Heat chicken broth in a pot, add dry rice noodles and turn off heat. Let sit 10 minutes until softened. Remove noodles from broth so they do not over-cook. Reserve broth.
Make soup paste by combining garlic, ginger, hot chili pepper, cherry tomatoes, shallots, cilantro, ground cumin, ground turmeric, and lime juice in blender or food processor. Blend until smooth.
Heat oil in soup pot. Add soup paste and fry for 30 seconds or so.
Pour in chicken broth and mix well. Bring to a boil and reduce heat to low.
Add prepared vegetables and chicken and simmer five minutes or until carrots are tender. Season with salt and pepper.
To serve, divide rice noodles between bowls. Pour soup over and garnish with fresh cilantro.