Celebrating 664,525 Operation Christmas Child shoeboxes from Canada in 2016!
Celebrate with your Church or Group
With every shoebox you packed, an amazing story began, and it's time to celebrate. On this page you will be able to see how God is using your shoebox gifts, and find great ways to share the exciting news with your church or group!
Join in the celebration using #CelebrateOCC on social media!
Opération enfant de Noël Ressources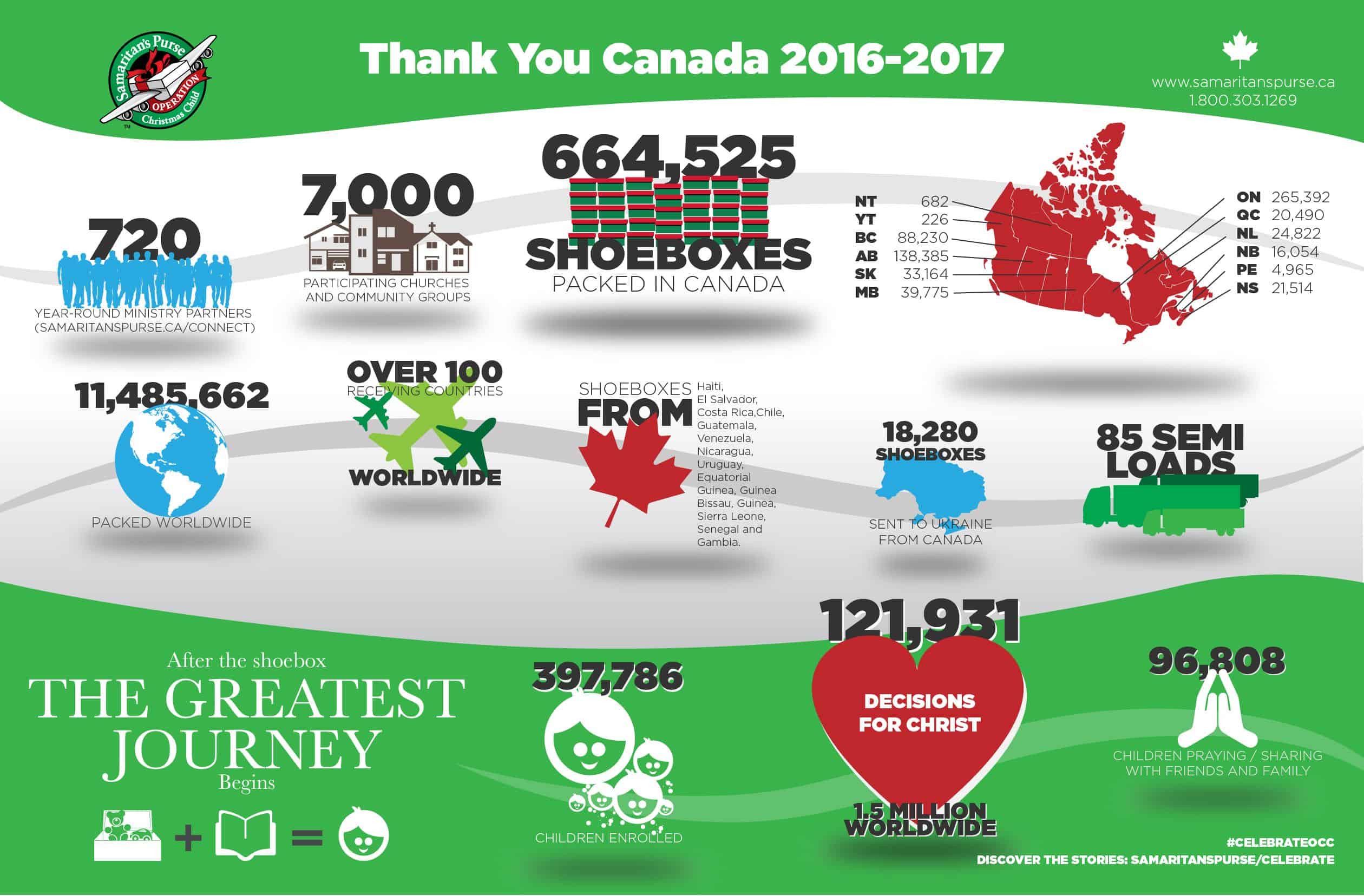 Explore Operation Christmas Child by the numbers
Find shoebox totals, destination countries, and more!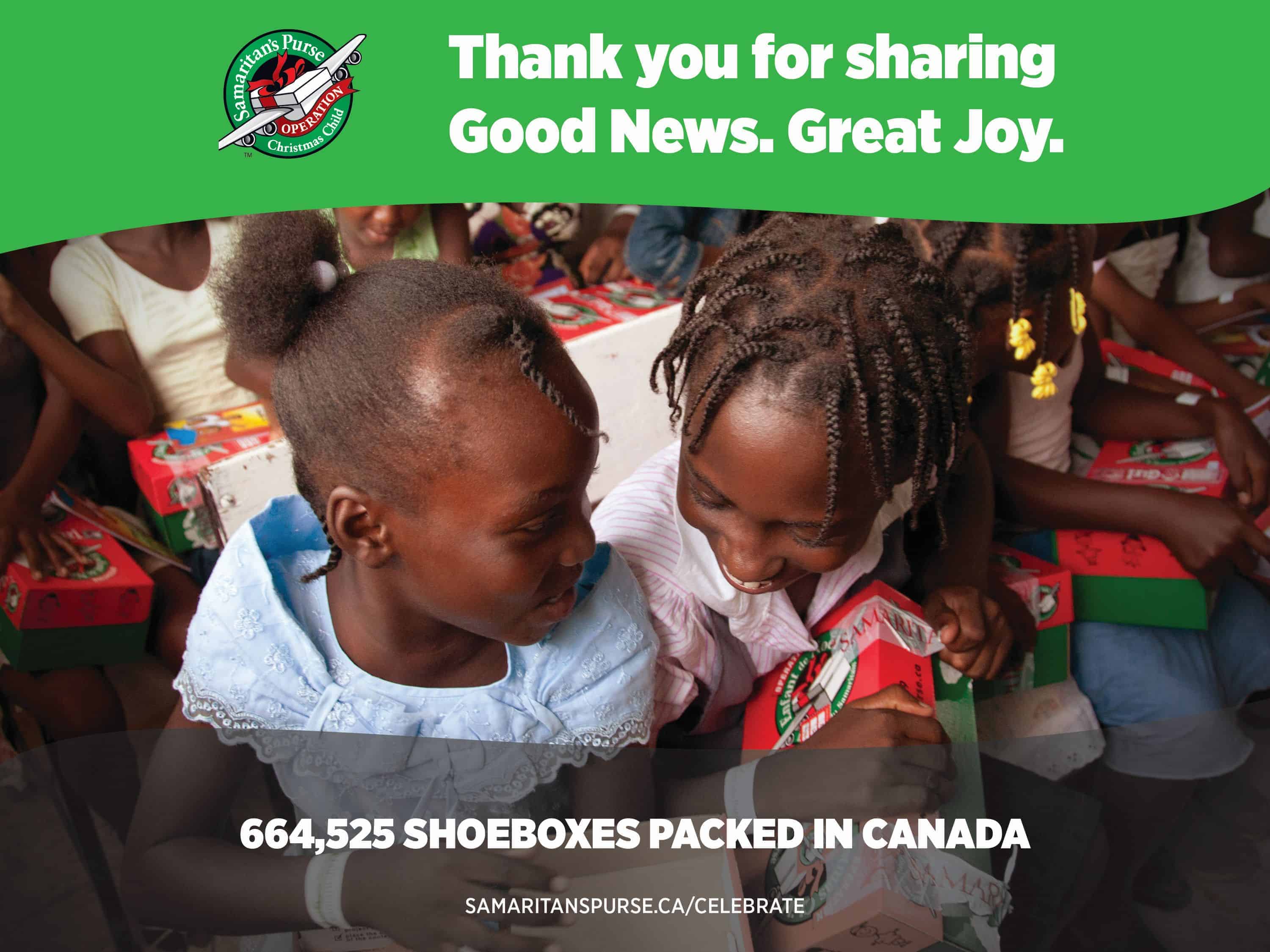 Spread the news
Share the Shoebox Total for Canada or Celebrate with the Children who are learning about Jesus PowerPoint slides with your church or group using these simple graphics in a newsletter, Facebook post, or Sunday morning announcement.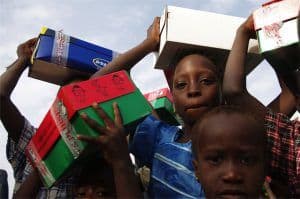 Hear the stories
Read just a few of the millions of stories of how your shoeboxes bless and transform the lives of children around the world.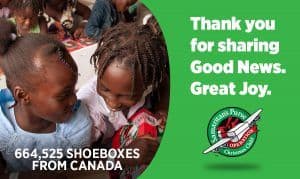 Be social
Download our special images for social media and share in the celebration with the rest of Canada!
Facebook: cover photo, image
Twitter: cover photo, image
Instagram: image
We can't wait to pack shoeboxes with you again!
National Collection Week: November 13—19, 2017
Your Shoeboxes are Making a Difference Around the World!
Watch as children in Equatorial Guinea open their Operation Christmas Child shoeboxes packed by Canadians: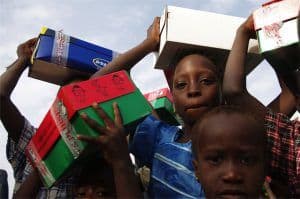 Senegal
When people would see me, I had no joy, I was sad, I felt the suffering and poverty of my parents, and it gnawed at my heart. The worst thing is that I identified in the suffering of my parents and I said "˜that's it, my life has no meaning.' I sincerely wondered to God why He put me in this situation myself and my parents.
But today everything changed with Jesus. Now you see me smiling "" it was impossible to see me in this joy with a smile before. Through The Greatest Journey Jesus changed my life and gave me meaning in life. Now, I am praying for my parents, I want to see them out of their sadness and to understand that Jesus does give joy and peace. I think of the person who sent me the box from the Canada and gave me a good new life. I just want to say thank you!
-Mbaye, 11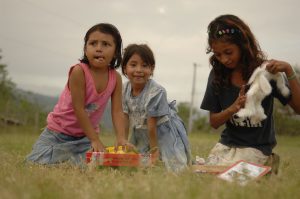 El Salvador
Rosita had asked for mother for new shoes for a long time, but because her mother is raising her on her own, and their economic situation was very difficult, she hadn't been able to buy shoes for her daughter.
Rosita had a wonderful surprise waiting for her at the shoebox distribution event, "Fiesta con Jesus." When she opened the box, Rosita saw a pair of shoes and when she tried them on, they fit perfectly! Rosita and her mother wept with joy as they understood that God heard their request and provided them with this gift through a shoebox packed by a generous Canadian.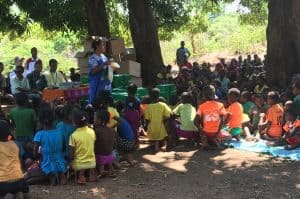 Madagascar
I had always longed for pens, head bands, and a school bag. Imagine how overjoyed I was when I opened the shoebox and saw those very things inside! God used a stranger to bless me by meeting my needs. I used to like swearing and fighting, but when I studied The Greatest Journey lessons I gave my life to Jesus Christ and from then on, have hated swearing and fighting.
-Alima, 12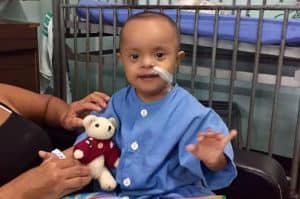 Costa Rica
In northern Costa Rica, Operation Christmas Child's partners were able to take shoeboxes from Canada to the pediatric wing of a local hospital. As these precious children each received a gift-filled shoebox they were reminded that they are loved and not forgotten. Our partners were also given an opportunity to pray for each child and their parents, sharing a message of faith and hope in a difficult situation.
Opération enfant de Noël Ressources