Amid the darkness of war, shoebox gifts from Canada and around the world are glimmers of hope and love in Jesus Christ.
Operation Christmas Child
080053
About Ukraine
Covering nearly the same land area as Saskatchewan, Ukraine is a country of rich culture, resilient people, and rolling, fertile steppes. It's been called the breadbasket of Europe. Its vast wheat, maize, potatoes, and sunflower oil crops feed millions of people around the world.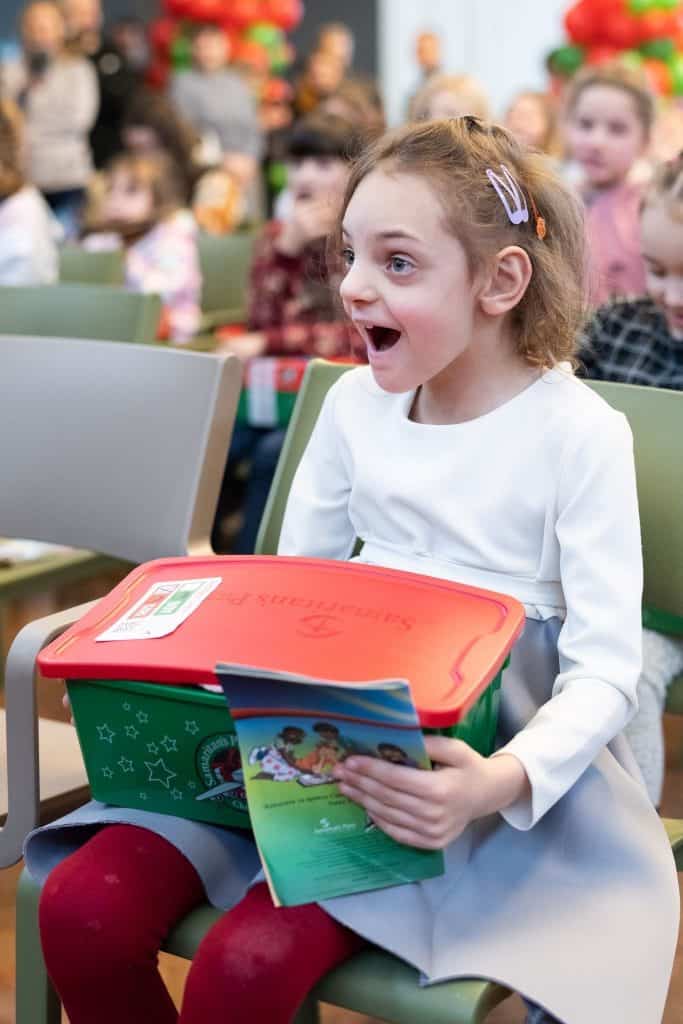 Since Feb. 24, 2022, the Ukrainian people have faced a terrible war. The fighting has taken a heavy toll, especially on the more than 7 million children in the country. While millions of boys and girls have fled, many others remain in the war zone.
Alongside our staff and a network of more than 4,000 Operation Christmas Child church partners, generous partners like you have made it possible for Samaritan's Purse teams to reach millions of Ukrainians with food, water, medical care, and other emergency needs, such as woodstoves and shelter.
As this critical relief work continues, our church partners have also reached 400,000 children through shoebox outreach events since the fighting began. These gifts are glimmers of hope to many war-weary boys and girls—helping them know that God loves them and has not forgotten them.
Not only are churches working faithfully to hand out shoebox gifts, but they are also holding The Greatest Journey classes, where children can learn more about the hope and Good News found only in Jesus Christ.
Gifts of Hope Amid War
In eastern Ukraine, one of our church partners received over 400 refugees from towns under attack. Among them were some refugees from Afghanistan who had previously fled to Ukraine to escape the fighting in their homeland.
The local pastor gave shoebox gifts to the children and, with their father's permission, shared the Gospel message. The Afghan family later relocated to Germany. The pastor was thankful to have this opportunity to plant seeds for the Gospel and is praying that the gifts will bear the fruit of salvation in Christ.
Working in Ukraine Since 1996
Through our Operation Christmas Child project, Samaritan's Purse has been working in Ukraine since 1996 and has delivered 11.6 million shoebox gifts. We thank God that these children have had an opportunity to hear and respond to the Gospel of Jesus Christ.
Since 2010, more than 1 million Ukrainian children have enrolled in The Greatest Journey follow-up discipleship lessons. One of those children is Mark.
'When I Am Weak, Then I Am Strong'
In the western Ukrainian city of Lviv, 7-year-old Mark is faced with a debilitating disease. His body does not grow, but his internal organs do.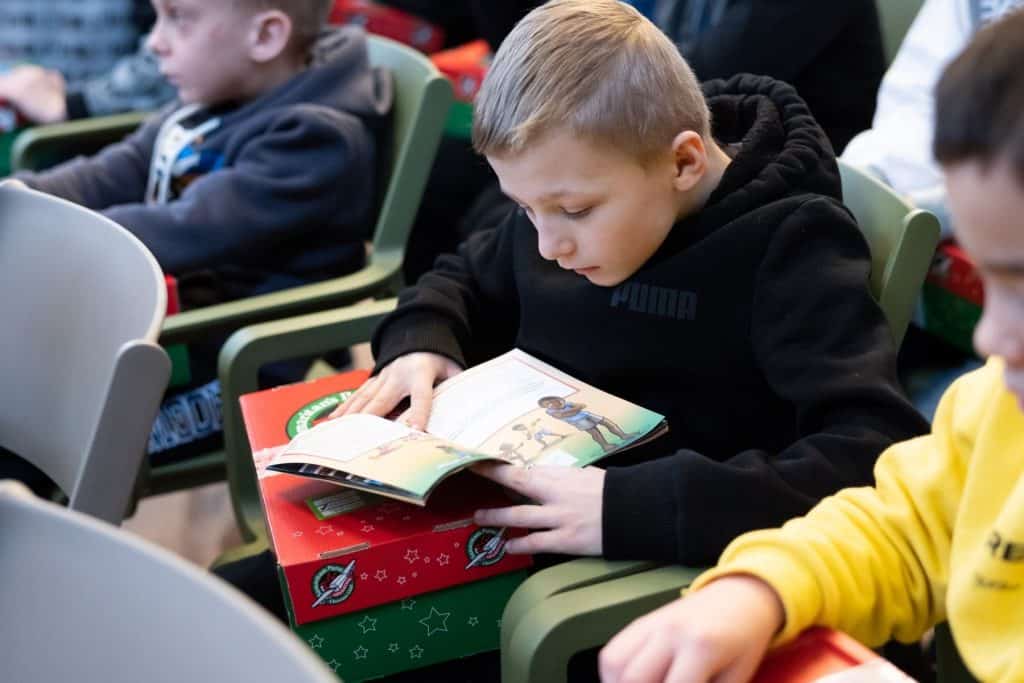 The illness was discovered when, as his parents tried to teach him to walk as an 18-month-old, the exercise caused him tremendous pain. But as he grew older, Mark wanted to learn how to become a disciple of Christ and share the Good News of Jesus Christ with other boys and girls.
Enrolling in The Greatest Journey, he found great delight in Bible stories such as the feeding of 5,000 with just five loaves of bread and two fish. Mark completed all 12 lessons of the discipleship course and graduated.
He continues to be a light for Jesus and agrees with the words of the Apostle Paul: "Therefore I take pleasure in infirmities, in reproaches, in needs, in persecutions, in distresses, for Christ's sake. For when I am weak, then I am strong" (2 Corinthians 12:10).
"He Hears All Our Prayers"
In another region of Ukraine, a new believer named Angelina told what an impact The Greatest Journey made on her life.
"I realized what I was missing," she said. "In the lessons, I learned that God loves all people, including me. He hears all our prayers and we can share with Him all our secrets. God's Word has changed me: I learned to pray and I don't want to do bad stuff because I want to please Jesus."
Ways You Can Pray for Ukraine
Pray for peace in Ukraine
Pray for protection for children, their families, and our church partners
Pray for the churches partnering with Operation Christmas Child as they are trained and prepare to host outreach events and distribute shoeboxes—while many also continue to work with Samaritan's Purse to distribute emergency relief
Pray for the training of The Greatest Journey teachers
Pray for children to experience Christ's love and for their hearts to be open to the Gospel
Would you like to receive regular updates and praise reports to help you pray for Operation Christmas Child around the world? Consider becoming a Prayer Network Partner.
Become a Prayer Network Partner
*Name changed to protect privacy.