In the West African nation of The Gambia, simple shoebox gifts from Canada and The Greatest Journey are helping share a powerful, life-transforming message of hope.
Operation Christmas Child
080053
About The Gambia
A little less than twice the size of Prince Edward Island, The Gambia occupies a sliver of land on the west coast of Africa. It's surrounded on three sides by Senegal and, at its heart, flows the mighty Gambia River.
Despite its small size, The Gambia has a population of more than 2 million people crowded along the river's banks, of which more than 770,000 are children. Many of them live with very little and face a life of few opportunities.
In these situations, a simple shoebox gift, like one you pack, can be a powerful, life-transforming message of hope.
God Works Through Simple Gifts
"Three, two, one, open!" As the call went out from the Operation Christmas Child church partners in a small village in The Gambia, children all around 5-year-old Abeni* excitedly opened their shoebox gifts. She also curiously lifted the lid of her gift—a gift that had traveled more than 9,000 kilometers from Canada to reach her.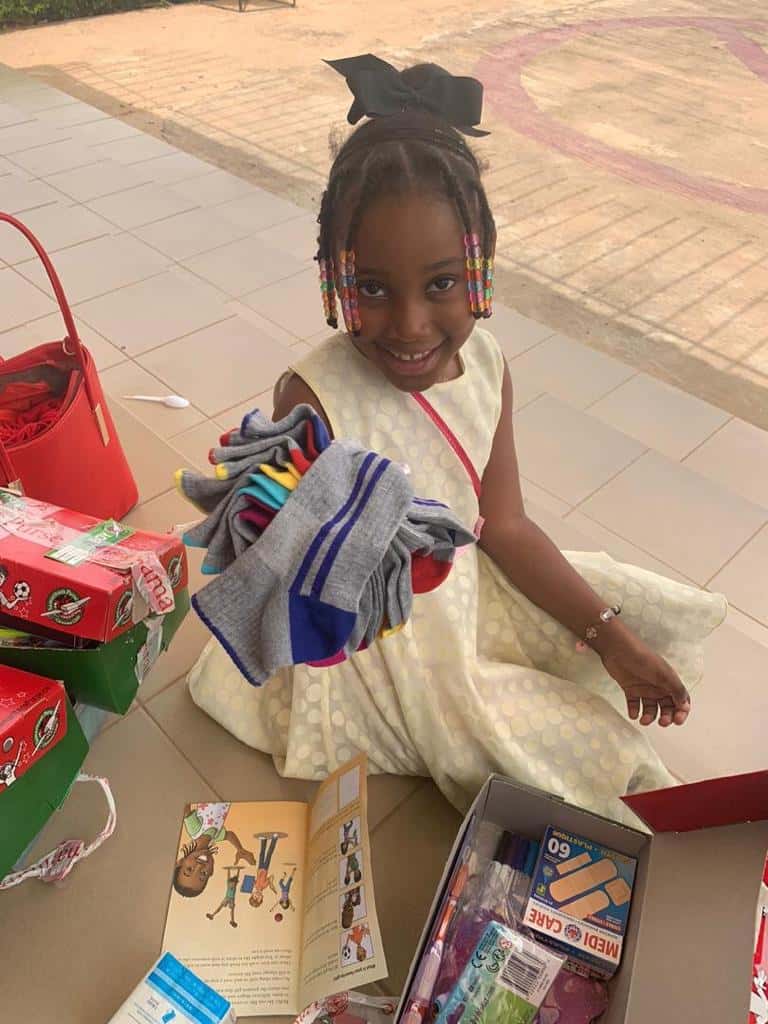 As Abeni explored each item inside her box, one, in particular, caught her attention. It was a new bag for school. Just one week before, the bag Abeni had been using to carry her few school supplies had torn and was unusable. Her parents were unable to afford a new one, and Abeni just had to do without—until the day she opened her shoebox gift. "It was for her an answer to prayer when she discovered the beautiful bag," our partner wrote.
In another village, 8-year-old Hadiza* dug through the contents of her shoebox gift alongside two of her friends. Hazida was especially drawn to the school supplies she found and, uniquely, a tape measure, which she gave to her father to help him with his work.
Hazida and her friends were so excited that they ran to show their teacher. As he heard them talk about their gifts and the love of Jesus they had heard about, he began to cry.
The girls also wanted to learn more about Jesus and accepted the invitation of the local Christians to attend The Greatest Journey, Operation Christmas Child's follow-up discipleship program. Hazida participated in all 12 lessons and graduated with one of her friends, receiving a certificate and New Testament Bible in her language. The two are now regular members of a children's ministry in their village.
The Greatest Journey
In the weeks following a shoebox outreach event, churches that partner with Operation Christmas Child invite children to participate in The Greatest Journey. Through this 12-lesson follow-up discipleship program, children learn to follow Christ and share Him with others.
In 2017, the first children in The Gambia participated in The Greatest Journey. Since then, more than 28,000 boys and girls have enrolled in lessons, and over 9,000 have prayed to receive Jesus Christ as their Lord and Savior.
It Started with a Soccer Ball
Lifting the lid of a Canadian-packed shoebox gift to find a soccer ball flooded Unique's heart with joy. Imagine a gift like that to call his own! Little did the five-year-old know that God would use that special ball to change the lives of nearly two dozen other children with Jesus' love.
Unique and his dad had moved from their home in Nigeria to share the Gospel in The Gambia, a tiny nation on Africa's west coast. As Unique played with his beloved ball in their new community, he began to make friends and invited them to join The Greatest Journey discipleship lessons. He had asked Johnjames, his father, to start the class even though Unique was the only student at first.
Unique invited more boys and girls, and the class grew to 21 children as Johnjames taught them about Jesus and what it means to follow Him. Seven of the children received Christ as Lord!
Watch as 5-year-old Unique recites all 12 memory verses from The Greatest Journey lessons:
The group continues to meet today "to help the kids increase their knowledge of God's Word and to stir up a passion to love, know, and serve God wholeheartedly," said Johnjames. And to think that it all started with a soccer ball in a simple shoebox gift.
Ways You Can Pray for The Gambia
Pray for the churches partnering with Operation Christmas Child as they are trained and prepared to host outreach events and distribute shoeboxes
Pray for the training of The Greatest Journey teachers
Pray for children to experience Christ's love and for their hearts to be open to the Gospel
Would you like to receive regular updates and praise reports to help you pray for Operation Christmas Child around the world? Consider becoming a Prayer Network Partner.
Become a Prayer Network Partner
*Name changed to protect privacy.