582,000 Rohingya people have fled Myanmar and 400,000 are still trapped
Bangladesh has received upwards of 582,000 Rohingya refugees since violence erupted on August 25 in neighboring Myanmar. The Rohingya are traditionally Muslim and have long been struggling to be recognized as a people with rights and freedoms.
Over a quarter of the entire Rohingya population have now fled Myanmar due to violence. The Rohingya live in impoverished, rural, and isolated communities along the border of Myanmar and Bangladesh.  As they flee, their homes are being burned, many are being killed or injured, and women and children face sexual violence.
Samaritan's Purse Canada has deployed medical personnel to Bangladesh to serve refugees, and we are also exploring opportunities with local partners to provide additional assistance to displaced families.
Samaritan's Purse is providing emergency food kits, tarps and shelter materials, and water to thousands of people. Through World Medical Mission, Samaritan's Purse is preparing a shipment of medical equipment and supplies to a local partner hospital that is receiving critically wounded and sick Rohingya refugees.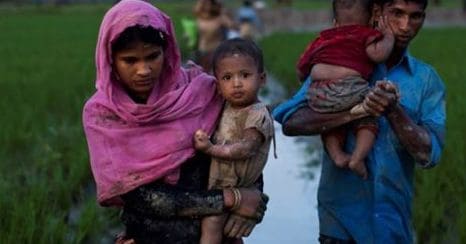 In the midst of their suffering and being ripped from their homes and communities, Samaritan's Purse is offering tangible relief and a chance to experience God's love and compassion in the midst of darkness.
Please pray for the Rohingya people; pray for peace and a resolution to the conflict, and protection, wisdom and guidance for our partners as they work to help those fleeing the conflict, in Jesus Name.