Samaritan's Purse is reaching out to refugees in East Africa, the Middle East, Europe, South America and beyond.
More than 68 million people throughout the world have been forcibly displaced from their homes. That's the largest number recorded since the end of World War II.
Whether fleeing the horrors of war in South Sudan, persecution in Iraq, or the economic collapse in Venezuela, refugees are struggling to survive. They've fled their homes because of war, famine, or persecution. They've left everything behind with the hope of finding peace, safety, and stability.
Refugees may be schoolteachers, government leaders, engineers, doctors, stay-at-home mothers, store clerks, or farmers—no one is safe during war or crisis.
For years Samaritan's Purse has helped meet the physical and spiritual needs of refugees. We work in Jesus' Name, sharing His love and the hope of the Gospel.
Serving refugees from South Sudan in neighboring Uganda
Violence, conflict, and starvation have forced South Sudanese refugees to settle in Bidibidi Camp in Uganda, one of the world's largest refugee camps. We're providing water, hygiene training, agricultural tools, and seeds to thousands of families in Bidibidi.
Namadi can describe first-hand the intense needs she and many others faced even after fleeing with their lives from South Sudan.
Though she and 2,000 other South Sudanese had escaped the horrors of war in their home country of South Sudan, they were waging a new fight—against disease at the Imvepi Refugee Settlement in Northern Uganda. Upon their arrival, they received food and several pots and pans and were given access to clean water. But they soon faced new struggles.
Hygiene hazards a real safety risk
"With only two latrines for everyone in my community, the land became our bathroom," Namadi said. "When the flies came, everyone started getting sick, so we were afraid to eat the food."
One day, a Samaritan's Purse hygiene educator came to Namadi's home. When he saw the conditions under which the people were living, he taught them basic hygiene and sanitation practices. Namadi quickly realized it wasn't the food but poor hygiene practices that were making everyone sick. "I came home so excited I started digging my own latrine," she said.
Our hygiene educators regularly visit Namadi, and she passes on these vital health practices to others. While still adapting to life in the settlement, Namadi and her neighbors believe Samaritan's Purse has given them hope for a brighter future. "I can only think of praising God for the work they are doing," she said.
Cross-border migration brings unique challenges
Since violence reignited in their country in 2016, more than 1 million South Sudanese refugees have fled to Uganda and nearly 5,000 arrive each week at the Ugandan border. A majority of these are women and children.
Additionally more than 1,000 refugees arrive each week in Uganda from Democratic Republic of Congo.
The Democratic Republic of Congo has endured decades of civil war that forced millions to leave their homes, possessions, and livelihoods. As a result of prolonged conflict with the Lord's Resistance Army and other government and rebel forces, society, culture, institutions, and social services have largely collapsed.
Relief for Refugees and Displaced People
080671
New hope in the Nineveh Plains
In Iraq, many families who were displaced by the battle for Mosul are still living in camps because their homes were destroyed in the firefight.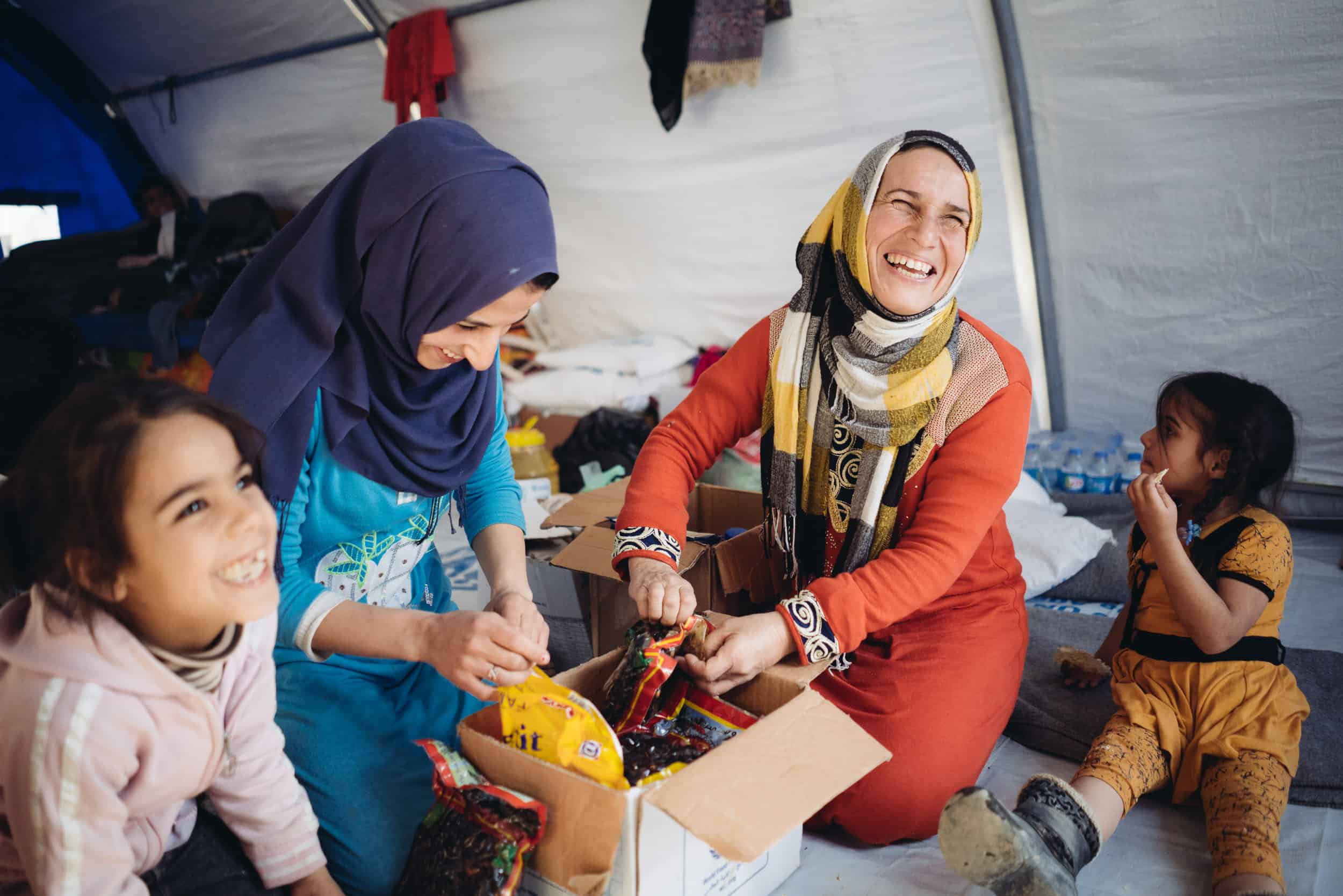 Samaritan's Purse is helping these hurting families by distributing food, screening for and treating malnutrition, and offering skilled breastfeeding support. In addition, we are providing child-friendly spaces for young victims of war and providing classes for adults to help their families heal from the wounds of trauma.
In other places on the Nineveh Plains, Samaritan's Purse is helping persecuted and displaced believers return to their homes that ISIS destroyed. So far, we have rebuilt more than 475 homes and more than 250 are currently under construction. We have plans to restore even more residences before the end of the year to help preserve the Christian population in this country.
Refugees from Middle East and Africa also fleeing to Greece
In Greece, we continue to serve the refugee population through The Meeting Place which offers refreshments, language lessons, and spiritual support. In the first three months of this year, this outreach center served 2,800 migrants and presented the Gospel to nearly 1,400 of them. Of this group, 39 received Christ as Savior and 295 were referred to local church partners. More than 58,000 refugees and migrants remain in Greece, and over 12,000 of these arrived in 2018.
Crisis in Venezuela prompts mass exodus into Colombia
As thousands of Venezuelan migrants continue to pour into Colombia, they carry overwhelming physical and spiritual needs. Refugees are fleeing mass power outages, civil unrest, healthcare system failure, mass inflation and general chaos in this once-prosperous nation. More than 1 million Venezuelan migrants have come into Colombia in recent years, making this exodus one of the largest refugee crises in Latin American history.
Samaritan's Purse Canada is involved in the region, connecting with local partners and monitoring needs. As we serve, we are pointing people, young and old, to the eternal hope found only in Jesus Christ. Through this response, many are gladly placing their faith in Him.
The needs of refugees across the world are enormous. Please pray for our teams as they demonstrate God's love and bring healing to hurting families, and give generously to provide hope to refugees in Jesus' name.