Samaritan's Purse staffer shares about his experience as he works in Northern Iraq.
M.F.* is the Samaritan's Purse water, sanitation, and hygiene program manager in northern Iraq.
March, 2015—I was deployed by Samaritan's Purse to northern Iraq in late January to perform a rapid assessment and design a Water, Sanitation, and Hygiene (WASH) program to aid the people who have fled from the Islamic State of Iraq and Syria.
I am working in Dohuk, which is a city about 25 miles (40 km) from Mosul. Hundreds of thousands have fled from ISIS to this area where they are living in camps and unfinished buildings. Many of the displaced are Assyrian Christians and Yazidis.
Yazidis have been especially persecuted and killed by ISIS, who has branded them as devil worshippers. Many of the Yazidi children who safely reached Dohuk have endured traumatic violence in the last nine months.
Dohuk is a modern city with many Western amenities, so it is a surreal experience to realize that such a horrendous conflict is an hour's drive away. The occasional rumble of a distant airstrike is a particularly visceral reminder. Despite the relative wealth of the city, the massive influx of people has overwhelmed the area, leading to people living in extreme poverty.
One of the most startling examples of this is in an unfinished 18-room school building in an otherwise normal village on the outskirts of Dohuk.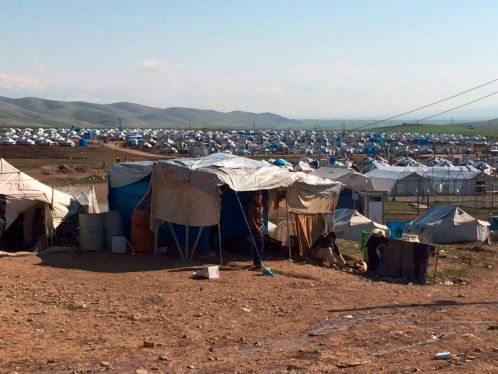 When I assessed the site, I found 620 Yazidis experiencing severe shortage of clean water, a single functioning toilet, and an outbreak of scabies (a mite that burrows in the skin and causes an itchy rash). The building also has numerous falling hazards for children, is overcrowded, has no lighting, is cold, and has no safe, clean areas for children to play and learn.
The families fled from Sinjar, a province hit particularly hard by ISIS, and the children in the school have no place to forget the tragedy they are living in.
Poor sanitation a concern
Despite the fact that I still was in the assessment phase of my project, I knew something needed to be done immediately. The lack of toilets combined with the high-density living quarters is a perfect combination for an outbreak of disease.
The poor sanitation also posed a health risk for the people living in the village below. Samaritan's Purse gave me its full support, and we managed to fast-track funding to build a septic system. The new tanks will soon be hooked up to toilets that had already been built but were not functional.
I am so happy that Samaritan's Purse has been so flexible to fix an immediate need. In the future, we hope to form a committee of residents to ensure the toilets are kept clean, and work with the government to ensure the site gets enough water. There are also plans to build a child-friendly space for children to play and learn.
As a WASH program manager, my primary job is to provide physical assistance to people in need, but as a follower of Christ, my job is to love people like Jesus loves me.
The most exciting part of this job is that Samaritan's Purse has the opportunity to share the love of Christ with the 620 Yazidi people. There are people who have waited years for an opportunity to minister to this people group, which is a traditionally closed society.
Helping these people in their time of need is giving me, our ministry team, and local church partners the opportunity to spread the Gospel. This project ultimately is not a WASH project, it is an eternal project.
Please pray for the Yazidi people, that they will be open to the Gospel. In the midst of their greatest struggle, God can show them the fullness of His love.