A ministry group is teaching the Gospel to rural people in Niger through skits and films. Brittany Breedlove is the program development officer in the Samaritan's Purse Niger office.
July, 2014—In Niger, West Africa there is a unique backdrop for outreach and ministry. Islam is the predominant religion. Only 0.5 percent of the population is Christian and 0.14 percent is evangelical. Yet religious freedom and tolerance is widely respected, and the majority of the population is open and hospitable toward Christians. Many people in rural villages have never heard about Jesus and are often curious to know more.
In most rural settings, the population works hard all day at strenuous and labor-intensive work to try to provide for their families with the little resources that they have. There are few options for entertainment: no technology, television (or even electricity), or other leisure activities to provide an opportunity  for relaxation or fun at the end of a long day. Thus Samaritan's Purse decided to use various forms of entertainment in the form of a traveling minstrel group to share the Gospel in 20 rural villages in Niger.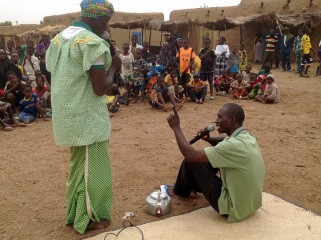 The ministry group is composed of eight Christian actors and evangelists. The group typically spends three days in a village visiting households and leaders during the day and showing Christian films and presenting short dramas after sunset. There are 10 different dramas, each  about 15 minutes long, which cover important social issues while sharing the love of Jesus.
I recently had the privilege to witness the group in action as it performed three  dramas titled The Love of Money, The Delinquent and Rural Migration. The Love of Money warned of pursuing worldly things and money at any cost and emphasized the eternal importance of spiritual wealth. The Delinquent was an adapted version of the story of the Prodigal Son and Rural Migration provided ideas for generating income within a village instead of migrating to larger towns and neighboring countries.
On average, more than 500 people have attended each performance and many more watch and listen from their homes. For the most part, the group has been well received. After each performance, the group follows-up with those who attended. They share the Gospel, pray with people and, when possible, connect those who are interested with local Christians.
In answer to our prayers, a handful of new believers have emerged and miraculous healings have happened through this project. After one drama performances  I  attended, a spectator named Ali* came forward and introduced himself as a 24-year-old fisherman who is married with one child. He expressed appreciation for the dramas.
"I really learned a lot through these dramas and have been exposed to a new way of thinking about certain things," he said. "What touched me the most was the change that the delinquent son experienced in his life when he came to know Jesus. If my son became a delinquent, I would want someone to impact and change his life in the same way."
Later that day, Ali came to find the ministry group in the village. He said that he wanted to know more about Jesus. The group gave  him a New Testament and led him through the essential components of faith: God's love, sin/separation from God, Jesus' death and resurrection, and repentance and faith. The group then prayed with Ali. invited him to come back   to study again, and introduced him to a local pastor.
Spiritual warfare
While the  minstrels have experienced many rewarding victories, their journey has not been without obstacles. Spiritual warfare is real in these settings and h the group has had to fight and pray against it every day.
Although most people are open and receptive to the group's message, there has been some opposition. Despite village elders originally consenting to the ministry,  in a few villages the group was forbidden from showing Christian films or performing dramas. In one instance, a gang of young men broke some of the group's equipment and threw sand at them to chase them from the village.
Opposition can be even more intense for those who have shown too much interest in Christianity or have converted. New believers are almost never physically harmed or threatened, but they are sometimes disowned by their families and peers. This is a serious consequence in a society where individuals are dependent on the family and community for survival.
All of these issues linger in the ministry group's minds, but they continued to press forward. What has moved me the most  is their courage, determination, fearlessness, and especially their faith. These are men who have left behind comfortable lives to travel from one rural village to another sharing the love of Jesus. They are respected men (pastors, church leaders, educators, fathers, husbands) who have humbled themselves and become vulnerable before complete strangers.
Sometimes people don't show up for the performances, sometimes people laugh at them and  insult them. None of this has stopped them from continuing their mission. If even just a handful of small children gather, these men will put on their costumes, sing praise and worship songs and share the Gospel.
It has taught me a valuable lesson about not growing discouraged in difficult situations but rather focusing on the calling we have received from God and continuing with the right attitude. God will take care of all of the rest and claim His victory in the end, just as He is doing through this project.
*Name changed for security