Eight-year-old girl raises more than $5,000 for Samaritan's Purse relief efforts in Iraq.
Pictures courtesy of steinbachonline.com
August, 2014—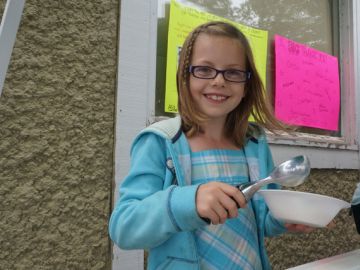 Compassion is a dish best served cold.
Just ask eight-year-old Ellie Balfour, who raised more than $5,000 through an ice cream sale for Samaritan's Purse efforts in Iraq.
Tens of thousands of Christians are among the more than  one million people forced to flee the violence and destruction of the terrorist group known as Islamic State of Iraq and Syria (ISIS).
"Ellie is this kid, where her faith in Jesus seems at the surface until you tell about something real that's happening in the world, "said Ellie's mom, Jackie, from the family's home in Steinbach, MB. "Then this compassion gift comes out and she gets ideas of what to do about it. I think it's her calling in life because she just comes alive."
Jackie said her family became inspired to help with efforts in Iraq over the breakfast table.
"We had been talking and praying about what has been going on in Iraq, and then one morning, the kids were all a little grumpy and wanting their breakfast, and I said "guys, before we eat, I want you to think how hungry your tummies are and I just read about the people who had fled to the mountains and were trying to eat leaves and stuff to stay alive. "Ellie burst into tears and said "Mom, we need to do something."
That something was Ice Cream for Iraq, where Ellie planned to sell sundaes by donation. Her community came together to make her dream become reality, with donations of ice cream, sprinkles, and even a spot to hold the sale in front of the credit union.
In about three hours, they had raised more than $4,000, although donations continued to roll in after the fundraiser.
For her part, Ellie is humble about her role in the fundraiser, but said she was surprised by the outpouring of support from her community.
"I was pretty surprised, because the busiest time that we had was when it was raining," Ellie said.
Jackie said supporting Samaritan's Purse efforts in Iraq was an easy decision to make, given their Christian approach to the crisis.
Reaching out
"We looked in what Samaritan's Purse was doing in Iraq and said 'that is exactly our heart, providing tents for people and cradles for babies, that sort of thing,'" she said.
Samaritan's Purse is reaching out with the love of Christ to those who have fled from ISIS' "convert-to-our-version-of-Islam-or-die" threats, and who desperately need food, shelter, water, and medical care.
Hundreds of thousands have sought refuge in the Kurdistan region, where Samaritan's Purse has a field office and where churches in the Kurdish capital of Erbil are partnering with us in welcoming and caring for refugees.
Samaritan's Purse has set up hundreds of tents for displaced families and provided over 14,000 people with food. Mattresses, cribs, baby clothes, shoes, pillows, and Bibles are also being distributed.
Your financial support and prayers are urgently needed for Samaritan's Purse to continue ministering in Jesus' name to Iraq's suffering families.