Samaritan's Purse dedicates the new hospital facility in South Sudan.
by Shanna McClarnon, Samaritan's Purse information officer in South Sudan
July—2014—After  a 90-minute  plane ride from South Sudan's capital city of Juba, we were quickly on the ground to celebrate the completion of the Maban County Hospital expansion. As the plane carrying a diverse group of passengers flew over South Sudan's lush green countryside, excitement began to build with everyone eager to see the finished facility and meet those who worked tirelessly on the project.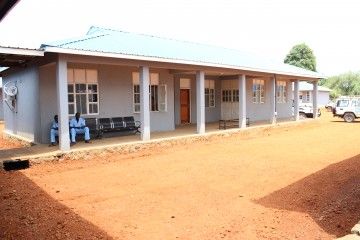 Once on the ground, a convoy of nearly a dozen vehicles traveled along the dusty road to the new facility built by Samaritan's Purse. Singing voices could be heard in the distance as we neared our destination. Pulling through the hospital gate, we were greeted by a local choir led by Samaritan's Purse Ministry Coordinator Pastor Andrew singing songs of welcome. Next to them stood the hospital team in perfect formation, dressed in pressed, clean scrubs.
My eyes welled up with tears, thinking it should be me standing at attention and honoring them—the community, the hospital staff, the refugees—for their strength, their perseverance, and their sacrifice that made this day possible.
Dr. Atar cannot contain his joy as he gives a tour of the new facilities. The smile on his face was worth more than a thousand words. It was obvious he was well aware that this new facility would enable him to treat more patients and heal more wounds.
When the tour came to an end, the large group was led to a shaded structure where the official inauguration would be held. The area was overflowing with special guests, government officials, community members and refugees. So many gathered in attendance to show their thankfulness for this incredible facility that offers life-saving services at no charge to the more than 100,000 refugees and host community members in the area.
"This hospital is important for what it represents," Anne said. "It says 'You will not be forgotten.'"
The Maban County Hospital is evidence that Samaritan's Purse will not forget the refugees and community of Maban.
The celebration of the Maban County Hospital was a special day indeed. But the most incredible thing wasn't the speeches, the guests, the songs or the dances. It was the feeling of hope. There was no doubt that hope was near and He will continue to be, because He never leaves us nor forsakes us…
The Maban County Hospital is a reminder of God's love and healing, and how hope is here to stay.