A displaced Iraqi celebrates Jesus while receiving relief supplies from Samaritan's Purse.
January, 2015—It would be easy for Amer to be bitter. Militants from the Islamic State of Iraq and Syria (ISIS) forced the 53-year-old man to flee from his home in Mosul, where his family had lived for generations. He now lives in a cold, drafty United Nations camp for internally displaced peoples in Northern Iraq.
Instead, he radiates joy despite the deplorable conditions.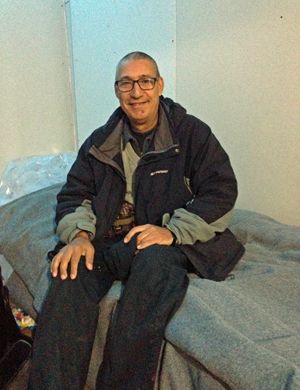 "I am not sad," Amer said. "I am happy because our Jesus told us in the New Testament to leave everything and come to Him and He will help us."
Samaritan's Purse is providing some of that help. More than $100,000 worth of food has been distributed in the unfinished mall that is now home for Amer and 400 other families.
Samaritan's Purse has also provided winter jackets, part of the 80 tons of relief supplies sent in mid-October to the more than 800,000 displaced by ISIS since June.
That is when ISIS arrived in Amer's hometown. The terrorists were cordial at first, until the Muslim leaders announced during noon prayers one Friday that everyone was to tell their Christian neighbors that they must leave the city within 24 hours.
Amer received the news from friends who had lived next to his family for almost 40 years.
Seeing an ISIS fighter on the street, Amer asked, "Who are you? What do you want from us?" The man challenged Amer to become a Muslim so he would not have to leave his home, his business and his car behind.
"You win my car," Amer said. "I have a company for cutting stones and marble. You win it. But you also lose because I love my Jesus."
He went on to tell the man that Jesus taught his followers not to store up treasure on earth, but to store up treasure in heaven (Matthew 6:19-20).
"Therefore, I am not sad," Amer said. "You are the loser. I am happy. I forgive you."
"What did you say?" asked the ISIS fighter.
"Yes, I forgive you because our Jesus told us to forgive our enemies. He told us in the New Testament to love our enemies. I love you. I forgive you. Take everything. I will die for my Jesus."
"What are you saying?" asked the fighter. "Who is your Jesus?"
"You want to see him?" asked Amer. "Look on my face and you will see my Jesus."
Angry, the ISIS fighter demanded that Amer leave. He said, "If I see you Saturday at noon, I will take your head."
"Ok I'll leave," Amer said. "Congratulations on my house. Congratulations on my company."
Muslim neighbors help Amer escape
Aware that ISIS was robbing Christians of all their money as they went through their checkpoint, Amer's neighbors helped him escape. They drove him to the checkpoint, one dressed in his white clothes and hat as though he was heading to the mosque for prayers.
Seeing Amer in the backseat and  thinking he was a Muslim, the terrorist let Amer through without incident.
Leaving his neighbor, Amer continued on to the Kurdish army checkpoint. Safely on the other side of it, he prayed fervently, "Thank you, God! I will follow you forever!"
Amer made his way to Erbil where more than 200,000 displaced people have settled. He moved from house to house until he settled in the refugee camp in the unfinished mall.
Amer puts his suffering into perspective by comparing it to the cross.
"This is the Christian religion," he said. "Not houses, good cars, or money. When we feel hungry, tired, or cold, living in this room like a refrigerator, our Jesus felt like this."
Exuding the joy of the Lord, Amer is a living example of Jesus' promise: "Blessed are you when they revile and persecute you, and say all kinds of evil against you falsely for My sake. Rejoice and be exceedingly glad, for great is your reward in heaven," (Matthew 5:11-12).