South Sudanese refugees in Uganda have many challenges to overcome and must rely on God for comfort.
Chelsea Charping is a Samaritan"s Purse staff writer who visited Uganda in late April to cover ongoing projects in the country.
May, 2014—I met Bill Chol at a food distribution at Kiryandongo Refugee Settlement in Uganda. He was a 14-year-old boy with a serious face that hinted at maturity far greater than his years.
When I asked him if I could ask a few questions, he looked at me and said, "Why are people fighting in South Sudan?" Behind his tough face, he was still a child crying for answers to unexplainable violence.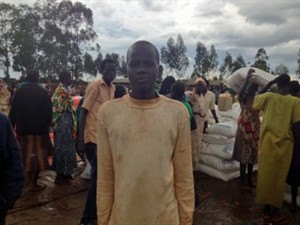 Bill left Juba, South Sudan, with his family in February. The violence drove them from their home and led them on a three-day journey to Uganda. Bill told me that seven of his family arrived with him, including his mother, two brothers, and a grandmother.
When I asked Bill about his father, he stared off. "He died," he said finally. "In the violence?" I asked. Bill nodded with just a hint of tears in his eyes.
He is the oldest son in the family and now must care for his mother and younger brothers. It's a heavy burden for a 14-year-old. I thought about what I was doing at that age. I wasn't prepared to take care of anyone.
"In Africa, usually the man is the one who protects the home or protects the family," said Martha Engole, a Samaritan's Purse employee who works in Kiryandongo. "But usually people that are here are female-headed households, and we also have a number that are children-headed households."
I didn't get to meet Bill's family or visit his home, but I did see other refugees' houses. They have tarps strapped to wooden poles to cover them. They sleep on the dirt, crammed into the tents as tightly as possible.
It's easy to think that they are probably used to it, that maybe it isn't actually that bad because at least they're away from the fighting. That's not the case.
Many of these refugees were well off before they had to flee South Sudan. They were business owners or  worked in offices. But money doesn't matter when you are being attacked. You  leave your comfortable home and run to a country that you may have never seen before.
Living in a tent and sleeping on the dirt is as foreign to many of these people as it is to me. It's not easy for them. They are away from the fighting, but they are facing new challenges. Perhaps the most difficult is the unknown.
One woman told me that she found out her father died while trying to escape. She knows her husband is still in South Sudan, but she has no way to contact him. She doesn't know when or if they will be reunited. She doesn't know if life can ever be what it used to be. For now, she only knows that she and her children are safe.
Refugees face a complex mix of challenges
"Usually, when you're dealing with a refugee,  a lot of aspects are attached to it," Martha said. "One aspect is the psychological pain  they go through."
Samaritan's Purse is feeding 20,000 refugees every week at Kiryandongo. The food is meeting basic necessities, but there are far more needs that Samaritan's Purse cannot fulfill. For those, the refugees have to look to the  faith they have in God. It's both difficult and necessary.
"They have suffered a lot of conflict," Martha said. "Some of them have suffered rape. Some have witnessed the killing of their loved ones. Some of them have never witnessed peace in their lifetimes."
Please pray for South Sudanese refugees in Uganda as they face problems more complex than basic needs. Pray for people who don't know where their families are or what the future holds for them. Pray for protection; pray for peace.
Pray that 14-year-old Bill, and others like him, find the strength they need for each day and that, most of all, they are able to look to God for comfort.