Robel Lambisso and Kacho Musa are the water, sanitation, and hygiene program managers in Unity State and Yida, South Sudan.
August, 2014—Access to clean water was once hard to come by for the people of Mahliya. The  town, situated in the northernmost part of South Sudan, not only lacked access to clean water but also has experienced significant turmoil over the past few months due to the recent conflict within the country. More than  a million people have been displaced within South Sudan and nearly 400,000 have fled to neighboring countries.
Despite the fighting, the people of Mahliya have remained. With no clean water source available nearby, villagers would travel two hours to fetch clean drinking water. When they arrived at the well, long lines of people waited their turns to fill their jerry cans.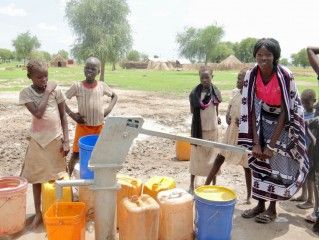 "Even after traveling such a long distance, we had to wait as the queuing time would usually be long," said Nyaoi Mthink Kolk, a 20-year-old mother.
"The problem is colossal; people fight with one another in the queues," said Nyangok Manyang, Nyaoi's friend.
Because of the long lines and tensions that arose while waiting for water, many people would often fetch dirty water from the surface ponds that were unsafe for drinking and cooking. Children would regularly become sick because of waterborne diseases from the dirty water.
But now the women are happy, and life in their village has changed, as a hand-operated well has been constructed in the center of their village by Samaritan's Purse. But the blessing of clean water is not only for the women to enjoy; it's for the entire village of Mahliya—about 500 people. What was once a two-hour walk to fetch water is now only 100 meters from their homes.
We at Samaritan's Purse also give thanks to God for allowing us the opportunity to serve the people of South Sudan and demonstrate His love for all people through simple acts, such as providing clean water to those without.