A girl, her father, and a kitten offer a snapshot of who's trekking across Europe in search of refuge.
by Chelsea Charping, Samaritan's Purse staff writer
Today, I woke up in Macedonia and drove two hours across the Greek border.
I went through the normal checkpoint and had my passport stamped. Once across, we began driving parallel to the border until we came upon a couple of  hundred refugees.
The group had just disembarked from a train and walked a kilometer or two to where we met them. They were walking along the train tracks until they came to a place to cross. Once they crossed over, they were in Macedonia. There was no one to stamp passports, but the refugees were guided along the way.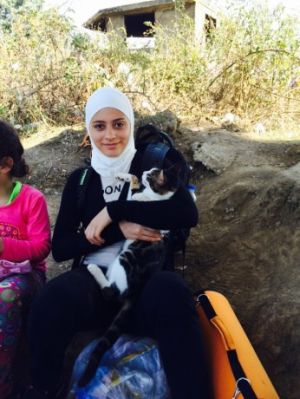 Although the news has mostly focused on Syrian refugees escaping a civil war that started in 2011, I found that there were also several refugees from Afghanistan, Iraq, and a couple of African countries. People are leaving their homes for many reasons, but it's not to take advantage of the hospitality of these Eastern European countries. Each person I spoke with had a heartbreaking story of why they had journeyed so far from their homes.
Each person touched me in a different way, but as I sit in my room back in Macedonia, one stands out from the rest in my mind. Amena* was a teenage girl with a sweet smile. As she sat on an embankment for a moment at one of the stops, she unzipped an orange bag and I heard a meow. After a couple of minutes of coercing, she was able to pull her cat from it.
I was excited, probably because I miss my cat; so I sat beside Amena to pet her friend. As I did, I asked her a few questions. Her English was broken but still better than my Arabic. She told me, with the help of those around her, that she and her family—her parents, brother and sisters—had journeyed from Syria.
Along the way, they found this cat in Turkey. It was only a day old, and its mother had just died. She took compassion on it and brought it along with her.
As she spoke to me, her father walked up and picked up the cat. He cuddled it. Something about seeing a grown man do that while he's carrying all of his belongings and his family across the Middle East and Europe made my heart happy.
Please don't forget that even as we are doing our best to help migrants trying to get to Europe, we are also using donations from people like you to provide physical and spiritual help to thousands of Syrians and Iraqis who have fled for their lives to Kurdistan, a relatively safe area in northern Iraq. Your donations are enabling us to supply shelter materials, food, vocations supplies, household supplies and more to people who often have nothing when they arrive. Refugees continue to arrive in Kurdistan, so your help is still needed.
*Name changed for security reasons.